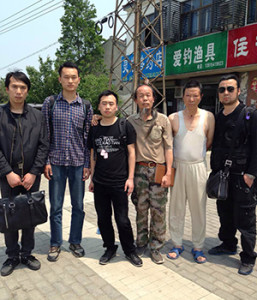 2015-04-28
Activists gather to honor Lin Zhao in Suzhou, April 28, 2015.
Photo courtesy of an activist
Activists from across China converged on the eastern city of Suzhou on Tuesday to commemorate the execution of a Mao-era political dissident, only to be forced out of their guesthouses by police.
More than 100 activists from Jiangsu, Guangdong, and Hunan provinces arrived in the city ahead of Wednesday's 47th anniversary of Lin Zhao's execution for alleged counterrevolutionary crimes under the rule of late supreme leader Mao Zedong.
They had planned to hold a memorial event at the Lingyan Shan hillside cemetery, the site of Lin's tomb, Hunan-based rights activist Zhu Chengzhi told RFA.
But some, including Jia Pin, Wang Liang, Xu Shaohua, and Xing Ba, had been forced to give up their rooms after police put pressure on the owners, Zhu said.
Police have also cordoned off the area around the Lingyan Shan cemetery in a bid to prevent the event taking place, he said.
"I checked into a small guesthouse today called the Yilian Guesthouse, but the local police have put pressure on the owner, who asked us to leave," Zhu said.
"This is directly a result of the police, who are forcing us to leave."
Zhu said six activists staying there had been told to leave by police and municipal government officials.
"They said this guesthouse wasn't convenient for us, and that we should find somewhere else to stay," he said.
"Near the graveyard, there are a number of unmarked cars parked around and about, and a number of tough-looking guys in plainclothes, standing and wandering around," Zhu said.
Police at cemetery
Fellow activist Wang Liang, speaking from a vantage point near the trail head leading up to the cemetery, said two groups of police had arrived there on Tuesday morning.
"It's hard to see their exact identities," he said, adding that he had also been asked to leave his guesthouse.
"The guesthouse owner said he had no choice but to refund our money [and ask us to leave]," Wang said.
"He said if we didn't leave, that it would cause even more problems for the guesthouse, and affect its business," he said.
"More than 100 of us came here from across China, including Guangdong, Jiangsu, and Beijing, among other places," Wang said.
"I saw some postings about Lin Zhao online, from earlier in the history of the [ruling] Chinese Communist Party," Wang said.
"We have all come of our own accord to pay respects to a martyr who stood up to an absolute authoritarian power," he said.
Guangdong-based activist Jia Pin said he had also been kicked out of his guesthouse by the manager on Tuesday morning.