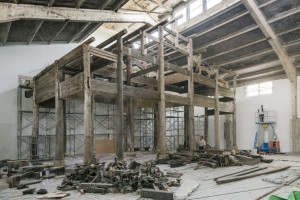 By JUNE 8, 2015 8:37 AM June 8, 2015 8:37 am
The installation of an ancestral hall from Jiangxi Province in adjoining galleries forms part of Ai Weiwei's exhibition.Credit Oak Taylor-Smith
Barred since 2011 from traveling outside his home country, the artist Ai Weiwei has become a master of what might be called "remote exhibition-making" — using 3-D computer models, Skype, and a team of curators and assistants to create large-scale installations around the world from his studio in Beijing. But no virtual simulation was needed for the artist's newest exhibition, which opened last weekend at the Galleria Continua and at the Tang Contemporary Art Center in the trendy 798 Art District of Beijing.
On Saturday afternoon, tourists, fans, and family and friends of the artist flocked to the opening of Mr. Ai's first-ever solo exhibition in China to see the show and, more important for many, to catch a glimpse of the famous rebel artist himself. Dressed in a green short-sleeve shirt, khaki shorts and navy canvas shoes, Mr. Ai appeared to be in good spirits as he fielded an unending stream of requests for photographs, selfies and autographs. When asked how it felt finally to be able to attend an opening for one of his exhibitions, the typically outspoken artist had only a few words to say.
"It's surprising," he said, quietly. "It feels different."
The show, called "Ai Weiwei," contains none of the overt political commentary that has infused much of the artist's more recent work. There are no Lego portraits of prisoners of conscience and political exiles from around the world, as seen in his 2014 installation on Alcatraz Island, near San Francisco. Nor is there any reference to his detention by the Chinese authorities in 2011 as he prepared to catch a flight to Hong Kong, which Mr. Ai recreated in a series of dioramas that were presented in Venice in 2013.
Instead, Mr. Ai has chosen to take a more subtle approach. At the center of the exhibit, which was mounted with prior approval by the local authorities, is a 400-year-old Ming dynasty-era ancestral hall that Mr. Ai and his team disassembled and rebuilt in two different exhibition spaces, splitting the monumental wooden structure between the Galleria Continua and the adjacent Tang Contemporary Art Center. The process was documented in video and photographs that are also on display.
In a nod to the continued influence of Marcel Duchamp's ready-mades on Mr. Ai's work, various everyday objects are placed throughout the two exhibition spaces: a painted ladder, traditional lanterns and a vast spread of spouts broken off from antique teapots.
For detail please visit here