Ian Johnson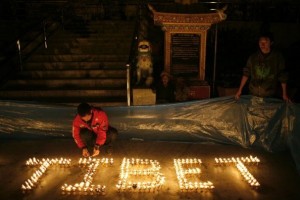 Brian Sokol/Getty Images
A candlelight protest in support of Tibet, Kathmandu, Nepal, March 2008
In recent months, China has been beset by growing ethnic violence. In Tibet, 125 people have set themselves on fire since the suppression of 2008 protests over the country's ethnic policies. In the Muslim region of Xinjiang, there have been a series of attacks by militants against Chinese rule; on July 28, the government reported that dozens of Uighur and Han Chinese were killed by knife-wielding assailants and police, who fired into the crowd.
This summer, I met with Tsering Woeser (generally known simply as Woeser) and Wang Lixiong, an activist couple who have devoted themselves to chronicling the ethnic unrest, and to finding solutions to it. Woeser, who is forty-eight, is a Tibetan poet, essayist, and activist. The author of six books, she writes in Chinese, and was widely read in China until her books were banned in 2003 and her Chinese blog shut down in 2006. Wang Lixiong is the sixty-one-year-old author of fifteen books, including the well-known science-fiction disaster novel Yellow Peril (translated as China Tidal Wave), Sky Burial: The Faces of Tibet, and My West China, Your East Turkestan. In early July, they were put under house arrest for two days to prevent Woeser from meeting US Secretary of State John Kerry, who was visiting Beijing.
Ian Johnson: Woeser, you are Tibetan but live in Beijing. Can you go to Tibet?
Woeser: Yes, but in recent years every time I try I'm blocked. Tibetans trying to enter Lhasa have a hard time. You have to fill out a lot of forms and present a lot of ID cards and get approval. Han can enter easily.
For detail please visit here