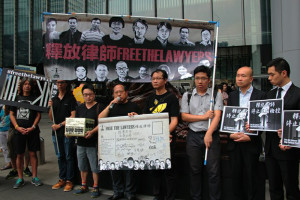 2015-08-25
Activists in Hong Kong demonstrate for the release of rights lawyers detained on the Chinese mainland, Aug. 25, 2015.
RFA
Authorities in the northern Chinese city of Tianjin have confirmed they are investigating a top rights lawyer of "subversion," amid growing calls for the release of dozens of people in a nationwide crackdown on the country's embattled legal profession.
Bao Longjun, who was detained alongside his wife and fellow rights lawyer Wang Yu on July 9, at the start of a nationwide police operation, has now had "incitement to subvert state power" added to his charge sheet, his lawyer Chen Yongfu told RFA.
Previously, Bao, who is being held at under "residential surveillance"
at an unknown location, had been charged with the less serious "picking quarrels and stirring up trouble."
"Now that the police have confirmed the suspected charges, they will investigate," Chen said, after enquiring about his client's whereabouts at Tianjin's Hexi district detention center on Monday. "If he is formally arrested, then he will be transferred to the detention center."
Earlier this month, Tianjin police confirmed that they are holding Bao's wife Wang Yu on identical charges, also at an unknown "residential" location.
In recent weeks, police have detained or interrogated at least 269 lawyers, law firm staff, and associated human right activists, the Hong Kong-based China Human Rights Lawyers' Concern Group (CHRLCG) said on its website.
More than 20 people remain in detention, 16 of them at undisclosed locations, while many more have been placed under surveillance, police warning or house arrest.
Chen said the additional charge would make it harder to meet with Bao.
"According to the Criminal Procedure Law, where the charges involve harming state security, lawyers must get permission from the authorities before they are allowed to meet with their client," he said.
Legal assistant Zhao Wei, who was detained during the crackdown on Wang, Bao and other colleagues at Beijing's Fengrui law firm, has been incommunicado for 37 days, her lawyer Ren Quanniu told RFA.
Ren said he had applied for a meeting with his client, but the letter was sent back, marked "return to sender."
"I think it's because I wrote 'application for a meeting with a client' on the outside of it," Ren said. "I suspect that it was returned on purpose."
Activists begin postcard campaign
Activists in Hong Kong have launched a postcard campaign calling for the immediate release of rights lawyers detained in the crackdown, and staging protests outside Beijing's representative office in the former British colony.
Pan-democratic lawmaker and barrister Albert Ho said an estimated 17 people are still being held illegally or have "disappeared."
But he said he and other lawyers would continue to put pressure on the authorities.
"As long as we don't give up hope, and we keep making a fuss, I hope that we will come through this dark period," Ho said. "We have seen a lot of young human rights lawyers who have refused to give in [to persecution]."
"We will have to show even more courage to stand up and fight for peace, justice and human rights," he said.
Meanwhile, Beijing rights lawyer Yu Wensheng has filed a freedom of information request with the authorities in a bid to discover the whereabouts of the detained lawyers.
For detail please visit here