November 22, 2015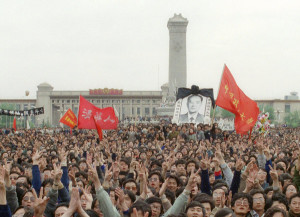 Students in Beijing on April 22, 1989, after the death of Hu Yaobang, who had been removed as Communist Party general secretary two years earlier. His death set off weeks of protests.
Catherine Henriette/Agence France-Presse — Getty Images
China's staunchly traditionalist Communist leader, Xi Jinping, paid tribute on Friday to a predecessor, Hu Yaobang, who was in many ways his opposite in temperament and politics.
Mr. Hu was a passionate liberalizer in the 1980s, and he dedicated his restless energies to overturning the purges and ideological shibboleths of the Maoist era, even speculating about abandoning chopsticks for knives and forks. He was ousted contentiously in early 1987, and his abrupt death two years later inspired public mourning that expanded into the Tiananmen Square protests.
But at a meeting on the 100 anniversary of Mr. Hu's birth, Mr. Xi kept away from delicate memories while nonetheless praising this Long March veteran who was instrumental in rescuing Mr. Xi's own father, a fellow Communist veteran, from the political wilderness where Mao had cast him.
"Comrade Hu Yaobang devoted his entire life to the party and the people," Mr. Xi said at the meeting in the Great Hall of the People, the grandiose home of the national legislature in central Beijing, China Central Television reported. "His pioneering achievements in socialism with Chinese characteristics are immortal."
All seven members of the party's Politburo Standing Committee, China's highest echelon of power, were present.
The state news media also reported the publication on Thursday of a collection of Mr. Hu's speeches and works, ranging from 1952 to 1986. The People's Publishing House, which released the book, said Mr. Hu's works highlight his "noble character" and "just and clean work style," according to Xinhua, the state-run news agency.
The centenary of Mr. Hu's birth to a poor farming family in southern China has put on display liberal political currents that have survived despite Mr. Xi's aggressive efforts to instill political conformity and to silence dissent.
For retired party cadres and older intellectuals with liberal views, Mr. Hu remains a symbol of frustrated hopes for political relaxation initiated from within the party, as Mr. Hu championed in the 1980s, and they have used the centenary to restate that hope.
"During the 1980s, all of society was vibrant and alive, a scene of thriving energy," Hao Huaiming, a former aide to Mr. Hu, wrote recently in Yanhuang Chunqiu, which roughly translates as China Annals, a beleaguered monthly magazine in Beijing that airs the views of party moderates.
"The economy was developing, intellectual life was lively, the ideological sphere was relaxed, there was clear progress in freedom of expression and freedom of the press," Mr. Hao wrote. "There are valid reasons why people look back nostalgically on that time."
But Mr. Xi and other leaders appeared to have choreographed the commemoration of Mr. Hu to avoid praising his liberalizing record or conceding to hopes from Mr. Hu's family for acknowledgment that his ousting from power in January 1987 was unjust, said Robert L. Suettinger, a senior adviser at the Stimson Center in Washington, who is writing a biography of Mr. Hu.
"My impression thus far is that the commemoration is being very carefully managed by the party to ensure that it doesn't encourage any challenge to the regime," Mr. Suettinger said in comments emailed before Mr. Xi spoke.
Officially admitting that Mr. Hu was unfairly driven from office, Mr. Suettinger said, would "open up a host of difficult questions about the process by which he was ousted (very irregular), and about the correctness of the student demonstrators who demanded the case be reversed after Hu died in April 1989."
For more than a decade after 1989, Mr. Hu's legacy stayed in the shadows, considered too controversial to honor publicly. But even party conservatives held a reservoir of affection for him, and since 2005 tributes, biographies and memoirs have multiplied, and his family supports a website in his memory.
Although Mr. Xi has shown none of Mr. Hu's impatience with party orthodoxy, he had good reason to show affection for this widely admired leader. As head of the Communist Party's organization department from late 1977 and then party general secretary from 1980, Mr. Hu pushed to politically rehabilitate officials and intellectuals who had been purged under Mao.
Among them was Mr. Xi's father, Xi Zhongxun.
The elder Mr. Xi was a senior official ousted by Mao in 1962. He endured beatings and brutal interrogations during the Cultural Revolution, and after Mao died in 1976, he waited, like thousands of other purged officials, to be brought back from the political wilderness. Deng Xiaoping and other leaders helped those rehabilitations, but Mr. Hu was especially committed, according to historians.
In December 1977, Xi Zhongxun's wife, Qi Xin, secured a meeting with Mr. Hu. His role as head of party organization affairs gave him a powerful role in political rehabilitations. Mr. Hu listened to her describe the elder Mr. Xi's sufferings, according to the official biography of Xi Zhongxun.
Mr. Hu "declared that all unjust and erroneous verdicts must be handled truthfully so that the verdicts are thoroughly reversed," the biography said. "The case of Comrade Xi Zhongxun, of course, is no exception," it quoted Mr. Hu as saying.
Later, Xi Zhongxun, returned to senior office, repaid Mr. Hu's support. In late 1986, after Deng Xiaoping accused Mr. Hu of failing to act forcefully against ideological laxity and student protests, Mr. Hu came under bitter attack by Deng's loyalists and ideological conservatives. But the elder Mr. Xi stood by Mr. Hu at a meeting to criticize him.
"This is abnormal," he said at that meeting, according to one account republished on the website dedicated to Mr. Hu. "You've set in motion something that will only lay the seeds of disaster for the stability and unity of the party and the country."
Mr. Hu endured persecution and near-death experiences in his tortuous political career, which started as a teenage "little Red devil," joining the Communist revolutionary forces in the 1930s. He was almost executed as a suspected traitor in one of the purges that paralyzed the encircled Communist forces.
After Mao's death in 1976 and a coup that swept aside radical supporters of the Cultural Revolution, Mr. Hu was among the cohort of party veterans who reclaimed power and began shedding the ideological and economic fetters in favor of economic and political liberalization.
Mr. Hu's off-the-cuff pronouncements on policy exasperated even fellow reformers in the party elite. In 1984, Mr. Hu suggested that, for good hygiene, Chinese people should set aside chopsticks and shared dishes in favor of Western manners.
"We should prepare more knives and forks, buy more plates and sit around the table to eat Chinese food in the Western style, that is, each from his own plate," he said. The idea never took off.
For detail please visit here