By ANDREW JACOBS  SEPTEMBER 12, 2014 8:26 AM September 12, 2014 11:09 am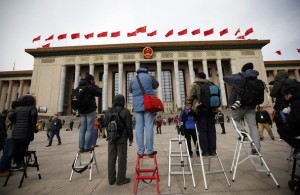 Journalists waiting outside the Great Hall of the People during the Chinese People's Political Consultative Conference in Beijing in March.Credit Kim Kyung-Hoon/Reuters
Conditions for foreign journalists working in China have gone from bad to worse over the past year, with the Chinese authorities increasingly seeking to influence coverage by intimidating reporters and their interview subjects, barring journalists from large portions of the country or by withholding visas and blocking the websites of overseas news outlets, according to a report issued on Friday by the Foreign Correspondents' Club of China.
The report, the result of a survey among the organization's 243 members, paints a portrait of mounting pressure on foreign journalists as the ruling Communist Party seeks to aggressively limit negative coverage abroad and to punish news organizations and reporters who defy warnings to steer clear from so-called sensitive topics, such as the wealth accumulated by relatives of China's top leaders.
The report noted that conditions had worsened significantly since 2008, when the Chinese government relaxed restrictions on foreign correspondents during the approach to the Beijing Olympics.
"China's poor record on allowing open and unfettered reporting is in conflict with its desire to be seen as a modern society deserving of global respect," the report said. "And it is in great contrast with the wide access Chinese journalists have enjoyed when reporting in many foreign countries."