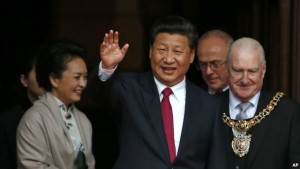 China's President Xi Jinping, center, waves as he leaves after lunch with Britain's Prime Minister David Cameron at Manchester Town Hall in Manchester, England, Oct. 23, 2015.
William Ide, Joyce Huang
October 23, 2015 10:56 AM
BEIJING—Chinese President Xi Jinping's multi-billion dollar deal-sealing trip to Britain this week has highlighted what rights activists say is a worrying trend by British authorities to keep quiet on human rights and concerns that the situation is getting worse in China.
And while Xi told reporters in Britain that Beijing has room to improve its human rights, he said nothing about an ongoing crackdown on rights lawyers, activists and their children in China.
Net widening
In a newly released update on Friday about China's crackdown on lawyers, the Hong Kong-based China Human Rights Lawyers Concern Group said that some 300 people, including lawyers, law firms, staff human rights advocates and members of their families have been swept up in the ever-widening net.
Most of the lawyers have been released, but more than 30 are still being held under some form of detention and their whereabouts are unknown. According to the lawyers network group, most are being held under residential surveillance at a designated location. Only one of the individuals targeted has been able to see a lawyer, while most families have yet to receive official notification about why their loved ones are being held.
China says the cases are being handled in accordance with the law. However, lawyers and activists note that the refusal to notify family members of the charges they face, where they are being held or give them access to lawyers, as well as the persecution of family members – including children – are all violations of China's own laws.
"We're seeing it getting worse from a different aspect. It's not so much the statistical one, but rather the kind of retaliation that the government has extended to family members," said Kit Chan, a spokesperson of the human rights network group.
Chan said that while many groups are speaking out about the situation, it is regretful "to see that the British government is actually taking a very soft position, trading off the human rights concern with the business concern."
In addition to detentions, the group has documented cases of at least 24 lawyers, activists and family members having been swept up in the crackdown and barred from leaving the country, being told that their departure would "endanger state security."
Children targeted
Bao Zhouxuan, the 16-year-old son of lawyer Wang Yu has faced multiple obstacles since his mother and father, both lawyers, were detained in early July.
Bao has not only been barred from leaving the country, but has been kept under tight surveillance and now is under house arrest.
His mother, Wang Yu has represented members of Falun Gong, sexual assault victims and other high-profile rights cases such as the one of Uighur scholar Ilham Tohti.
Authorities have accused her of inciting subversion of state power.
Bao and his father, Bao Longjun were stopped while trying to leave the country in early July – the same day Wang Yu was detained.
Bao was on his way to go study in Australia, but instead authorities forced him to stay in China initially, under tight surveillance in Tianjin. When he later escaped and tried to flee the country, authorities tracked him down in Myanmar and brought him back to China.
Now he is being held under house arrest in Inner Mongolia, under the care of his grandparents.
Zhou Fengsuo, a former Tiananmen student protest leader and overseas rights activist, was among those who tried to help Wang Yu's son get overseas. He said that Bao had to try to sneak out of the country to escape detention because authorities confiscated his passport.
What China is doing is shameful, Zhou said.
"They are using [Wang Yu and Bao Longjun's] son as a hostage to coerce his parents. There's absolutely no legal footing for authorities to detain innocent children," he said.
Bao is not the only child of an activist or lawyer to be impacted by the crackdown. The Hong Kong-based lawyers group has documented the cases of at least four other children who have been barred from leaving the country.
And it is not the first time authorities have used such a tactic, Zhou adds.
"Take reporter Gao Yu as an example. She was forced to plead guilty on the CCTV (China Central Television) because, at that time, her son, in his 40s, was arrested," Zhou said. "When she was later free to talk, she told her lawyer that her earlier confession was coerced."
For detail please visit here