BY LINDA MCQUAIG | JULY 24, 2014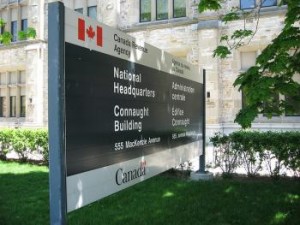 Photo: John Bristowe/flickr
As its website notes, "PEN Canada envisions a world where writers are free to write, readers are free to read and freedom of expression prevails."
With goals like those, no wonder the little charity has found itself in the crosshairs of the Harper government.
Earlier this week, PEN became the latest charity to face a massive tax audit as part of a sweeping clampdown that appears aimed at intimidating groups critical of the Harper government.
PEN had the audacity to criticize the government for muzzling scientists in the civil service, and for spying on Canadian citizens alongside U.S. intelligence agencies.
But the little org, which includes iconic Canadian literary figures like Margaret Atwood and Yann Martel, insists it won't be deterred by the audit.
"I refuse to let it have a chilling effect on us," PEN president Philip Slayton told The Canadian Press. "We are not going to have some kind of fear … stop us speaking out on issues."
The writers at PEN have a long history of defending free speech in the face of intimidation from repressive governments around the world. You just don't expect them to face intimidation from the Canadian government.