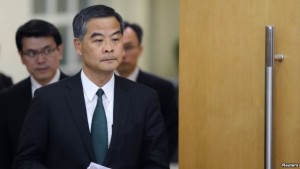 FILE – Hong Kong Chief Executive Leung Chun-ying arrives at a news conference which was held as part of the National People's Congress, the country's parliament, in Beijing, March 6, 2015.
Joyce Huang
September 18, 2015 9:17 AM
Nearly one year after pro-democracy protests riled Hong Kong's politics, the territory's top official is coming under criticism for suggesting that his position "transcends" the other branches of government.
Hong Kong chief executive Leung Chun-ying's remarks this week endorsed the views of a top Beijing official who said that the chief executive was in a "special legal status which transcends the territory's executive, legislative and judiciary branches."
Zhang Xiaoming, director of the Liaison Office of the Central People's Government in Hong Kong, also denied that Hong Kong's system endorses the separation of executive, legislative and judicial powers, saying such concept applies to sovereign states, not Hong Kong.
Zhang's comments immediately triggered an uproar in the former British colony a little more than a week before the anniversary of last year's massive Occupy Central protests that saw thousands turn out in the streets for weeks protesting Beijing's plan for electing Hong Kong's next chief executive.
The election decision, which said only Beijing-approved candidates could participate, and limited the field to three candidates, was taken as the latest sign of eroding freedoms in the former British colony.
When Hong Kong was returned to China from the British in 1987 it was guaranteed freedoms that do not exist in mainland China under what is called the "one country two systems" model. Key parts of these differences include Hong Kong's freewheeling capitalistic market system and freedom of the press and speech.
The comments made by both Leung and Zhang highlight the deep divide that exists between those that feel the central government in Beijing should determine how Hong Kong's democracy develops and those who feel it is a matter for the port city's citizens to decide.
They also highlight differences over basic ideas such as the rule of law.
Albert Ho, a member of Hong Kong's Legislative Council says few Hong Kongers see eye to eye with Leung and Zhang.
"Everybody should be equal before the law. Obviously he [Leung] should be subject to the Basic Law and to the laws in Hong Kong. So, I think what he [Zhang] said is really nonsense," said Ho.
For detail please visit here