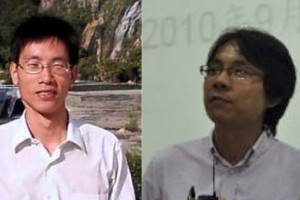 2015-07-03
Yang Zhangqing (L) and Guo Bin (R) in file photos.
Photos courtesy of CHRD
More than 1,000 people who say they are victims of China's draconian family planning policies have signed a public petition calling for the release of rights activist Yang Zhanqing, who had campaigned extensively to help them.
A hard copy of the 60-page petition was delivered on Thursday to authorities in Zhengzhou, capital of the northern province of Hebei, addressed to the Zhengzhou chief of police and other provincial law enforcement agencies.
Yang was detained in the central province of Henan on June 12 on suspicion of "running an illegal business," around the same time as fellow civil rights advocate Guo Bin in the southern city of Shenzhen.
Both Guo and Yang had previously worked for the health-care anti-discrimination group Yirenping.
"They both worked in the public interest, to help people like us stand up for their rights," petition signatory Lin Yue told RFA on Friday.
"I don't think people like that should be framed, so a lot of people got together to sign on their behalf."
Lin said Yang's detention made no sense in the wake of a relative relaxation in the "one child" population control policy at the beginning of 2013.
Another signatory, Jiang Hu, said Yang had been instrumental in helping him battle with the authorities for a household registration, or "hukou" document after he and his wife had a child outside of their birth quota.
In China, a hukou document is a prerequisite for nearly every form of adult documentation, and for access to crucial services like healthcare and education.
"[Everyone who signed] has had children they can't get registered, or are facing fines from the family planning authorities," Jiang said.
"He helped a lot of people who were helpless."
'Beyond belief'
Jiang said there was no good reason for Yang's detention.
"He helped us out during a … campaign in which we contributed to a consultation about family planning fines and also made freedom of information requests to government," Jiang said.
"At no point in any of this did [Yang] do anything that was against the law," he said.
"This is a kind and charitable man who has suddenly had his liberty taken away for some reason," Jiang said. "We think it's beyond belief."
According to Lin, Yang had supported her and her husband in their campaign to have a second child amid threats that he would lose his high-ranking official job.
"Perhaps the government thought he shouldn't have supported us," she said. "Otherwise, I really don't know why they would detain him."
"He is supposed to have been illegally operating a business, but he has never taken any money from us whatsoever," Lin said.
Yang's detention came as Beijing moved to intensify pressure on civil society groups, which include those campaigning for the rights of women, consumers, students in education, sex workers, and those with disabilities and diseases like AIDS and hepatitis B.
Activists said the crackdown first became obvious with the month-long detention of the five feminist activist—Li Tingting, Wang Man, Wei Tingting, Wu Rongrong, and Zheng Churan-—who had been planning an anti-sexual harassment campaign for International Women's Day.
Their detention came amid repeated searches of NGO offices by police, including those of Yirenping.
Same-sex marriage
In a separate development, feminist Li Tingting held an informal marriage ceremony with her lesbian partner that the couple said was inspired by the recent U.S. Supreme Court ruling validating same-sex marriages.
Li and partner Teresa Xu held the ceremony including vows, rings and white wedding dresses on Thursday, just six days after the ruling, surrounded by friends and journalists in a hotel on the outskirts of Beijing.
"We want to take some action to advocate for same-sex marriage," Li told Hong Kong's English-language South China Morning Post newspaper.
"Everyone in China was then celebrating [the Supreme Court ruling], but … what use does it have in China?" Li said. "We think we should do something about it."
"It's doing the impossible when you know it's impossible, but it takes those constant efforts to make changes in history," she said.
Li said she is still concerned about the possibility of being detained again, however.
Reported by Xin Lin and Wen Jian for RFA's Mandarin Service. Translated and written in English by Luisetta Mudie.