From Wang Shiwei to Liu Xiaobo: Prisoners of Literary Inquisition under Communist Rule in China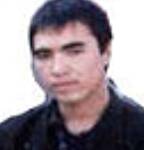 Nurmuhemmet Yasin (March 6, 1974 – ), a Uyghur poet and writer, was sentenced in 2005 to ten year's imprisonment on the change of inciting separatism for publishing his short story "Wild Pigeon".
Yasin was born in Bachu (Maralbexi) County in Kashgar (Kaxgar) Prefecture, Xinjiang Uyghur Autonomous Region. Demonstrating a love of literature from his youth, he had published hundreds of poems and essays in a large variety of Xinjiang newspapers and magazines since the age of 12. Among them, more than 40 works were included in various collections, more than 30 won literary prizes and a dozen or so were included in Uyghur-language secondary school text books. He published three collections of poetry: First Love, Crying from the Heart and Come Along, Children.
In March 2004, Yasin's short story "Wild Pigeon" (Yawa Kepter) was published in the bimonthly Kashgar Literary Journal. Narrated in the first person, the story is about a caged wild pigeon that would rather die than remain deprived of freedom:
The poisoned strawberries became the voice of freedom in my body. I finally saw them as my opportunity to gain freedom through death. Leaping from me, my soul began to blaze. The sky was so clear, everything around me so peaceful and the world so beautiful. A group of pigeons huddled in the corner looked upon me in amazement.
"Wild Pigeon" became wildly popular among the Uyghurs and was nominated for a Uyghur-language literary prize.
According to reports, the local government investigated "Wild Pigeon" as an allegory of Yasin's father committing suicide under similar circumstances, and alleged that the story carried a political message inciting separatism. The magazine issue in which the story was printed was recalled, and on November 29, 2004, local National Security police detained Yasin and Korash Huseyin, the editor of Kashgar Literary Journal. Following a closed trial during which the defendants were not allowed to appoint their own lawyers or have family members present, the Bachu County People's Court on February 2, 2005, found Yasin and Huseyin guilty of inciting separatism. Yasin was sentenced to ten years imprisonment and Huseyin to three years.
Yasin appealed against the verdict, and according to reports, the Kashgar Prefectural Intermediate People's Court considered reducing his sentence to seven years, but due to pressure from the prefectural secretary of the CPC, the court upheld the original verdict and sentence.
Yasin's computer, seized by the authorities, contained more than 1,600 poems, commentaries, short stories and an uncompleted novel.
PEN International and other international human rights organizations have consistently cited Yasin as a typical case of the Chinese authorities violating freedom of expression and ethnic linguistic rights, and PEN centers around the world have conferred awards on him. In 2008, Yasin was shortlisted for the inaugural Art Venture Freedom to Create Prize, which highlights artists defending their freedom of expression at great personal sacrifice.
Yasin has been held in the Xinjiang Uyghur Autonomous Region No. 1 Prison in Urumqi without being allowed family visits. In 2009, his family received news that he was seriously ill, and in 2011 it was reported that he had died in prison. However, no confirmation has been obtained to date.
Bibliography
Nurmuhemmet Yasin, "Wild Pigeon", 2005.
Dolkun Kamberi, "Uyghur Writer Yasin and His 'Wild Pigeon,'" 2008.