3:52 pm HKT Jan 9, 2015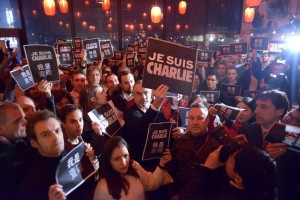 Journalists hold signs saying "I am Charlie" in French and Chinese on Thursday night at the Bookworm cafe and bookstore in Beijing. Wang Zhao/Agence France-Presse
Foreign correspondents who gathered at a Beijing bookstore on Thursday night to show support for the victims in this week's deadly attack on a French satirical magazine came under close police scrutiny, though they were allowed to go ahead with plans to take a group photo.
The Foreign Correspondent's Club of China is one of several media groups worldwide that have released photos on social media of members holding placards that read "I am Charlie" in French and other languages after Wednesday's Paris attack on Charlie Hebdo magazine that killed 12 people and wounded several others.
The irreverent magazine, which was also firebombed in 2011, has published cartoons depicting Islam, Muslim clerics and the Prophet Mohammad. The groups' photos are intended as a show of solidarity with the magazine's employees and of defiance toward the masked gunmen's apparent attempt to chill free speech.
FCCC President Peter Ford said he saw approximately a half dozen apparent plain clothes policemen in the crowd of over 100 foreign and Chinese reporters, including one who videotaped everyone in attendance. At least two uniformed police were also visible in the packed main room of the Bookworm and at the building's entrance. The manager of the bookstore and café could not be reached.
Beijing's Public Security Bureau did not immediately respond to a request for comment on Friday.
"I assume the authorities were nervous about something they might have perceived as pro-freedom of speech in a gathering that could've had implications for China," Mr. Ford said. "But the purpose of the meeting was exclusively to express our sympathy for the families of the victims and others, support for the organization and our outrage at the murder of people whose opinion the attackers disagreed with."
For detail please visit here