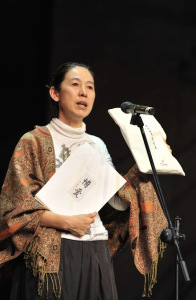 Posted on December 10, 2014 by auravoicesforhumanrights
Kou Yanding was taken away by police in Beijing on October 10th for "picking quarrels and provoking disturbances." Kou Yanding is a bestselling author on such incendiary subjects as trying on parliamentary procedures in Chinese villages and endurance walking. Until today, nobody knows her whereabouts, and her family only knows that she was detained and her home was searched by the police and shut again with a police lock.
Kou_Yan_DingHer sister wrote (in Chinese) on 10 December 2014, the International Human Rights Day.
Our 85 years old father longs for your returning home. Second elder sister was running between Haidian Police, Detention House, and the City Letter and Visits Office. Although we knew the confirmation that you got detained by the police, but nobody knew why and where you were detained. Everytime, we went to search for you based on what was told by the police, but failed in vain.
The following is my translation of an article written by Zhai Minglei (sina weibo翟明磊在雾里) on 14 October 2014.
At this moment, in Shanghai, I am writing a memoir. In this country, very often some people got disappeared without trace for being the voice of conscience. This is more dreadful than death. In two days, two of my good friends, Guo Yushan 郭玉闪and Kou Yanding寇延丁, were detained. When this happens with my own friends, it is an unbearable anger and helplessness. Perhaps there will be a new style of writing in China, a style of memoir about the disappearance of good friends of conscience. I think we can name it "Style of Sorrowful Memoir". In such a dark age, words do not have power; however they can still warm our freezing hearts. There are not many people who know Kou Yanding, so I will write about her first.