JUNE 4, 2011 · 9:50 AM
In memoriam of those who perished on 4 June 1989 on Tiananmen Square. An accidental cross-examination with the Chinese exile author Ma Jian, who dares to remember China's past in his novel Beijing Coma.
by Julie O'Yang © 2011
The first time when I met Ma Jian, it was two years ago on a wintry day in Brussels. We were both at Europalia, Festival biennal des Arts et de la Culture hosted by the European capital. It sounds better than it is. While a cold wind blew outside the large windows of Royal Museum of Fine Art, the vibes inside reminded me somewhat of Commissaire Maigret coloured haphazardly with a child's felt pen set. Two days before my publisher had phoned to ask me if I could help a Chinese author named Ma Jian, who was on
the Continent to be interviewed by Dutch/Flemish media. "He needs an interpreter. You get paid for the job," my publisher had said. Certainly, I had answered. The same afternoon I set out to do my research.
I knew Ma Jian from my high school years in China. His short story collection about Tibet, Stick Out Your Tongue, caused quite a stir at the time. "Stick out your tongue" is what a doctor says when you go to a hospital in China as part of forming a diagnosis. In his stories, the author portrayed a Tibet and Tibetan Culture in a harsh, unpretty but honest way, contrary to the popular, romantic version a la Heinrich Harrer. I don't remember if I particularly liked the book, but back then I read China's literary avant-gardists with gusto and devoured every letter that came my way. The fact that language became an enjoyable game, and the outcome excited me and brought me sensational shocks. Six months after the military crash on Tiananmen Square, I went abroad to study. Consequently, I lost track of the literary
scene from my motherland as I myself was left to the hand of fate. I needed to fill some serious gaps, that's for sure.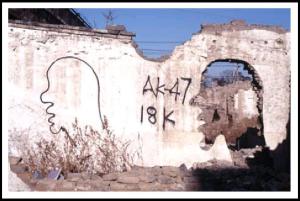 Big demolition prior to the Summer Olympics
A quick consult on the Internet resulted in sufficient interviews and reviews
featured in Guardian, The Independent and The New York Times as well as Chinese
language media primarily from Hongkong and Taiwan.
Ma Jian was born in Qingdao in 1953. After political pressure, he quit his job as a photographer in 1983, travelled throughout China and later turned these experiences into his non-fiction recounts Red Dust. He moved to Hong Kong in 1987 but continued to travel in China. In 1989 he took part in the Tiananmen Square protests. He left to live in Europe in 1997, where he established his fame as a dissident writer – "Solzhenitsyn of China's amnesiac surge towards superpower status" as Guardian wrote about
him – which gave me an instant shudder of antipathy. Comparisons are odious. Comparisons of this kind underrate a writer and disclaim the literary quality of a work, if there is such intent present in his/her artistic toil.
I recognised a life course similar to mine except for the label part. Legacy of persecution and fear, that's what we share from our past. Not a chummy begin I'd say; it is utterly depressing. Above all, after I left China, I quit Chinese language as a writer; I felt the need to move on. Ma Jian's published novels are originally written in Chinese and translated by his wife Flora Drew, with whom he currently lives in London. I have consciously left my past behind, in which I refuse to indulge. As a writer and artist I'm reluctant to treat past experiences in a presupposed way, which I suspect and mistrust. In art, newness and boldness is not only vital, it is necessary as a way to keep the past alive. Familiarity is a trap. In my own creative works I have wanted to invent some sort of universality, which I stipulate in my approach with a pair of fresh eyes each time, each book. And so I decided to meet Ma Jian as an interpreter. I won't say a single word between and beyond. I will shut up.
But sometimes life does offer surprises.
We spoke only five minutes after his interview was done. He said I was the best interpreter he had had yet. I was and am, I take pride in what I do and earn my crust with it.
"You speak Chinese beautifully," he said. I stood in silence, astonished by his remark, since musicality was something I failed to discover in my mother tongue.
"But you write too, don't you?" Someone must have told him so.
"Yes, I write…novels…in Dutch and English…" I answered hesitantly, gratefully.
"I want to read your writings," he insisted. Politeness is half good manners and half good lying. Ma Jian has good manners, I have to find out about the second part.
I wrote down my www on a piece of paper which I handed to him, "Check out when you find a moment. I have posted a few chapters of my latest novel China Noir, which I translated into Chinese. The original was written in Dutch," I added hastily.
We said goodbye. One week later I received an email from Ma Jian. "I read the chapters on your website and liked the terse rhythm in your language," he wrote. "Perhaps it's only one of your styles. Your writing reminded me of Orff's Carmina Burana." All right, let's face it. This is more than politeness. And again he talked about music! This is my big secret. I have learned to master all my languages through musical notes I discover in them. I sing them and find good music in each of them. It worked for me. I vocalize until I achieve Cecilia Bartoli's effortlessness and Bianca Castafiore's drollery.
Our contact continued through email. I told him that I visited London regularly, and I liked the hand-made noodles with chilly bean sauce in Soho. He wrote back let's have noodles next time and talk more about novel writing. Which we never did. Partly because I'm a slapdash mailer, but also because I was finishing a new novel, my first written in English. ( I had decided to quit Dutch for a few reasons but mainly I wanted to be read by an international readership.)
As soon as I finished my manuscript in 2010 around Christmas time, I sent Ma Jian the synopsis, telling him that I was looking for an agent. Shortly afterwards I found my present agent to represent my English manuscript Butterfly. I was relieved, my confidence went through the roof. Ma Jian didn't answer until more than two months later. He mentioned the structure of my novel which he liked a lot. At this time several of my short stories had been accepted for publication in the U.S. I wrote Ma Jian to tell him this, and that I had found myself an agent.
"I'm considering to interview you," I made a request in the same email. "I want to talk to you about your latest novel Beijing Coma."
I had read the book in English and was dazed by his style and mannerism with a heavier hand. Somehow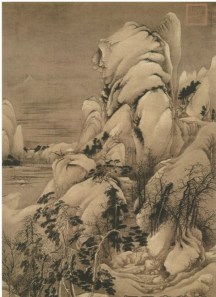 Ming landscape
his writing calls to my mind Virginia Woolf; a moon river tumbling down dark rocks of thoughts towards a new found land speckled with astral bodies of narrative pleasure. Nevertheless, when I received the Chinese/original version of Beijing Coma (《肉土》) a few days later over the e-mail, I was STUNNED. My first thought was Tao Te Ching, not in terms of murky wisdom modern soothsayers savour, though. Ma Jian's
writing in Chinese is connected, clear and unobscuring, the kind of lucent beauty one discovers in an ink
landscape from the Ming dynasty whose ever expanding perspective adds layers of meaning without losing a valid intention. In short, I found in there the poetic depth that has echoed through two thousand years of a literary tradition, from Book of Odes to Lu Xun.
"O'Yang, you are the one who master languages," Ma Jian wrote in the accompanying message. "I would like to discuss with you about language as means of literary expression and experience. Translations trigger a growing interest in Chinese literature, and yet it feels often like a ribbon around a bomb blast of misreading and falsehood. I believe I have given too many interviews where the vital point of my writing is left untouched. From your distinctive writing style I expect you hold an unique outlook. Let's talk about matters ignored by the ignorant."
It's time to address important questions.
J O'Y: Beijing Coma is about slaughter and forgetting. On 4 June 1989 on Tiananmen Square, Chinese security forces killed many of those who had over six weeks demonstrated for democratic reform. Estimates of the dead range from 1,000 to over 7,000. Yet you chose to write a densely detailed, panoramic fiction with a strong prophetic voice. You want to tell more than just a story with huge documentary value. Because this is how the so-called "ethnic", "multicultural" fiction is treated by both literary critics and contemporary readers. How do you handle this denial of your, say, ambition, as a serious writer? How do you want to be read?
Ma: Tiananmen Massacre took place in the twentieth century. It is a tragedy frozen in the past. Sadly, life moves on, people forget. However, death touches only the flesh, "the wronged ones never can die" as an old saying goes. The Communist Party has done everything in its power to delete the history. Libraries are cleaned and archive are burnt as if to show us that nothing at all had happened in the night 22 years ago. Until today the Internet is censored in China. The 4th of June is a date gone missing. Even worse. In today's China, anyone who would dare to touch the subject his life faces danger. Why? Because the rulers are afraid – they are afraid to forget the violence they have committed against mankind. In a sense the Chinese government is the keeper of the traumatic memory buried very deep, but yet none of us is able to put an end to it. Censorship is wasted. By writing Beijing Coma I wanted to revive the past. On the other hand, fiction is meant to draw a parallel reality. What I'm saying is that by creating a fictive truth, history will become more real because the writer has added flesh and blood to it. Western readers like to talk about the depth of a certain protagonist in my book; they worry about the decision he makes, and are moved by the loving character of the mother who is devoted to her comatose son. With the emotional space built around a story, the author enables his reader to access the past, with which s/he can relate with the present. The universal significance is born. After the publication of Beijing Coma, I watched literary critics on English TV channels discussing my work. They said the most stupid things I've ever heard. One of them even think that my book is a true documentation of the massacre, and could be no more than that because of its lack of literary imagination! I wondered if they have read my book! If these critics can read at all! My story tells about a coma patient who reveals his mental interior to us, blending impossible with possible, making the absurd of life bearable. The critics have missed the symbolism completely, namely, my comatose protagonist IS China and the Chinese. As for the readers. People choose to read a book for different reasons. In this case it must be the exotic, the outlandish they assume and impose on you. Misreading, yes, in both cases. But it is also arrogance.
J O'Y: English translation of your book recalls Virginia Woolf, not only the fluid, elegant style. I especially think of a sentence she said. "For what Harley Street specialist has time to understand the body, let alone the mind or both in combination, when he is a slave to thirteen thousand a year?" Beijing Coma is,
apart from an epic novel about China's recent past, a story about the body, "sexual love as an antidote to totalitarian control". Do you think the Chinese are able to recognise the physical emancipation you seek to communicate? It's my understanding that sexual oppression is not a communist invention but a deep-rooted Chinese tradition represented by the Confucian School. What do you think of the current revival of Confucianism in China? How should we, as self-chosen exiles, react to the western readiness to embrace the murkiest, biggest export product called Confucianism from a totalitarian country?
Ma: My patient has sacrificed his body in order to keep the memory of the past alive. He is the one who preserves the Chinese conscience but yet he is considered dead by the living ones. The death of his body made it possible for him to confront himself and tell the truth others dare not to touch. His lifeless
body symbolises China that is the corpse princess flirting around a global stage of capitalism. As long as you can get business done, everything else is negotiable. Memory is suspended in the dark abyss between life and death, not being able to decide whether to die or live on. The thing is when your body dies, memories die with it. Da Wei, my protagonist realises that. While he is not in control of his own body, his oversensitive, overactive mind continues to function. In my book the only communication he is able to have with the world around him is through sex. People make fun of his sexual organ; men as well as women take advantage of him and make him their sexual toy. Later on he is even exploited by his mother who sells his urine! The question that should be asked here is: who is in coma, the patient or the society? In my book his erection has become a monument for China's political persecution in the past, which has turned a for profit, commercial shamelessness in the present. Confucianism oppresses the body and the individual. In our day CConfucianism is cleverly adapted by the regime to serve the same purpose as it did in the past. In my book the younger generations seek sexual emancipation. It is a protest, but most of all sexuality lies in the heart of humanism. Subversive bodily acts demanding change. Obviously, the individual is beaten by a suppressive tradition in the end. Either it is the genuine Confucian School or the one faked by the regime, it is used as a weapon to kill China's future. Chinese government is exporting Confucius and his ideas as a cultural product. It appals me because Confucius was in exile in his own time; he was seeking a spiritual home. Until his death he was unable to finish a single book. Thanks to his pupils we are now able to be acquainted with his teaching. During the Cultural Revolution Confucius was condemned, his grave was robbed and his offspring persecuted. Now the Party thinks they can use his name for a wicked purpose of subduing the Chinese people and pulling the wool over foreigners' eyes.
J O'Y: At times the novel's narrative feels like a dark comedy. For instance when Dai Wei's urine is seen as a miracle cure and people all over the country come to buy it from his mother. It bears a message similar to Lu Xun's short story Medicine (《药》). Then again, this is your witty accusation of China's capitalism. You blend scene after scene the drama and terror of Chinese life with lyrical tenderness and a desolate, tragic sense. How do you relate your writing with the Chinese poetic heritage? Your reference to a Chinese classical work Book of Mountains and Rivers (《山海经》) added not only a symbolic strength to the story. Which philosophical truth did you attempt to investigate and how universal is your Truth?
Ma: When the story becomes unbearable, humour is the solution as well as a mask of despair. During the ten years I was finishing the book, I delved into the subject matter. I have learnt to know that the state of coma is continually, ceaselessly fighting the two extremes of life and death. The research process became so agonizing and horrifying, to such an extent that I even considered suicide at some point. The joy of imagination couldn't save me. In the end I sought liberation in humour that toned down the terror.
China enjoyed a poetic tradition that was as diverse as it was complex. Tang poetry unites the natural world with the philosophical, the divine with the everyday. It uses colour, repetition, and
parallelism to evoke the great beauty and vibrancy of the world that surrounded us. As for me, I used medical jargon in my story; words forgotten by literature. What I mean to say is that to achieve a poetic sense of beauty, one must dare to take risks and not repeat the past. Also I used The Book of Mountains and Rivers as a literary hyphen between time and space, between imagination and reality, between ideology and spiritual emptiness. But most of all, I want to convey the philosophical sense of time: do we ever possess time? What is Time? Albert Einstein said: "The only reason for time is so that everything doesn't happen at once."
J O'Y: Tell me a little about your working process. Does the desire to explore certain topics come first or a character?
Ma: The story started as a poem of a couple of thousand stanzas. I saw a man lying on a rusty bed with a bird perching on his chest. I had no idea what was going to happen to him. As I began to tell the story in its present form, immediately I felt the need to cleanse, not out of religious fancy or the want to let go or even love. The bird in my story has no wings to fly; it's an wingless and featherless creature. It knows no freedom and is naked and defenceless.
The patient in my story is based on my brother who slipped into coma on 28 May 1989. I looked after him while the student movement shifted from optimism to military crackdown outside the hospital window. My story came to me, another character turned up who is the mother of the coma patient. A poem had a plot. A few parallels dominate the entire narrative structure. The fate of the mother which echoes that of her son towards the end. Then, there is the tank versus the dozer, which is the timely icon of China's capitalism. Politics in the past versus boundless laissez-faire of the present day. And finally, individual versus the Chinese state. All very sad and tragic. But why do the Chinese still keep hope after being beaten again and again?
J O'Y: Words mobilize our visual imagination. Like you, I am a visual writer, in contrast to the non-visual that tends to dominate the western tradition. Do you feel you are misread on this level of commanding
of the language and you are rejected because readers in our time still prefer mashed potato topped with a homey gravy? How important do you consider yourself – us – in today's shifting literary landscape?
Ma: My book ended with the girl's face flattened by the tank and become thick again on the asphalt because human flesh is resilient. We are resilient. For me literary imagination is visual, and should engage all our senses. In Beijing Coma, the patient feels alive through his ears. He "hears" life, he observes a world that is blind and soulless. He leads the reader into an imaginary landscape. In literature there is no difference between old and new, there is only the difference between explored depth and shallowness. The dilemma every serious writer faces is the struggle between his individuality and the expectation of the society. If our sorrow and misery be the key to our inner self, our suffering is to achieve the final exaltation that would give birth to love and compassion. How such a story is told depends on the experiences of each individual writer who considers his individuality worth fighting for. I maintain humanism and freedom of imagination as the final goal of literature.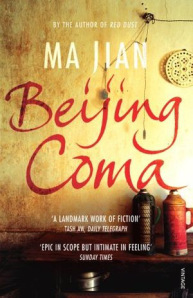 Beijing Coma by Ma Jian (Chatto & Windus ISBN 978-0374110178)
From http://julieoyang.wordpress.com/2011/06/04/%E2%80%9Csexual-love-as-an-antidote-to-totalitarian-control%E2%80%9D/