In 1989, Mr. Wu Renhua was a young faculty member at China University of Political Science and Law in Beijing, leading the student demonstration along with other young scholars. He participated in the Tiananmen Movement "from the first day to the last," and was among the last few thousand protesters who left Tiananmen Square in the early morning of June 4. On the way back to his college, he witnessed PLA tanks charging into a file of students at Liubukou (六部口), a large intersection, killing 11 and injuring many. In February, 1990, Wu swam four hours from Zhuhai to Macau, and onto Hong Kong, and arrived later that year in the United States. Over the next 15 years he was the editor of Press Freedom Herald (《新闻自由导报》), a Chinese-language paper founded on June 9, 1989, by a group of overseas Chinese, to bring news of pro-democracy activities to China. Given Mr. Wu's training as a historiographer, he began his research of 1989 as soon as the incident ended—but his writing didn't start until in 2005, when the paper he edited folded. From 2005 to 2014, he published three books (none have been translated into English): The Bloody Clearing of Tiananmen Square (《天安门血腥清场内幕》, 2007), The Martial Law Troops of June Fourth (《六四事件中的戒严部队》, 2009), and The Full Record of the Tiananmen Movement (《六四事件全程实录》, 2014). Together, the three books form a complete record of the 1989 democracy movement and the June Fourth Massacre. I flew to Los Angeles and interviewed Mr. Wu over April 24 and 25.  The first half of the interview discusses his work, especially his research on the martial law troops. – Yaxue Cao
CC: Did you decide early on to start carrying out June Fourth research?
Wu: Yes. For one thing, I myself took part in the 1989 democracy movement. But it was also because I was a historiographer. From February 1978 to June 1986, I studied ancient Chinese historiography in the Chinese Department at Peking University, first as an undergraduate and then as a graduate student. After I graduated from Peking University in 1986, I went to work as a historiographer at the Chinese University of Political Science and Law.
Given my academic background, as the events of 1989 were underway I had already begun to feel the need to create a record of this great moment that not only influenced China but also changed the world. That, after all, is the role of a historian.
Ever since the Chinese Communists took power, a lot of history has either been covered up or distorted. Those of us who deal with historical documents are much more concerned with the historical record. And the Tiananmen movement was the biggest public movement of citizens since the Communists took power, and the massacre was so tragic and shocking to the world. So after the massacre, I vowed to create a record of that period of history so that it would not be forgotten.
CC: You've published three books to date. Tell us a bit about each.
Wu: My June Fourth research is divided into two parts: the collection of documents, and writing. The document collection process is the harder of the two parts and takes a lot more time. Writing takes a bit less time, relatively speaking. I began collecting documents when I arrived in Hong Kong in 1990. I began writing in 2005 when the Press Freedom Herald ended. I was the chief editor of the Herald for 15 years, from September 1990 to May 2005. Work kept me extremely busy during that time, and I didn't have much time to write. But over those 15 years, I never stopped gathering documents.
The first book, The Bloody Clearing of Tiananmen Square, was published in May 2007. By that time, many years had already passed and June Fourth wasn't a big news item anymore. So it wasn't the greatest moment to publish the book and no proper publishers were willing to put it out. They all thought that there wasn't any market for a book like that anymore, meaning that there wouldn't be very many readers who'd be interested. I had discussions with a few Hong Kong publishers, but their terms were really harsh. So I decided to set up my own company, which I called Truth Publishing and published that book myself. Fortunately, the United States has a free press, so it only cost $40–50 to register the company. So, it was pretty tough to get that first book out. After the book was printed, a magazine publisher friend in Hong Kong handled sales and distribution. That book sold better than I expected and is now in its second printing.
CC: What's that book about?
Wu: That book was a complete account of the clearing of Tiananmen Square, covering roughly 22 hours from around noon on June 3, 1989, to just past 10 a.m. on June 4. It also included materials I collected later on the massacre that happened on West Chang'an Avenue, where the worst of the killing took place. Before I published that book, there had been a few books and some articles on the subject, but their accounts were all based on memories and were incomplete. My book was compiled in the traditional annalistic style, with events presented in the order that they happened and each incident and the time in which it occurred recounted as fully as possible so as to satisfy the requirements of the historical record.
I think another reason this book attracted people's attention was that it dealt with certain aspects of the PLA martial law troops, such as which units took part in clearing the square, what routes they took, and what tasks they each carried out. This might have been the first time someone revealed the hidden details of what the martial law forces had done.
The second book, which I published in May 2009, was called The Martial Law Troops of June Fourth. Again, I published this myself through Truth Publishing and distributed it in Hong Kong.
The content of this book should be clear from the title. My plan was for it to represent another type of Chinese historiographical writing, namely biography, and to focus on personalities and events. The book is composed of a total of 19 chapters covering each military unit, plus an introductory chapter. The introduction was a comprehensive overview comprised of 14 sections, in which I dealt with questions like how the order to open fire was issued and how many soldiers and police officers died.
This book received quite a reaction from academics and researchers because it was the first of its kind. No one inside or outside China had ever done that kind of research before. Another reason is that it truly did reveal some specific details about the martial law troops. For example, how many soldiers were part of the martial law troops? Everyone else could only guess without being able to give a precise answer. And which units took part? To that point, there had been no answer. Even I, a first-hand participant who carried out several months of investigation after the events of June Fourth and interviewed a lot of other eyewitnesses from different locations, didn't know which units took part in the crackdown. People only mentioned the 38th Group Army, the 27th Group Army, and the 15th Airborne Corps—no one knew about the rest. In this book, I was able to answer all of these questions at once.
For example, I calculated that around 200,000 troops took part in the martial law forces. And the book gives a more precise number of units that made up the martial law troops. These answers aren't estimates: they're precise figures based on evidence. I think the ability to answer these questions is the reason that academics and researchers took note of this book. So, if you go online to places like Wikipedia, the information cited there regarding the martial law troops all comes from that book. On the 20th anniversary of June Fourth in 2009, Yazhou Weekly in Hong Kong mentioned this book as an authoritative source on the Tiananmen Massacre and the details of the martial law troops.
The political scientist Yan Jiaqi (严家祺) went even further. He wrote an article entitled "Wu Renhua's Contribution to China," in which he said that those two books were a milestone in research on the Tiananmen Massacre and that future researchers would first have to go beyond the work that had already been done in them. I'm deeply humbled by his praise.
But as far as readers and sales are concerned, the second book has not done as well as the first. The first book was very readable and had many moving, tragic stories that I tried to tell as fully as possible. That's an attractive aspect of it.
The title of the third book is The Full Record of the Tiananmen Movement, which I published in May 2014. I published and distributed that book myself, just as I'd done with the first two books. It was different from the first two books in that it was a comprehensive account. Another title for it could be A History of the 1989 Democracy Movement. But I don't dare call it a "history," given the limits of my ability as a single researcher and the control that the Chinese Communist Party has over information.
Full Record starts from Hu Yaobang's death on April 15, 1989, which sparked the 1989 democracy movement, and follows events up to June 30. The killing actually continued after June Fourth. In Beijing, many workers and urban residents continued to protest after June Fourth, as did people in other cities around the country. Many of those protesters paid a high price. After June Fourth, the Communist authorities carried out a large-scale campaign of investigations and arrests. This is another important part of the history of June Fourth.
Before my book came out there was another book, called The Tiananmen Papers in English; the title of the Chinese translation is 《中国六四真相》(The Truth about June Fourth in China). This book was edited by Professor Andrew Nathan and Professor Perry Link and came out around the 10th anniversary of June Fourth in 1999.
CC: Can you compare your book to The Tiananmen Papers? Professors Link and Nathan are also friends of yours.
Wu: Like my third book, it's a day-by-day account presented in an annalistic style. It's short of documentation in some crucial areas and so lacks a record of certain things. I often divide the events that took place in and around Tiananmen Square into two parts: the 1989 student movement and the June Fourth massacre. This is a division that I've proposed. Take the student movement part: there's no account of the Beijing Students' Autonomous Federation in The Tiananmen Papers—when and where it was founded and by whom. There are many other examples like this. This is where I had an advantage over them. For one thing, my book came out later than theirs, allowing me to make use of many more participant memoirs and richer documentation.
CC: What's their book primarily based on?
Wu: It's mainly based on official news sources and internal reference reports that were never published but were circulated to high-ranking officials. What it lacks the most is documentation of the massacre itself, because there weren't many official journalists on the scene when the killing took place and the ones who were there were so scared they practically ran away. State-media journalists couldn't get their hands on documents from the martial law troops, which were highly classified, and they couldn't carry out interviews. So, compared to my book, that book has very little on the massacre. In my view, the account of the massacre in that book is based on rumors.
The section on the student movement, on the other hand, has some grounding in internal reference reports. Those are quite reliable, even more reliable than the memories of ordinary citizens. At the very least, they were quite accurate about things like time and place, even if they adjusted their reports to the needs of the authorities. So, in my books I pay close attention to the details of time and place as reported in official documents. The Tiananmen Papers doesn't have anything on the massacre on Changan Avenue, such as how it came about or unfolded.
The later skepticism about their book wasn't so much because it was based on official documents; rather, it was the errors it made in the section on the massacre. For example, The Tiananmen Papers went along with the rumor that Xu Qinxian (徐勤先), who headed the 38th Group Army, was the son of Xu Haidong (徐海东), a former senior PLA general. An internal Communist Party account would have never made that mistake. There are many examples like this, things I've pointed out to Professor Link in private communications. So, The Tiananmen Papers is more reliable in its section on the student movement but less reliable when it comes to the massacre or the martial law troops, because there were no sources for those sections.
CC: Has Prof. Perry Link read your book about the martial law troops?
Wu: Yes, and he even wrote an introduction for it in English. Because I can't speak English and have always written in Chinese, I have had practically no interactions with English-speaking scholars or researchers. Occasionally, I'll get a call from someone like a reporter who asks a few questions. But that's basically it.
CC: I hear you're working on a fourth book. Can you reveal anything about the status of that and perhaps tell our readers a bit about it?
Wu: My original plan was to write a series of three books: an account of the victims, an account of the perpetrators, and an account of the full series of events. I've said to friends that the decade I spent writing these three books took quite an emotional and physical toll on me, and self-publishing was a very difficult process for me financially. But since their publication, these three books have gotten quite a response in the Chinese-speaking world, and every now and then readers will send me questions through the Internet or social media. The majority of these questions have to do with the massacre. For example, was anyone actually killed on Tiananmen Square proper? For such a huge event, the record will never be complete without being able to answer the question of how many people died with a degree of accuracy.
I have no answer for this question. Unlike other people, I can't just casually answer 2,000 or 3,000. This is the question that prompted me to write the fourth book. I can't reveal the title for the moment, because there have already been attempts to pirate content from this book. But this book will be about the massacre and not limited to Tiananmen Square or Chang'an Avenue. Through this book, I will try to answer this crucial question of how many people died.
CC: By your calculation, about 200,000 martial law troops were deployed. How did you calculate this figure? And can you first explain which units were involved? 
Wu: These numbers come from Chinese official materials. After the Tiananmen massacre, the government engaged in a large-scale propaganda campaign about "suppressing the counterrevolutionary riot," and handed out a large number of awards to units and individuals in the military, including the 37 "Defenders of the Republic" [Ed: troops who were killed]. I decoded each of the military code designations referred to in these materials, because the PLA's numerical designations (番号) are secret; instead, each military unit from the regiment level and above has a code, a five digit Arabic numeral. So the first step was to match the actual numerical designation of the unit with the code, tally them, and then calculate out how many troops were involved in the Beijing martial law operation.
I was shocked with the number that came out: a total of 14 army groups. Among them were six army groups in the Beijing Military Zone: Nos. 24, 27, 28, 38, 63, 65. From the Jinan Military Zone there were four army groups: Nos. 20, 26, 54, and 67. From the Shenyang Military Zone there were three: Nos. 39, 40, and 64. The Nanjing Military Zone's 12th Group Army also participated. At the time, the PLA ground forces had a total of 24 Group Armies. Other troops that were involved include the Tianjin Garrison Command's 1st Tank Division, the Beijing Military Zone's 14th Artillery Division, Beijing Garrison Command's 1st and 3rd Guard Divisions, its 15th Airborne Corps, and the Beijing Armed Police unit (an army-level command). Altogether, there were 19 troops.
Of course, these groups didn't take part in their entireties. Take for example the 38th Group Army — its total force sat at about 70,000 personnel. Based on a calculation of the size of all the units that actually entered Beijing, I calculated that it was roughly 200,000. I think it is pretty accurate.
CC: Can you explain this code number (代号) and numerical designation (番号) issue?
Wu: Again, take the 38th Group Army as an example. "38th" is its numerical designation, and the so-called code number is a five digit number used to refer to it. The media reports won't directly refer to the 112th Infantry Division of the 38th Group Army, but will instead talk about "a certain" division or regiment from a certain army group. Sometimes they're even vaguer, for instance when referring to the commander of the 38th Group Army, they'll say "the commanding officer of certain troops." But "commanding officer" could be an army commander, a division commander, or a regiment commander. These books and official materials only use code numbers when referring to the army, for example the 51112 Group — you've got no way of knowing what it is. Is it a whole corps, or an infantry regiment?
CC: How did you go about matching each unit's numerical designation and its code number? 
Wu: In the simplest case, you just type "Unit 51112" into Google. If all soldiers and veterans strictly followed the regulations, then you'd find nothing. But by looking at forums and websites run by veterans, you can glean a lot of information. A lot of these veterans don't always keep secrets, and they'll say something like: Back in the day I was in, for instance, the 112th Infantry Division of the 38th Group Army. The 38th has three infantry divisions, a tank division, an artillery brigade, and an anti-aircraft artillery brigade. Within an infantry division there will be a number of regiment-level units, so you have to, one-by-one, match together all of the many code numbers for all the units in the 14 army groups involved. I was in the military for a short period before university, so I had some basic concepts about it. Through internet searches, following the idle chatter of old veterans, I just kept a running record of all the code names as they appeared. By the time the book was published in 2009, there were still a small number of code numbers that I hadn't been able to match up.
Apart from the code numbers, you also need to figure out where the troops are stationed. A lot of the martial law troops came from outside Beijing, and if you can't find out where they were stationed, you have no way of knowing where they set out from and which route they took to enter the capital. In The Martial Law Troops of June Fourth, I charted out which routes all the different units took when they got the order to enter Beijing and how they were transported: by air, by train, and by just driving their trucks.
Same with information about commanders. When referring to the commander of a unit, they use they'll say "the commanding officer of certain troops." But "commanding officer" could be an army commander, a division commander, or a regiment commander.
So I spent a lot of time surfing the veteran message boards and keeping notes – for instance hometown association sites, or alumni groups. Sometimes I might spend a whole day and come away with nothing. Other times I got lucky. There were times when I got not only where a particular regiment was stationed, but also the name of the regiment leader. Sometimes I'd even get a whole name list. That's why you'll see in some places in my book that the lists of names are complete. Some people would post the whole name list of a unit that was enlisted together, say a whole battalion, from battalion commander down to everyone in each company and platoon — the whole lot. There were disappointments of course. For instance, I'd been tracking a particular officer for a long time and I wanted to know where he was in 1989, but then I'd find that he'd been discharged in 1988.
CC: How do you get into these veteran websites?
Wu: These websites are all open. Inside there are different sections, and the one "Seeking Old Comrades" is open to everyone — they're notices of soldiers looking for their buddies, saying "I joined the 38 Army Group's 112th Infantry, and I'm looking for comrades who enlisted at the same time." Or "I was such-and-such soldier with such-and-such regiment, I'm looking for my platoon leader so-and-so from back in the day." All those sections of the sites are open — but the private discussion area is not. You have to be verified before being admitted: for instance, you are required to report your personal information, which year you enlisted with what unit, and you have to provide two names of former military comrades. After you get admitted, you can enter the private chatroom. The numbers of people in there differ. The most popular in China are QQ chat groups. There are a lot of them. Because of my research I had the basic name lists of a lot of units, so I'd provide a name for myself and two for the old comrades and get in that way — it was quite straightforward. In the open segments of the veteran forums, people won't talk about the June Fourth suppression, or if they occasionally do, someone else will come along and put a stop to it. But in the private chat rooms people do open up, and I was able to collect a lot of valuable information that way.
Announcements of governmental appointments is another source that yielded results for me: it would include a list of appointments and dismissals at various ranks, some of which contain curriculum vitaes.
Then there is Google search: one day I'd search for the 334th regiment in the 38th Army Group's 112th Infantry Division, another day I'd look up the 335th regiment in the same division. You punch in the keywords, then just flip through page by page. The material is voluminous.
CC: You've lived overseas for all these years, how do you get your hands on officially published materials in China? Are there people in China helping out? 
Wu: For many years there have been journalists, readers, and other researchers asking me this question. Chinese-language media ask in an even more direct manner: Are there high-level people giving you top-secret materials, and is this how you're able to write your books? My answer is: no. The material I've collected has primarily come from Chinese official publications in the wake of the crackdown, including triumphalist propaganda about how it was suppressed. Many people think these publications are beneath contempt, but for me it's extremely valuable. These are all open source, published materials, and there's no problem with taking them out of China. I don't have internal PLA reports.
On a website for the veterans of the 14th Artillery Division of the Beijing Military Zone, someone mentioned the "Beijing Military District 14th Artillery Division Report on the Suppression of the Counterrevolutionary Riot." A report like that would record the commands given by headquarters and the entire process of their being carried out, as well as the names of many officers and servicemen. Every participating unit had a report like this — this is the kind of material that I want to get my hands on the most, but I've never been able to get hold of one. The only thing I've found online is one chapter, the seventh, of the 38th Group Army's official history. It was about the suppression, but anything that's in the form of military history is already highly condensed and sometimes altered.
But there was one thing I received from an anonymous source that could be considered an internal document: it was edited by the PLA's General Political Department, and it was called "A Compilation of the Personal Achievements of the Heroes and Model Soldiers of the People's Liberation Army" (《中国人民解放军英雄模范个人事迹汇编》), and it has a portion about June Fourth. Even though it wasn't the sort of primary report I described above, it was still an enormous help. Specifically, with a few of the 37 "Defenders of the Republic," I had never found out the units they had served in, and this compilation helped me resolve this problem.
CC: Who gave it to you?  
Wu: Because of my June Fourth research, I have gained a minor reputation online, and my biographical introductions often include my email address. This document arrived in my email around early 2009. In all sections but the June Fourth one, this person redacted all the names and the numerical designations of troops, even the parts listing the decorated combat heroes of the Korean War. By the way he or she was so careful about confidentiality, I judged that he was a military officer.
CC: What other interesting moments have there been during your research?  
Wu: The most dramatic incident had to be the identification of Wu Yanhui (吴彦辉). I was trawling a veteran website when I saw a veteran from the No. 1 Tank Division. At the time he was working at the Hengshui Lao-bai-gan Liquor Distillery in Hebei province (河北衡水老白干酿酒集团有限公司) as a salesman, hoping to spark up some business with his old comrades. He'd often frequent the forums to chat with old friends. He said he was in Beijing in 1989 to put down the riot, and so he became an important target of mine. I'd often go back and look at the message log, and I followed him for a long time, collecting scraps of information about him. Bit by bit, I pieced together his identity: He was in the Tianjin Garrison Command First Tank Division, First Regiment, First Battalion, First Company, First Platoon—and he was the second gunner in Tank No. 106!
I was so overwhelmed, at the moment of this revelation, that I broke down in tears. This, to me, was a most shocking discovery. In the over 3,000 servicemen I've verified, he was a highly representative case, because this was the very tank that ran over students in Liubukou. So many people remembered this tank, including the wheelchair-bound victim Fang Zheng who lost both legs, and the Tiananmen Mother Ding Zilin. Back then someone wrote a note to Ding Zilin with No. 106 on it. I was there when the Liubukou massacre happened. It's something you never forget. I recall that when we left the scene, we shouted: "Remember this tank! Remember this tank!" Now, finding this tank's second gunner opened up the possibility of finding the driver and the commanding officer. Of course, those who held the most responsibility for what happened are the driver and the commanding officer, but finding the soldier in charge of the ammunition was a close clue.
In early June 2014 I shared about the process of finding Wu Yanhui on Twitter, and posted up his cell phone number. His number hadn't changed. A fellow Twitter user gave him a call, and confirmed with him directly that he is indeed who I believed he was. This user then went on to describe the phone call on Twitter, which many users found fascinating. At least a few others called too, but he stopped picking up.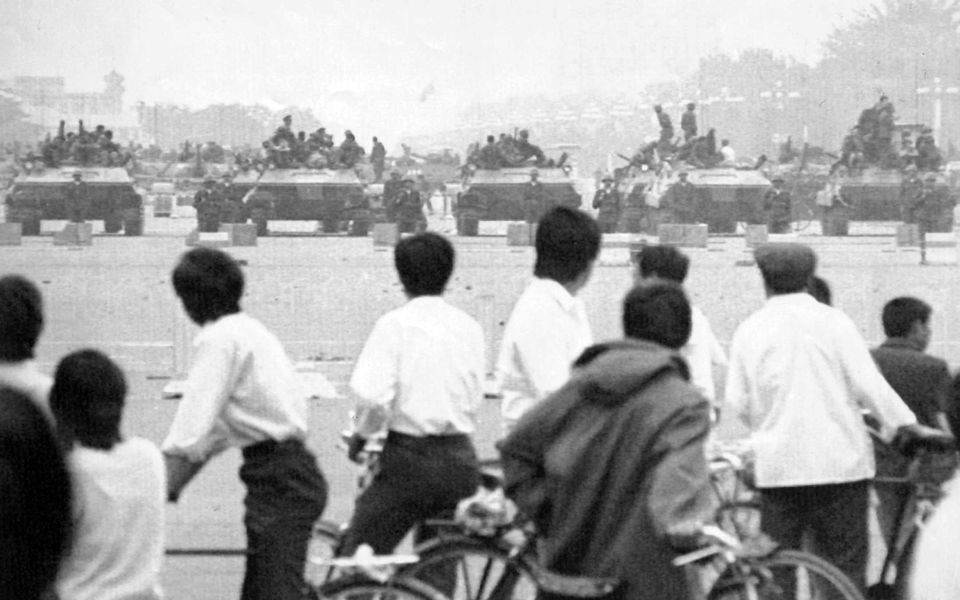 Wu: Another find that was very exciting was to discover the chief of staff of the 38th Group Army's 1st Tank Division. This chief of staff led the spearhead of that tank division, the 1st Regiment of armored infantrymen and the 1st Regiment, the very first tanks to arrive in Tiananmen Square, including the three tanks involved in the massacre at Liubukou. This chief of staff was eager to carry out orders and show his "politically correctness." In all the military propaganda materials celebrating his "heroic achievements," he was only ever referred to as "Chief of Staff Yan." They described how he repeatedly ordered for forcing advancement, and his troops shot dead a student attempting to obstruct them outside Beijing Broadcasting Institute (now the Communication University of China). So I had a very strong wish to identify this chief of staff. But despite countless searching, I had never found the man's name.
There were a total of five regiments in the 1st Tank Division.  The 2nd and 3rd tank regiments, and the artillery regiment, were led by the division commander and political commissar — they were the remaining units that followed. The division commander and political commissar acted completely differently. Like a lot of the other martial law troops, they encountered obstruction and interference by citizens as they advanced toward Tiananmen, but they weren't willing to smash through and hurt people. So they simply stopped, and only arrived at the Square on June 5. They didn't participate in the clearing of the Square, and had no involvement in the massacre.
A Taiwan publishing house is going to put out the Taiwanese version of The Martial Law Troops of June Fourth this year, so I made a round of revisions for that, correcting a few minor errors, and also did some more searching for a few tricky pieces of information that I had never been able to solve. The name of Chief of Staff Yan was one of them. As I searched, I came across a Yan, the division commander of the 38th Army Group's Sixth Tank Division. My intuition was: this is my man! Yan Hongji (闫红计) is his name! I was able to confirm the connection with more searching. I'd poured countless hours into figuring out this person's name and whereabouts, and in this round of revision I found the answer. I was so excited. This happened not long ago.
CC: Mr. Wu, you often refer to the book One Day During the Martial Law (《戒严一日》) in your book about the troops. Can you talk a little about this book?
Wu: One Day During the Martial Law was edited by the PLA's General Political Department and published in 1990. This is the most valuable official publication about the Tiananmen incident. It consists of two volumes and was an anthology of over 100 articles by as many authors, all of whom are named along with their service post and military rank. Each of the authors records their participation and experience in the enforcement of martial law. Some of them write about how they helped the common citizens, others discuss their marching into Tiananmen Square on the night of June 3. Among them there were commanders and political commissars of army groups, but also regular soldiers. Apart from a few policemen from the Beijing Public Security Bureau, the vast majority were all soldiers and officers involved in martial law. The value of each piece is different, but overall this book provided many leads and clues for my own research. From a historiographical perspective, the official documents are extremely accurate, better than individuals' memories, when it comes to times and places, although other details of the events may be concealed or distorted.
Not a month after this book was published in 1990, it seems that the military realized that it revealed too much, so they retracted it, making it a "banned book." Later they published an "abridged edition," which was shrunk into a small pamphlet with huge chunks deleted.
CC: I assume it goes without saying that you consult the full version.
Wu: Right. In early 1990 when I'd just arrived in Hong Kong, the editor-in-chief of the magazine Contemporary Monthly (《当代》) Ching Cheong learnt about my interest in researching and recording June 4, so he gave the book to me. He was once the Beijing bureau chief of Hong Kong's Wen Hui Bao (《文汇报》).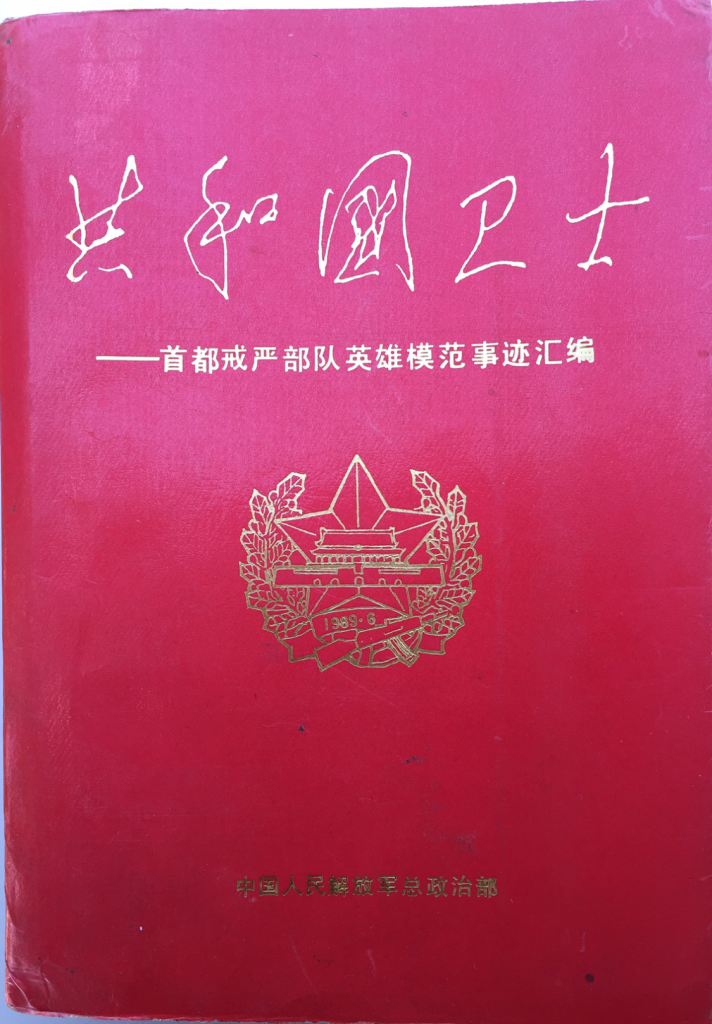 CC: You mentioned another book, Defenders of the Republic. Tell us about it.  
Wu: This is official propaganda material, also published between the latter half of 1989 and 1990. A year after the June 4 incident, this form of propaganda was put to a stop; evidently an internal decision was issued to cease it, because they knew there was nothing glorious about it, and it would only draw more criticism. On June 4, 1990, Yang Baibing (杨白冰) and the General Political Department wanted to put on a massive celebration, but Li Ruihuan (李瑞环), the then head of Communist Party propaganda and a member of the Politburo Standing Committee, dissented. Yang was furious. Li said that it wasn't his order, but from the top — from Deng Xiaoping, obviously. So from that point on basically all celebration and propaganda about the suppression vanished from official sources.
The sub-title of Defenders of the Republic is A compilation of the deeds of heroic troops and model soldiers enforcing martial law in the capital — that's the kind of book it was. There are about a dozen or so similar books. I asked friends in Beijing to dig them out for me. Some were brought over to the U.S., other were scanned and sent.
CC: Out of the 200,000 martial law troops, you verified and listed the identities of over 3,000 soldiers in your book The Martial Law Troops of June Fourth. You've taken an enormous amount of time to identify them, and yet it's only 1.5% of the total. Why did you put so much time into finding and verifying these names?
Wu: Of the hundreds and thousands who experienced the June 4 massacre, I may be one of a few who has a background in historical and documentary research. From the perspective of recording history, to ensure that a massacre like this is properly recorded, we must have the victims, as well as the perpetrators. Since the Communist Party's founding of its regime, a huge number of people have died in its political movements. For instance, in just the campaign to suppress counterrevolutionaries in the 1950s, official figures say that 2.4 million were executed. Is there a name list of these 2.4 million people? No. Who sentenced them to death? We don't know that, either. The political campaign closest to June 4 was the Cultural Revolution from 1966 to 1976, and official Communist Party documents acknowledge that it was a "calamity," and vaguely say that millions of people suffered unnatural deaths. But who are they? Wang Youqin (王友琴), who also graduated from the Chinese Department at Peking University and who teaches at the University of Chicago, has been searching for victims of the Cultural Revolution for the last two decades — her record is still extremely limited.
I feel that when it comes to June 4, if I don't do this kind of recording, then with the passage of time the massacre will become just like the Cultural Revolution, or any other political campaign, and end up with no legitimate historical record.
In The Martial Law Troops of June Fourth, my chief task was to search out information about the perpetrators. The work of the Tiananmen Mothers for so many years has been to seek out and record information about the victims. They have a list of those who died in the massacre, and so far have recorded and verified the names of 202 victims. This is still quite far from the real death toll, but the work they've done has already been extremely difficult.
CC: I saw some news on Twitter a while back saying you'd be taken "ill" for a while. Can you talk about that?
Wu: I worked at the Press Freedom Herald for 15 years and then wrote for 10 years, and I've always been healthy. I fell ill for a period because of the emotional and psychological toll of my work. There's a famous saying about 1989: "Dare not forget; don't dare to recollect." I had been immersed in everything about 1989 for more than two decades. I've collected a photo gallery of 9,000 images, each one of them full of blood and passion. Take the clearing of Tiananmen Square: When I was writing about how 11 students were crushed by tanks at Liubukou, an incident I personally witnessed, tears would stream down my face, and I would crying bitterly by my desk. Finally, beginning in the latter half of 2010, while I was going over the draft manuscript of my third book, something went wrong — I succumbed to depression.
My original plan was to publish it in May of 2011, and I knew that I had to work every day in order to meet the deadline. But every time I opened the computer I just sat there in a daze. I couldn't write. I'd go out for strolls, or chat idly with friends, but I couldn't enjoy distraction either, and had to return to my desk. This dragged on for a long while. So I had to stop working and think of a way to solve the problem.
In addition, a lot of my friends know that I'd been paying out of my own pocket to get these books published, and relying on meager royalties to get by. It wasn't easy. Emotionally, I've been separated from my family, and especially my mother, for 22 years. It's hard to put into words how much we missed each other. She knew my situation, and never said anything disheartening in all my years calling her.  She's never said: Son, I miss you, I'm old, come back and see me. She's never said that. So when I found myself unable to work, I said to myself: I need to see my mother; it's been 22 years, she's 85 years old. Maybe I'd be able to write again after I got back.
Up to that point I had not taken up American citizenship, nor had I planned to. I always wanted to be a Chinese citizen, and record this massacre as a Chinese citizen; oppose dictatorship as a Chinese citizen; and contribute to democratization of China as a Chinese citizen. As a historian, my PRC citizenship had an added significance. Young people might dismiss my old fashioned sentiments. But in the end, in order to go back and visit my mother, in late 2010 I decided to become an American citizen. After that I quickly got my American passport.
CC: How about the visa?
Wu: That's another story. In order to stop people like me — who are banned from the country — from getting a foreign passport and coming back in, the Chinese authorities required all ethnic Chinese, whether mainlander, or from Hong Kong, Taiwan, or Singapore, to submit their original passport when applying for a visa after becoming an American citizen. That's how they would get your original Chinese name.
I spotted advertisements in the World Journal for a service to handle Chinese visa applications. I picked one and called the number. Sure enough, they accepted cash, and they took care of the visa. It wasn't cheap: for $1,200, I could get a visa without having to provide an old Chinese passport.
I picked one of the services. A male clerk asked me a few questions, and then got down to it: are you involved in politics? I said nope, that I'm a Wenzhounese who got smuggled into the U.S., and that I didn't have a passport at the time. Wenzhou was a known source of illegal immigrants. I was accompanied by a friend who also came from Wenzhou, so we chatted in Wenzhou dialect. He believed the story and asked me to write down my Chinese name. I came up with Wu Yanhua (伍彦华), matching Yenhua Wu, the English spelling of my name — it was spelled this way on my documents when I left Hong Kong in 1990. He asked nothing else: no address, phone number, or reason for visiting. When I got the visa two weeks later, I was worried it was fake.
Over all these years, my mother had never asked me what I was doing overseas, what book I was writing, but she knew because the younger generations in the family would find out and tell her. At my mother's home, I accidentally found my first two books under my mother's pillow. I'd never seen a book so dog-eared and used, with the pages worn yellow. I could imagine my mother, in the dead of the night, missing me terribly, going over the pages again and again. In the preface to the first book I dedicated it to those who died, and also to my mother. I had resolved not to shed tear on my visit, but I broke down seeing those two books.
CC: You can't go back anymore?
Wu: No. Now that they know, they won't give me visa anymore.
CC: My last question has to do with Wang Weilin (王维林), the Tank Man. There have been different versions of who he is. What's puzzling is that, so many years have passed and the image has become so iconic — how could there be no information about this man whatsoever? I want to hear your take on him.
Wu: As long-time researcher on 1989, of course I'm very interested in finding out who he is and what happened to him — the man in the white shirt and shopping bag in each hand who, on the morning of June 5th, stopped a formation of tanks. Wang Weilin, as many believed, is not necessarily his name. Videos show that he was spirited away by a few men off the street. For many years the story went that he was dragged away by good people and once on the sidewalk disappeared into the crowd, and safety.
But a couple of years ago, an academic specializing in body language studied the video and concluded that those who took the Tank Man off the street were not ordinary bystanders, but trained personnel. He believed that the Tank Man fell into the hands of the Chinese military or police.
When this analysis came out, the Voice of America was very interested and consulted me for my comment. In their studio in Los Angeles, I watched the video over and over again. It was a couple of seconds longer, and revealed the scene: there was nobody on the sidewalk, and dozens of tanks were parked in the area. That means that it was an area secured by the martial law troops, and there could be no large crowds anymore. I had to agree with that professor that the Tank Man ended up in the hands of the soldiers or the police.
We already know that protesters who were captured after the clearing of the Square were beaten badly with batons or the butts of rifles. For example, Gao Xu (高旭), a student of Shanxi University who was captured on June 5, was tied to a pillar at the Great Hall of the People and beaten so badly he ended up blind in one eye.
In the case of the Tank Man, he was seen as highly provocative in that he not only tried to stop the tanks, but even climbed on one. So he would be treated even more brutally in the hands of the troops. My sense is that he was probably beaten to death. Otherwise, in the age of internet, we would have heard something.
CC: Recently a friend said that they'd heard a saying going around, that at the time of the June 4 massacre, the PLA had killed students in the parks near Tiananmen—Zhongshan Park and the Worker's Cultural Palace. I momentarily thought of Wang Weilin.
Delving deep into the full truth of June 4 is still such an arduous task, so we thank you so much for your studies. I agree with Mr. Yan Jiaqi's assessment: This isn't merely the pursuit of one individual, but a contribution to all of China.
Yaxue Cao is the founder and editor of this website. Follow her on Twitter @yaxuecao.
Source: https://chinachange.org/2016/06/03/the-historian-of-the-tiananmen-movement-and-the-june-fourth-massacre-an-interview-with-wu-renhua-part-one-of-two/
---