7:30 pm HKT Oct 22, 2014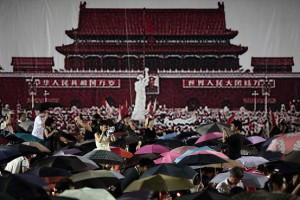 People take photos during a vigil held to mark the 24th anniversary of the 1989 crackdown at Tiananmen Square, in front of a backdrop of Beijing's Tiananmen Square and the Forbidden City (back), in Hong Kong, on June 4, 2013. Agence France-Presse/Getty Images
One of the two activists identified as the "black hands" behind China's 1989 democracy protests died of cancer on Tuesday, in a reminder of how little the Communist Party has budged in its tolerance of political dissent over the past quarter century.
Chen Ziming, 62 years old, died from pancreatic cancer Tuesday afternoon in Beijing, according to close friends.
"Famous Chinese dissident, so-called June 4th black hand and my mentor Chen Ziming finally succumbed to cancer," Wang Dan, one of the leaders of the 1989 student-led Tiananmen Square pro-democracy protests, wrote on his Facebook page. "His death is a massive loss for the Chinese opposition movement, and for the country."
Mr. Chen and fellow activist Wang Juntao were accused by the government of being the masterminds behind the 1989 protests. In 1991, both were sentenced to 13 years in prison, in a trial authorities used to bolster the official line that the protests had been the work of a handful of conspirators rather than a movement with mass appeal.