Ian Johnson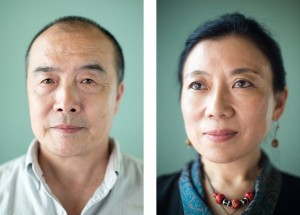 Sim Chi Yin
Wang Lixiong and Woeser
Woeser and Wang Lixiong are two of China's best-known thinkers on the government's policy toward ethnic minorities. With violence in Tibet and Xinjiang now almost a monthly occurrence, I met them at their apartment in Beijing to talk about the issue. In part one of our conversation, they discussed the difficult situation in both regions and the limitations of the Dalai Lama's strategy for Tibet. In this part, they discuss the reasons for China's repressive policies against ethnic minorities and offer some possible solutions.
Why has the Chinese government relied so much on suppression in Tibet and Xinjiang?
Wang Lixiong: Simply put, it's due to their politics, but they can't say that. They say it's due to hostile foreign forces. After troubles started in Tibet they said it was the "Dalai Clique" creating trouble. When unrest started in Xinjiang, they said it was Rebiya Kadeer [a former Uighur businesswoman who now heads the World Uyghur Congress]. You can see the situation getting worse year by year, so it's only possible to say that it's their policy. It's clear to people with just a bit of objectivity [that the repression is making it far worse], but the government insists it's foreign forces and their conclusion is that the repression isn't enough so they increase it.
Has the new Chinese government under Xi Jinping made any changes in its Tibet policy?
Wang Lixiong: People thought when Xi took office it would help because he didn't have the baggage of Hu Jintao. Hu had been party secretary in Tibet. The line on Tibet had been set by Hu Jintao. So even me, a pessimistic person, I felt that Xi would take a new course and make some progress. But no, no change at all. In fact, it's even harder.