Tibetan writer Tsering Woeser has accused Facebook of censoring a post which included images of the recent self-immolation of Kalsang Yeshi, a 37-year-old monk who set himself on fire in Dawu County, Sichuan on December 23. After posting about his death, Woeser received a message from Facebook that the content violated the company's "community guidelines" and would not be posted.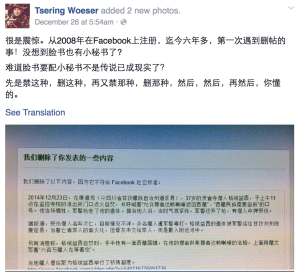 Screen Shot 2014-12-28 at 7.32.09 PM
Austin Ramzy at the New York Times reports:
Tsering Woeser, who has written several books about Tibet and is a critic of Chinese policies in the region, said she posted a short item about Kalsang Yeshi, a 37-year-old monk who set himself on fire in front of a police station on Dec. 23 in Dawu County, part of the Kardze Tibetan Autonomous Prefecture in northwestern Sichuan.
[…] Ms. Woeser, who is based in Beijing, said she believed the post may have been deleted because of the disturbing nature of the self-immolation, or because of efforts to sanitize material that might be critical of the Chinese authorities. She joined Facebook in 2008 and has posted extensively about self-immolations, but says this was the first time the company had removed her content.
"I was really surprised. I couldn't believe my eyes," she said of her reaction to the deletion notice. "I thought, 'How is it that this has become like a Chinese website?' " [Source]
Facebook's guidelines on posting graphic content state:
Facebook has long been a place where people turn to share their experiences and raise awareness about issues important to them. Sometimes, those experiences and issues involve graphic content that is of public interest or concern, such as human rights abuses or acts of terrorism. In many instances, when people share this type of content, it is to condemn it. However, graphic images shared for sadistic effect or to celebrate or glorify violence have no place on our site.
When people share any content, we expect that they will share in a responsible manner. That includes choosing carefully the audience for the content. For graphic videos, people should warn their audience about the nature of the content in the video so that their audience can make an informed choice about whether to watch it. [Source]