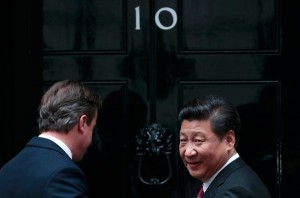 By STEVEN ERLANGER October 23, 2015
Prime Minister David Cameron of Britain welcoming President Xi Jinping of China to 10 Downing Street in London on Wednesday.
Suzanne Plunkett/Reuters
The visit to Britain by President Xi Jinping of China is underscoring how European nations are de-emphasizing human rights and security concerns as they compete to benefit from China's growing economic might.
Prime Minister David Cameron and his chancellor of the Exchequer, George Osborne, have muted public criticism of Chinese political, military and human rights behavior since 2012, and during Mr. Xi's visit here over the past several days, they have highlighted how increased trade and investment can create more British jobs.
But the shifting European calculations about the allure of doing business with China are hardly limited to Britain and extend to Germany, Europe's economic powerhouse, among other countries. Berlin, too, has been assiduous in its courtship of Beijing and has been hardly strident in its comments on China's domestic abuses of human rights or its growing military might in Asia.
Having built a dynamic economy on exports of advanced industrial goods, especially automobiles, Germany's growth has been partly tied to that of China, which is now its second-largest market, after France.
According to the German government, the country's exports to China reached 74.5 billion euros, or $84.6 billion, in 2014 — and represented nearly half of the European Union's total exports to China of €164.7 billion, according to the European Commission. (European Union imports from China were worth €302.5 billion.)
Some large and politically influential German companies are particularly tied to China. Volkswagen, for instance, before its recent admission about cheating on diesel emission standards, got nearly 65 percent of its profits from China, and Daimler, which owns Mercedes, is also heavily invested there, its sales hurt lately by Mr. Xi's crackdown on corruption and lavish gift-giving.
In a real sense, Britain's push now for a "golden era" with China, as Mr. Cameron put it, is in direct competition with Germany and, to a lesser degree, France, a country that has been generally more outspoken in its criticism of China.
Germany's total of about 45 percent of European Union exports to China dwarfs Britain's 10 percent and France's 9 percent. And Germany is the only European Union country, besides Finland, to have a positive trade balance with Beijing. Britain, by contrast, has by far the largest trade deficit with China of the five largest bloc economies, about €11.4 billion.
Mr. Osborne in particular sees Britain's future as a trading nation tied up with a rising and wealthy China. He has made great efforts to praise Beijing and even "take a bit of a risk with the China relationship," as he said, by visiting the restive Xinjiang region, where Uighur separatists have been repressed by the central government.
Britain, Mr. Osborne said, wanted to be "China's best partner in the West," even as the Chinese economy is slowing, and he has tried to prove it, causing frustration and even anger in Washington, especially as Mr. Xi has cracked down on dissent and censored the Internet.
China, like Russia, regards the European Union as an artificial political construct and emphasizes bilateral relations with different countries, sometimes setting one off against another.
Germany, too, has not been above putting its economic interests before those of other Europeans. In one prominent example, the country undermined the position of the European Commission last year in a tariff dispute with China over the import or "dumping" of cheap solar panels. Germany was not alone in opposition, but it weakened the commission's negotiating stance before a minimum price for the panels was set.
Chancellor Angela Merkel of Germany has also been accused of playing down human rights for economic interests, and she inevitably brings with her to China high-level German business representatives.