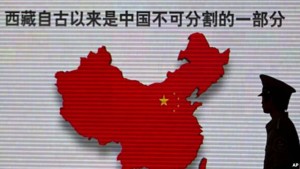 FILE – A security guard stands near an electronic screen featuring a map of China and Chinese characters that read, "Tibet has been an inalienable part of the Chinese territory since ancient times," in Beijing.
July 23, 2015 1:49 PM
WASHINGTON—Five days after well-known Tibetan P
Tenzin Delek Rinpoche died in prison in Sichuan province, another Tibetan died while serving a two-year sentence near Lhasa, his family tells VOA.
Sonam Wangchuk, says his father-in-law, environmental activist Lobsang Yeshi (Chinese name: Luosang Yixi), died July 17 in a hospital while being treated for a head injury from what he said was torture during detention in Dzogang County, from where Yeshi was transferred to Chushul Prison earlier this year.
Bangchen, a Tibetan newspaper in India, reports Yeshi was detained in May 2014, two days after a protest against Chinese mining took place near the Salwan River. At that protest, one man committed suicide by jumping off a building and another man stabbed himself.
Yeshi, who was the village chief at the time, and six other Tibetans, were taken to a detention center where they were kept for almost a year.
"They were initially told that it was just for a talk when they were taken to the county seat," Wangchuk told VOA. "But they were kept in the county detention center nearly a year, during which they were tortured and interrogated."
Each man had received a two-year sentence.
Yeshi's son-in-law, who lives in India, told VOA's Tibetan Service only one monk was allowed to go into the hospital to conduct a prayer service, and two of his family members were permitted to attend the cremation on Tuesday.
Chinese authorities have not yet commented on the death.
For detail please visit here