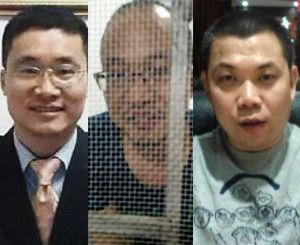 2015-07-24
Authorities in the southern Chinese province of Guangdong on Friday wrapped up the trial of the "Guangzhou Three" rights activists after some vigorous arguments by the defense prompted two recesses.
Rights lawyer Tang Jingling, former teacher Wang Qingying, and writer-activist Yuan Xinting, known as the Guangzhou Three, initially stood trial on June 19 at the Guangzhou Intermediate People's Court for "incitement to subvert state power" after being held in a police detention center for more than a year.
But the trial was adjourned after the three men dismissed their defense team after court officials refused to let them call witnesses, resuming on Thursday and Friday in the same court, defense lawyers said.
"In the second part of the afternoon, we had the arguments and the closing statements, and our lawyers … made some very elegant attacks on the charge sheet … prompting the prosecution to call a recess to change their evidence," Wang's lawyer Wu Kuiming told RFA after the trial ended on Friday.
"There were some very big holes in the evidence presented by the prosecution, which led to a recess of 4-5 minutes … and we forced another recess in the afternoon," Wu said.
He said Tang and Wang were described as having made "confessions" during the Jasmine Revolution era in 2011, which was presented as evidence by the prosecution.
"I was of the opinion that this couldn't be admitted, as this case was only set up in 2014," Wu said.
"To begin with, the prosecution didn't agree, but afterwards they were of the opinion that this couldn't be used as evidence in the matter at hand."
"In the closing remarks … Wang Qingying spoke about his mistreatment in the detention center, and he broke down in tears at times as he was describing how they treated him," Wu said.
"Tang Jingling also broke down in tears when he spoke about his mother, who died while he was in the detention center," he said.
20 years of activism
Tang's wife Wang Yanfang told RFA that her husband had spoken out about his 20 years of activism on behalf of civil society.
"He described … how much trouble it had brought him and everything he had experienced, his aims and goals," Wang Yanfang said.
"He said he wasn't just working for his family, but also hoped that the whole of China could become freer and more democratic," she said.
But Tang's defense attorney Ge Yongxi said the three men now likely face jail terms of anything up to 15 years, depending on whether the judges deem their "crimes" to be serious in nature.
Tang Jingling, Wang Qingying and Yuan Xinting were initially criminally detained on May 16, 2014 for "picking quarrels and stirring up trouble."
But the charges were later changed to the more serious subversion charges, which carry a maximum penalty of 15 years' imprisonment in cases deemed "serious" by the judge.
Tang, 43, a prominent civil rights lawyer and activist who has represented disadvantaged groups including farmers who have lost land to development and political activists, was detained during a nationwide crackdown ahead of the 25th anniversary of the Tiananmen Square military crackdown on June 3-4.
The police charge sheet for Tang mentioned his involvement in "civil disobedience movements," a commemoration of the death of Mao-era dissident Lin Zhao, and a June 4 meditation event.
Also mentioned was his part in a campaign to end China's "hukou" household registration system linking access to education and other public services to a person's town of birth.
Dozens of supporters of the Guangzhou Three were detained after they arrived at the court buildings on Thursday and Friday, activists told RFA.
Rights activist Ouyang Jinghua spoke to RFA while he was still en route under police escort back from Guangzhou to his hometown in the central province of Hunan.
"I'm en route right now, so it's not convenient to speak; I'm on my way home," Ouyang said.
"We just got to Shaoyang a while back on the way from Changsha to Suining," he added.
For detail please visit here