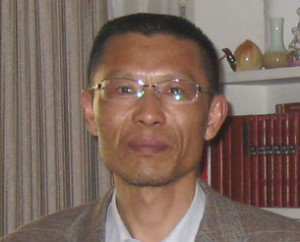 2015-08-19
Shen Liangqing, April 2010.
Photo courtesy of Shen Liangqing
Authorities in the eastern Chinese province of Anhui have jailed veteran activist and whistle-blower Shen Liangqing on public order charges after he retweeted a social media post about last week's devastating warehouse explosions in Tianjin, his relatives told RFA.
Former state-prosecutor-turned-whistle-blower Shen Liangqing, who wrote a book detailing abuses under the <!–more–>ruling Chinese Communist Party's internal disciplinary regime, was handed a nine-day administrative sentence by police in the provincial capital, Hefei.
"He went downstairs to buy groceries, and when he came back, I saw three police officers following him," Shen's son Shen Li said in an interview on Wednesday.
"He took out his cell phone and gave it to me, so they didn't confiscate it," he said. "Then they left."
He said police had told him his father was being detained on suspicion of "fabricating facts and disturbing public order."
"He called me [on Tuesday] and told me to bring him some clothes and other items to the Wuhu Road police station," Shen Li said. "When I went there, he gave me the administrative detention notice."
According to the notice, Shen Liangqing retweeted a post on a social media platform on Aug. 15, 2015 which said that at least 1,400 people had died in the Tianjin explosions, while more than 700 were still missing.
"This information was not accurate," the notice said.
Charges 'unfair'
Shen Li said the charges against his father, a former prosecutor at the Hefei municipal procuratorate, were unfair.
"I don't think it amounts to fabricating information if you are just retweeting something," Shen Li said.
"The reason the tweet was not accurate was a lack of openness and transparency on the part of the government," he added.
China's propaganda ministry has ordered the country's tightly controlled media outlets to stick to officially approved news stories, which put the death toll in Tianjin at 114.
Tweets and social media messages linked to the disaster initially gave a real-time glimpse of the two devastating explosions and their aftermath, but were later tracked down and deleted by China's Internet censors.
China's draconian Internet agency, the Cyberspace Administration, said it had suspended more than 360 social media accounts since the blasts rocked Tianjin.
Shen Li said if anyone was held responsible, it should be the original poster of the offending tweet.
"I don't think that retweeting on its own should be a crime," he said. "Rumors only emerge because the government is closed and secretive. If they were more transparent, they wouldn't circulate."
An officer who answered the phone at the Wuhu Road police station in Hefei declined to comment on Shen's case.
"I don't know about this," the officer said.