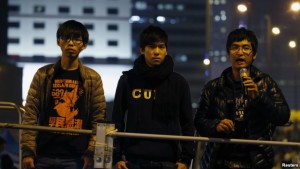 Student leaders Joshua Wong (L-R), Lester Shum and Alex Chow attend a rally at the Occupy Central protest site outside the Legislative Council at Admiralty in Hong Kong, Dec. 10, 2014.
August 19, 2015 11:49 AM
Two student activists in Hong Kong's pro-democracy movement have been charged with their involvement in last year's Occupy protest against Chinese rule.
Alex Chow, 25, former leader of the Hong Kong Federation of Students, and Joshua Wong, 18, head of the student activist group, Scholarism, were formally charged on Wednesday with illegal assembly and inciting others to take part in an illegal assembly.
Students from both groups stormed the government headquarters last September in protest of Beijing's decision to screen candidates for the territory's 2017 election for chief executive.
The action by the students sparked the Occupy movement of civil disobedience that lasted for 79-days. More than 100,000 people took to the streets at the height of the demonstrations blocking major roads and access to the city's center.
Beijing has proposed a plan for election reform which would allow voters to choose from a pool of two or three candidates chosen by a committee heavily backed by Communist Party loyalists. Activists say they will continue their campaign of civil disobedience to press for greater choice over whom to support in the election.
A former British colony, Hong Kong was returned to Chinese Communist Party rule in 1997 under a "one country, two systems" form of government that gave it separate laws and wide-ranging autonomy but reserved ultimate authority for Beijing.
For detail please visit here