2015-04-17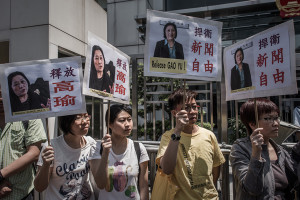 Demonstrators hold placards with portraits of Chinese journalist Gao Yu during a protest in support of her outside the central government liaison office in Hong Kong, April 17, 2015.AFP
A Beijing court on Friday handed a seven-year jail term to veteran Chinese journalist Gao Yu after finding her guilty of "leaking state secrets overseas," it said.
The Beijing No. 3 Intermediate People's Court found 71-year-old political journalist Gao Yu guilty of "breaking international law and supplying highly classified state secrets to persons overseas," it said in a statement posted to its official Sina Weibo account.
"The accused has been sentenced to seven years' imprisonment, with one year's deprivation of political rights," the statement said.
During her trial, Gao was accused of leaking ruling Chinese Communist Party policy Document No. 9 to a Hong Kong-based media outlet.
Document No. 9 lists "seven taboos" to be avoided in public debate, including online and in China's schools and universities, including democracy, freedom of the press, judicial independence and criticism of the party's historical record.
Gao, an outspoken political commentator who was named as one of the International Press Institute's 50 "world press heroes" in 2000, has repeatedly denied breaking Chinese law, saying that a televised "confession" on which the prosecution based its case was obtained under duress.
Gao's brother Gao Wei said his sister looked very thin when she appeared in court on Friday morning, but had vowed to appeal the sentence.
On hearing the verdict and sentence, she turned to him and said: "It's fine. I'm going to appeal."
"I have never seen her look so skinny … it's very hard for me to describe it," said Gao, who attended the hearing along with Gao's son Zhao Ming under escort from the state security police.
"I bought her clothes for her appearance in court, and I thought she might have lost weight, so I didn't get them too big, but they still looked too big for her," he told RFA after returning home on Friday.
He said the charges against "have no basis in fact."
"They broadcast the details of the investigation on television while she was still just a suspect, like parading a criminal," Gao Wei said.
An 'unjust' verdict
Gao's defense lawyer Shang Baojun said the verdict and sentence were "unjust."
"This verdict is unjust, because there wasn't enough evidence," Shang said on Friday.