2015-11-06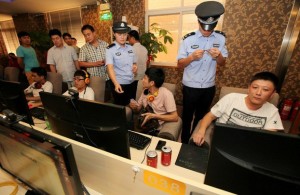 Police check the ID cards of netizens at an Internet cafe in Shandong province, July 31, 2013.
ImagineChina
China has compiled a "blacklist" of keywords banned by its complex Internet censorship regime, known as the Great Firewall, and is now seeking to apply them well beyond its physical borders via a domain-name registry based in the United States, according to recent reports.
U.S.-based domain-name registry XYZ.com recently made a deal with the Chinese government requiring it to enforce Beijing's censorship globally based on a list of banned words, the Wall Street Journal reported this week.
The registry will let China ban domain names based on a list of "sensitive words" including "freedom," "democracy," and a multitude of words seen as referring to the Tiananmen Square massacre, including the title of singer Taylor Swift's 1989 album and tour.
The registry, which controls all domains with newer suffixes including .xyz, .college, and .security, will ban customers from using any Web addresses containing any of Beijing's 12,000 taboo words or phrases, the paper said.
Censorship danger
It cited an application from XYZ to the Internet Corporation for Assigned Names and Numbers, or Icann, whose contract from the U.S. government looks likely to be terminated, ending U.S. oversight of a key component of the Worldwide Web.
"The great danger of the U.S. ending its protection over Icann has always been that authoritarian governments would find ways to censor websites globally by getting control over the root zone of web names and addresses," the article said.
According to the application, the list of banned keywords will likely grow still longer, and XYZ can see no reason for an objection to its proposal, the WSJ said, adding that many rights activists targeted by the ruling Chinese Communist Party might disagree.
"China and other authoritarian regimes have made no secret of their goal to end free speech on the Internet globally," the paper warned.
"Censoring .xyz addresses is just the beginning."
Kowtowing to China
Anhui rights activist Gu He said the move comes amid growing efforts by Western countries to build closer economic ties with China.
"My feeling is that Western countries are kowtowing to China for economic reasons now, and this new blacklist of 12,000 words that can't be used to register overseas domain names is part of a strategy by the Chinese Communist Party to expand its censorship overseas," she said.
Gu said the move seems to be targeting Chinese netizens trying to get out from behind the Great Firewall, the complex system of blocks, filters and human censorship that controls what users can see online.
"In the past, people could set up websites, but they'd be subject to censorship, so a lot of people would register domain names overseas and publish their websites that way," Gu said.
"That way, they could secretly make a lot of restricted news and information public, and China had no way of dealing with that," she said.
Beijing-based writer Liu Di said banning keywords is an ineffectual method of censorship, however.
"Every few days, something new emerges, so they are likely to have to keep updating their list daily," Liu said. "As soon as you have banned words, people will start thinking up some other way to talk about the matter."
"Are they planning to send daily updates to overseas companies?
[Because] the propaganda department is used to sending out directives on the quiet … so as to leave no evidence that it came from them," she said.
For detail please visit here