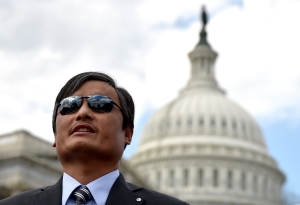 BY ISAAC STONE FISHFEBRUARY 25, 2015 – 5:29
In April 2012, blind Chinese dissident Chen Guangcheng escaped from house arrest in a rural village and sought refuge in the U.S. Embassy in Beijing. The ruling Chinese Communist Party was furious, and demanded that Chen leave the embassy. When U.S. officials negotiated with Chen to find a way for him to leave, he asked for a guarantee that his family — who had been routinely harassed and beaten by plainclothes government thugs — would be safe.
In a copy of Chen's unpublished memoir, The Barefoot Lawyer, obtained by Foreign Policy, Chen details the promises U.S. officials made to him — and then broke. According to Chen, Kurt Campbell, the then-assistant secretary of state for East Asian and Pacific Affairs and the highest-ranking United States diplomat directly involved in the affair, said that he and then-American Ambassador Gary Locke would personally reunite the dissident with his family.
"'I swear on my mother's name, on the name of my children, in the name of God, that Ambassador Locke and I will go to get your family,'" Campbell told Chen inside the embassy, according to the dissident's account. Campbell then asked Chen to make a statement "that the American government has been extremely helpful and that you completely trust us."
Campbell didn't keep his promise to go to rural China and bring Chen's family to Beijing. Instead, it was Chinese officials who did so, causing Chen to fear for their safety. The Americans, Chen writes, "relinquished control of the situation." Furious, Chen instead made a different statement, and complained that U.S. officials abandoned him, exacerbating a diplomatic tiff between Washington and Beijing.
Chen, who first incited Chinese officials' ire by defending the rights of people with disabilities, had long been critical of the State Department's handling of his case. In The Barefoot Lawyer, set to be published March 10, Chen releases some damning new details about his saga, which unfolded just days before then-Secretary of State Hillary Clinton was to arrive in Beijing for talks with the Chinese leadership.
In Hard Choices, Clinton's June 2014 memoir of her time at the State Department, she devotes an entire chapter to her involvement in the Chen affair. Chen was "unpredictable and quixotic," Clinton writes, but also "as formidable a negotiator as the Chinese leaders outside."
Chen, however, barely mentions Clinton in his book. In detailing the pressure American officials put on him to reach a deal quickly, it's Campbell who comes off especially poorly. He warns Chen, according to the book, that "if you don't leave the embassy, the Chinese government will accuse you of treason."
In an email, Campbell, who now runs the Asia Group, a consultancy, didn't dispute the quotes, or the promise he made. "I respect Chen's perspective and his many sacrifices," he wrote. It was an "extraordinary experience," Campbell added, and he was proud to have been part of it. (The State Department didn't immediately respond to a request for comment. Chen didn't respond to a request for comment.)
It was also an intense one, for Chen, Campbell, and everyone involved. "I'm so upset, I don't know how else to help you," Chen quotes Campbell as saying. "'We've been up for days and nights, and in Washington hundreds of people have been working on this. We can't keep talking about it!'" Chen writes that Campbell, exhausted by the pressure, "shed tears before storming out of the room."
Chen also details for the first time his interaction with the Chinese side. Absurdly, the highest-ranking Chinese official whom Chen dealt with appears to be a man named Guo Shousong, who identified himself as the assistant head for citizen reception at the State Bureau for Letters and Visits — a toothless Chinese institution that claims to encourage citizens to petition grievances.
For detail please visit here