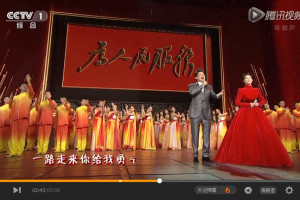 7:47 pm HKT Feb 19, 2015
A screenshot shows the performance of "I Give My Heart to You" during this year's China Central Television Spring Festival gala.
With the Lunar New Year drawing near, China's state broadcaster used one of its most tightly managed and overtly political Spring Festival galas in recent memory to deliver a message to the country's 1.3 billion people on behalf of the Communist Party: Our hearts are yours.
A four-hour jumble of songs, skits, lavish costumes and gravity-defying hair-dos piped into living rooms across China every Lunar New Year's eve, China Central Television's Spring Festival gala is one of the world's most-watched broadcasts. The show – equal parts entertainment and propaganda – reached more than 700 million viewers in 2014, according to CCTV, in what was considered a down year.
It wasn't immediately clear how many tuned into Wednesday night's broadcast.
Even if many viewers only keep it on in the background as they eat dinner or play cards, such a large audience makes the show an irresistible vehicle for the delivery of political messages. The proportion of political content has waxed and waned over the years, but with Chinese President Xi Jinping eager to tighten the Communist Party's grip on public discourse, the messages this year were clear.
For the first time, the gala featured a host from the majority Muslim Uighur ethnic minority, Negmat Rahman, whose appearance helped reinforce a message of ethnic unity following a year of escalating violence in the Uighur homeland of Xinjiang. A number of skits and songs addressed the lives of the ordinary people, who were also featured prominently in the studio audience, recalling Mr. Xi's "mass line" campaign urging officials to better understand regular folk.
The gala was also notable for featuring a pair of comedy routines dealing with corruption – an unusually sensitive topic for the show, but one that dovetails with Mr. Xi's wide-ranging anti-corruption drive.
"Some irony or scoffing at corruption cases in an innocuous way would resonate with the public," the state-run China Daily newspaper quoted Peking University political scientist Yan Jirong as saying.
For detail please visit here