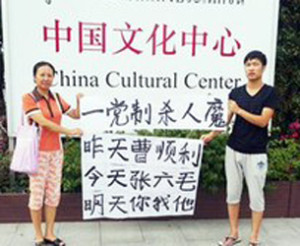 2015-11-05
Chinese activists in exile in Thailand protest outside the China Cultural Center in Bangkok, Nov. 5, 2015.
(Photo courtesy of activists)
Rights groups are calling for the release of two Chinese democracy activists currently held by Thai immigration authorities after seeking political refugee status with the United Nations.
Dong Guangping fled China with his family in September after serving a three-year jail term for subversion from 2001-2004, and being "disappeared" and held for eight months in secret detention in 2014.
Political cartoonist Jiang Yefei had been in Thailand since fleeing China in 2008, where he was detained and tortured after he criticized the ruling Chinese Communist Party's handling of the devastating Sichuan earthquake, and was granted refugee status last April by the U.N. High Commission for Refugees (UNHCR).
Chinese officials told his brother in October that Beijing would be seeking his extradition on suspicion of "incitement to subvert state power" after he published a number of satirical cartoons targeting President Xi Jinping.
Jiang's wife Chu Ling said Jiang and Dong have both pleaded guilty to the immigration-related charges against them.
"I don't think Jiang Yefei's mental health is very good right now, and he told me that he won't be released," Chu said. "I said he shouldn't have pleaded guilty, because he would be more likely to be repatriated."
"I wasn't able to ask him [why] because there was very limited time," she said. "But I don't accept Jiang Yefei's guilty plea because I think that it was the result of threats or that it was forced out of him."
"He can't read Thai, and we have previously agreed by phone that he won't plead guilty, no matter what happens," Chu said. "If you so much as nod at them, they take that to mean you admit your guilt, and they start working with the Chinese."
She said members of the Falun Gong spiritual movement, which is banned as an "evil cult" in China, had previously allowed the Thai police to note that they accepted the charges against them, before sending them to China-influenced areas of northern Myanmar close to the Chinese border, where they were eventually repatriated.
She said the UNHCR appears to have underestimated the danger of repatriation.
"UNHCR is of the opinion that repatriation is not allowed here, but the Thai government just sends people back to Myanmar, where the Chinese police are waiting," Chu said.
"The Thai police trick people into admitting their guilt and then deport them immediately, and there is a Chinese arrest warrant out for Jiang Yefei," she said.
Chu said she has also been asked to stay away from underground groups helping Chinese nationals flee China, for fear that they will be charged with harboring fugitives.
"[They] genuinely believe that China has huge power here," she said. "[It's because] Jiang Yefei recently drew some cartoons of Xi Jinping and the Politburo standing committee, which a dictatorial regime will never allow."
"I think Jiang is in a lot of danger; people have told me of similar cases where they have injected people with some kind of drug that makes it look as if they died of a heart attack," she said.
A petition for their release
According to the Dublin-based Frontline Defenders rights group, which this week launched a petition calling on Thailand to release the two men, Jiang's Chinese passport has expired, and it is unclear whether Dong Guangping is in possession of a valid passport,
The petition on the group's website calls on Bangkok to "immediately and unconditionally release Dong Guangping and Jiang Yefei."
The group, which is also known as the International Foundation for the Protection of Human Rights Defenders, said the Thai authorities should guarantee human rights defenders the freedom to carry out "legitimate human rights activities without fear of reprisals and free of all restrictions."
Thailand-based Chinese activist Lin Dajun said refugees fleeing political persecution in China face a precarious situation once they arrive.
"They are more humane in Thailand, but they might arrest you and they might not," Lin said. "They keep one eye open and the other one closed."
"A lot of people have managed to get refugee status and settlement in a third country, so you can't say Thailand doesn't give anyone a chance; they do," he said.
For detail please visit here