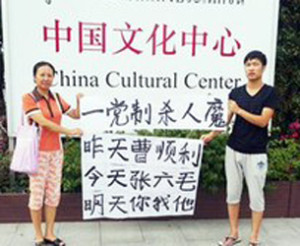 2015-11-05
Chinese activists in exile in Thailand protest outside the China Cultural Center in Bangkok, Nov. 5, 2015.
(Photo courtesy of activists)
Rights groups are calling for the release of two Chinese democracy activists currently held by Thai immigration authorities after seeking political refugee status with the United Nations.
Dong Guangping fled China with his family in September after serving a three-year jail term for subversion from 2001-2004, and being "disappeared" and held for eight months in secret detention in 2014.
Political cartoonist Jiang Yefei had been in Thailand Continue reading →