(January 30th, 2014)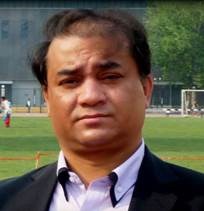 Independent Chinese PEN Center is seriously concerned about the reports of criminal detention of Ilham Tohti, a member of Uyghur PEN and associate professor of economics at the Central University for Nationalities in Beijing, and fears that he has been retaliated for his criticizing remarks. ICPC calls on the government to restitute as soon as possible his personal freedom, freedom of expression and other basic rights, and release all of those imprisoned for their words, including ICPC former and honorary president Dr. Liu Xiaobo.
According to the reports, Ilham Tohti was taken away from his home in Beijing in the afternoon of January 15th, 2014; meanwhile his wife, sons and mother were also restricted of freedom. More than 20 policemen from Beijing and Xinjiang searched his home up to six hours, and confiscated four computers, several mobile phones, bank cards, a small safe and academic essays. On January 16th, asked about the case by a foreign correspondent at a daily news briefing, foreign ministry spokesman Hong Lei told reporters: "Ilham is suspected of breaking the law. The public security organs have detained him in accordance with the law. The relevant departments will now deal with him in accordance with the law." On January 18th, the state-run "Global Times" made a much clearer claim: "As it is investigated, Ilham Tohti was very often inciting students in his class. In 2006, he established Uyghur Online, which was very active before and after July 5th Incident and had been forced to shut down several times due to 'massive inciting propaganda and spreading rumors'. During the recent years, when several Uyghur-related incidents occurred, Ilham Tohti always accepted interviews from foreign media and openly expressed his dissident opinions." On January 25th, Urumqi Bureau of State Security issued a statement on its microblog account, accusing: "Ilham Tohti exploited his status as a teacher to recruit, entice and coerce people to form gangs, and to collude with 'East Turkestan' leaders in planning, organizing and assigning people to go abroad to join in separatist activities."
Also disclosed by Uyghur Online, eight Uyghur students related to Ilham Tohti were questioned by police and four of them couldn't be reached up to date. The site has been blocked by the government and become inaccessible.
Ilham Tohti was born in Artush, Xinjiang Uyghur Autonomous Region on October 25, 1969. He received his bachelor's degree from North East Normal University and Master's degree from the Central University for Nationalities in Beijing, and also studied overseas in South Korea, Japan and Pakistan, and currently is an associate professor of International Settlement in the Central University for Nationalities. In 2006, he founded the website Uyghur Online and served as its webmaster. He is a well-known scholar, criticizing the Chinese government's policies to ethnic minorities and also the economic policies carried out by Xinjiang Uyghur Governor, focusing to defend the rights and interests of Uyghurs, advocating national integration, rationalism and peace, and opposing violence. However, because of his criticizing remarks, he had been warned and detained several times by the authorities. After July 5th ethnic riot in Xinjiang in 2009, he was held in hotel under residential surveillance by the police in Beijing for 45 days due to his words. Both International PEN and ICPC made urgent appeals for restituting his basic civil rights.
According to ICPC resources, Ilham's family has not yet received any notice for his criminal detention, nor for his whereabouts. As it is stated in Article 83 of Criminal Procedure Law of the People's Republic of China, "the family of a detainee should be notified within 24 hours after detention, unless such notification is impossible or such notification may obstruct criminal investigation in a case regarding compromising national security or terrorist activities. However, once such a situation that obstructs criminal investigation disappears, the family of the detainee shall be immediately notified."
ICPC is greatly concerned about the official reports of the criminal detention of Uyghur PEN member Ilham Tohti for his "inciting" and "dissident" remarks, and also worried that he would suffer more severe retaliations for his second-time detention for his words and would be deprived of legal rights with an excuse of "involving in crime of endangering national security and the crime of terrorism".
Therefore, ICPC makes the following appeals:
–if Ilham and his students were really detained for their expressions, the authorities should correct the mistakes of discriminating people for their words and release them immediately and unconditionally;
–during the period of detention of Ilham and others, the police should assure them of personal safety and humane treatments, and of the legal rights to notify and contact their families and obtain legal representation as early as possible;
–the media both in China and overseas should urge the Chinese government respect Article 35 of the Constitution of the People's Republic of China and Article 19 of the International Covenant on Civil and Political Rights (ICCPR) which China signed in 1998 and release immediately and unconditionally all of those imprisoned for their words, including ICPC members Liu Xiaobo, Yang Tianshui, Zhu Yufu, Zhao Changqing, Zhang Lin, Li Huaping and honorable members Xu Zhiyong.
PEN International is the world's oldest human rights organization and international literary organization. ICPC is one of PEN International's 145 members and aims to protect writers' freedom of expression and freedom to write worldwide and advocates for the rights of writers and journalists who are imprisoned, threatened, persecuted or harassed in China particularly. For more information, please visit http://www.chinesepen.org/english.