The Independent Chinese PEN Center (ICPC) has honoured two imprisoned writers, HU Shigen and Mahvash SABET (f, Iran) the ICPC's 2016 Liu Xiaobo Courage to Write Award for their courage and perseverance in writing and fighting for freedom of experission and other basic rights despite the long-term imprisonment. In addition, ICPC have named six writers as new honorary members, including ZHANG Haitao, Shokjang (Tibetan), LU Yuyu, HUANG Wenxun, LI Tingyu (f) and WANG Yuping.
As of the present, nine ICPC members are still in jail, including HU Shigen, YANG Tongyan, LIU Xiaobo, ZHU Yufu, LÜ Gengsong, CHEN Shuqing, QIN Yongmei, GUI Minhai and LIU Yanli (f). In addition, 39 more of ICPC's honorary members are still in prison  in China, including QI Chonghuai, LU Jianhua, GUO Quan, Hailaite Niyazi, LIU Xianbin, CHEN Wei, LI Tie, Memetjan Abdulla, CHEN Xi, Gangkye Drubpa Kyab, LI Bifeng, XU Zhiyong, YAO Wentian, Ilham Tohti, WANG Binzhang, Gartse Jigme, WANG Jinamin, TANG Jingling, WANG Qingying, YANG Chaoyang, XU Zhiqiang, YANG Maodong, JIANG LIjun, DONG Rubin, XIE Fengxia, WANG Mo, SU Changlan (f), CHEN Yunfei, ZHANG Rongping, WU Gan, ZHAO Haitong, WANG Quanzhang, XIE Yang, XIE Tanyi, LI Heping, LIU Shaoming, SUN Feng, LIU Sixin and XIN LIjian. 102 of former honorary members have already been released.
The ICPC's "Liu Xiaobo Courage to Write Award" was created in 2006 and was previously known as the "Writers in Prison Award". The laureates from 2006 to 2009 were YANG Tongyan, ZHANG Lin, Lü Gengsong, DU Daobin and XU Zerong. In March 2010, it was renamed after Dr. Liu Xiaobo, the ICPC's honorary president and former president, to mark his courage in writing manifested over the last 20 years as well as his constant support for this award. Dr. Liu has been serving a harsh 11 year sentence since 8 December 2008, and was awarded Nobel Peace Prize in 2010. From 2010 to 2015, the laureates of the award were LIU Xianbin, Zarganar (Burma), Hada, QIN Yongmin, CHEN Wei, Dolma Kyab, WU Yilong, TAN Zuoren, Nguyen Xuan Nghia (Vietnam), CHEN Shuqing, PU Zhiqiang and Abduljalil AlSingace (Bahrain).
Mr. Hu Shigen, aged 61, has been a member of ICPC in Beijing since December 2009. He was born in Nanchang County, Jiangxi Province, China, in 1955, and admitted to Peking University as a student of Chinese Literature in 1979. After receiving his Master's Degree in 1986, he became a lecturer at the Beijing Language and Culture University. Hu participated in the Democracy Movement in 1989. After the June 4th Massacre, he was investigated and dismissed from his teaching position. On December 20, 1991, Hu joined Liu Jingsheng, Wang Tiancheng, Kang Yuchun and Chen Qinglin in holding a "core member meeting" for the Freedom and Democracy Party, which approved a political program and constitution drafted by Hu and elected him as its chairman. In1992, the groups began planning memorial activities for the third anniversary of the 1989 Tiananmen Incident in Beijing, Shanghai and other major cities. The authorities found out about the plot and detained Hu Shigen on May 27, with dozens of other arrests taking place throughout China in the following months. December 16, 1994, the Beijing Municipal Intermediate People's Court found Hu Shigen guilty of organizing and leading a "counterrevolutionary clique" and of "counterrevolutionary propaganda and incitement", for which he was sentenced to 20 years' imprisonment. PEN International expressed great concern regarding Hu Shigen's case, and he was adopted as an honorary member of English, Canadian and Independent Chinese PEN centers. He continued writing in prison, including the essay "How Big a Character is Xin", which was managed to get out of prison, and published and translated into English by PEN (https://pen.org/nonfiction-memoir/how-big-character-xin). In June 2008, the US-based National Endowment for Democracy awarded Hu its annual Democracy Award. Hu Shigen was released on August 26, 2008, following three sentence reductions, but he continued to be deprived of his political rights for an additional four years, and remained under police surveillance and frequent summonses. On 3 May 2014, Hu Shigen joined a dozen of writers and scholars at a commemoration seminar on 25th Anniversary of June Fourth Incident in Beijing, and was detained until 5 June to be released on bail. A year later, on 11 July, he was detained for suspicion of inciting subversion of the state power and creating troubles, on 7 August ordered to hold at an unknown location under residential surveillance, on 8 January 2016 formally arrested for suspicion of subverting the state power by the Public Security Bureau of Tianjin City, and on 3 August convicted for the same change and sentenced to seven years and six months imprisonment and five years deprivation of political rights. ICPC has issued a protest statement denouncing the sentence as a violation of freedom of expression.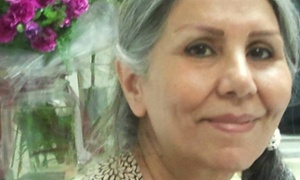 Ms. Mahvash SABET is a teacher and poet, currently serving a 20-year prison sentence in Evin prison, Tehran. She began her professional career as a teacher and worked as a principle at several schools. She also collaborated with the National Literacy Committee of Iran. Following the Islamic Revolution in 1979, Sabet was fired from her job and blocked from working in public education, like thousands of other Iranian Baha'i educators. She served for 15 years as director of the Baha'i Institute for Higher Education, which provides alternative higher education for Baha'i youth. She is one of a group of seven Baha'i leaders known as the 'Yaran-i-Iran' – 'Friends of Iran' – who have been detained since 2008 for their faith and activities related to running the affairs of the Bahá'í community in Iran. The Baha'i community in Iran has been the focus of a systematic, state-sponsored persecution since the Islamic Revolution of 1979. After the revolution, the 'Yaran-i-Iran' – 'Friends of Iran' – was formed with the full knowledge of the government and served as an informal council for the Baha'i in Iran, working to support the spiritual and social needs of Iran's 300,000-member Baha'i community, until its entire membership was arrested in 2008. Mahvash Sabet was arrested on 5 March 2008 while on a trip to Mashhad. The other six members of the group were arrested on 14 May 2008 at their homes in Tehran. All were imprisoned without charge until January 2010, during which they were held incommunicado for weeks and were not allowed access to legal counsel. Charged with espionage, propaganda against the Islamic Republic, the establishment of an illegal administration, cooperation with Israel, sending secret documents outside the country, acting against the security of the country, and corruption on earth, their trial began on 12 January 2010. On 14 June 2010 each of the defendants was sentenced to 20 years' imprisonment, after six brief court sessions characterised by their lack of due legal process. Their sentences were later reduced to ten years each when an appeals court revoked three of the charges; however, in March 2011, the prisoners were informed of the reinstatement of their original sentences. They have never received official copies of the original verdict or the ruling on appeal despite repeated requests. Mahvash Sabet began writing poetry in prison and a collection of her prison poems was published in English translation on 1 April 2013 (http://grbooks.com/george-ronald-publisher-books/poetry/prison-poems-1358864879). Her poems are described as 'sometimes a means of historical documentation…; sometimes a series of portraits of other women trapped in prison with her; sometimes meditations on powerlessness, on loneliness' (
Bookstore – Prison Poems – George Ronald Publisher)
Each year on 15 November, members of PEN international all over the world commemorate the "Day of Imprisoned Writers" and honour the courage of our imprisoned colleagues in order to protest against repression and defend freedom of expression. ICPC reiterates that freedom of expression, including the freedom to write and publish, is an inalienable and fundamental human right. ICPC will continue to urge the release of LIU Xiaobo, HU Shigen, Mahvash SABET, ZHANG Haitao, Shokjang and all those imprisoned for their writings.
PEN International is the world's oldest human rights organization and international literary organization. ICPC is one of PEN International's 144 centers and aims to protect writers' freedom of expression and freedom to write worldwide and advocates for the rights of writers and journalists who are imprisoned, threatened, persecuted or harassed in China particularly.
For more information, please contact
Ms. Guozhen XIAO
Executive Secretary and Coordinator of Writers in Prison Committee, ICPC
Tel: +1-617-4015572, email: [email protected]
Yu ZHANG
Coordinator of Press & Translation Committee, ICPC
Tel: +46-8-50022792, email: [email protected]
Websites: http://www.chinesepen.org/english