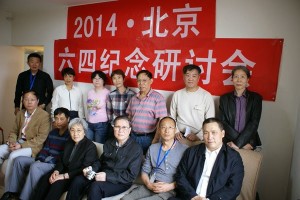 2015-05-22
Pu Zhiqiang (front right) attends a seminar about the Tiananmen crackdown in Beijing, May 3, 2014.
Photo courtesy of CHRD
Jailed rights lawyer Pu Zhiqiang dismissed charges of "incitement to racial hatred," and "picking quarrels and stirring up trouble," his defense attorney said Friday after meeting with him in a prison in China's capital Beijing, where he awaits trial more than one year after his detention.
Beijing-based lawyer Mo Shaoping told RFA's Cantonese Service in a phone interview that he had met with Pu early on Friday to discuss the charges leveled against his client in a formal indictment issued last week and how to proceed with their defense strategy.
"We didn't talk much—mainly about the indictment, which has been sent to him [in a formal document]," Mo said.
"He believes the two charges still have no merit, but there is nothing he can do but wait for his trial," he said.
Mo told RFA he was unable to discuss his client's defense strategy ahead of the trial—for which a date has yet to be set—saying it was "not convenient."
"Not convenient" is a phrase often used by Chinese activists on the phone to signal surveillance or police presence.
Mo has said that Pu, 50, faces up to 10 years in prison for each of the two charges he currently faces.
Pu was formally indicted more than a year after his detention following an event marking the anniversary of the military crackdown on the 1989 student-led pro-democracy movement.
The South China Morning Post cited Pu's indictment as saying he had been incriminated for his scathing remarks on the government's handling of an ethnic conflict in southwestern China last year and his sarcastic comments on two officials.
For the charge of "inciting ethnic hatred", the indictment said that between January 2012 and May last year Pu had "sowed ethnic discord" by posting comments on the knife attack at a Kunming railway station in March last year on several Sina Weibo accounts, the Post said.
For the second charge, the indictment said that Pu had also "vented his emotions" online to insult Shen Jilan, an elderly legislator who claims never to have voted "no" in parliamentary sessions, and Tian Zhenhui, a spokeswoman at a state railway design company blamed for providing a flawed signaling system that caused a high-speed train crash in Zhejiang province, in July 2011.
Previous charges, including "incitement to subvert state power," "incitement to separatism," and "illegally obtaining citizens' information" have been dropped, a second member of Pu's defense team, Shang Baojun, told RFA last week. Pu had also rejected those charges.
Authorities in Beijing recently released on bail Pu's niece and former defense attorney Qu Zhenhong, who was initially held in May 2014 under criminal detention on suspicion of "illegally gathering citizens' information," after she agreed to represent him.
Beijing-based lawyer Liu Xiaoyuan said Qu has been released on a technicality, because the same charge had been dropped against Pu, with whom she was to have shared a trial.