2015-09-25
China's President Xi Jinping met with U.S. President Barack Obama at the White House in Washington Friday to discuss a variety of issues, including human rights, as protesters massed outside, calling on Beijing to end its oppression of minorities and dissidents.
In a joint press conference delivered after the meeting, Obama said the two leaders had held a "frank discussion" on human rights, reaffirming U.S. support for freedom of assembly and expression, freedom of the press and freedom of religion.
"I expressed in candid terms our strong view that preventing journalists, lawyers, NGOs and civil society groups from operating freely, or closing churches and denying ethnic minorities equal treatment are all problematic … and actually prevent China and its people from realizing its full potential," he said.
Xi said China is making "all-around efforts to deepen comprehensive reform, to build law-based governance, [and] to enforce strict party discipline" in the interest of "building a society of initial prosperity in all respects."
He said that while democracy and human rights "are the common pursuit of mankind … we must recognize that countries have different historical processes and realities, and we need to respect people of all countries in the right to choose their own development path independently."
According to Xi, part of China's reemergence as a global player requires achieving "social equity and justice, and advancing human rights," and he expressed Beijing's willingness to further conduct rights dialogue with the U.S. so that the two nations might "progress together."
While disagreeing over China's territorial ambitions in the South China Sea, Obama and Xi also agreed to measure to combat global warming and halt commercial cyber-theft and announced agreements with on a military hotline and rules of behavior to govern air-to-air encounters between the two powers military aircraft.
During the press conference, chants could be heard from about a block away from the South Lawn, where more than 200 pro-China supporters and anti-China protesters in two groups were separated from one another by metal barriers and police.
The supporters, consisting largely of Chinese students based in the U.S. and members of Chinese-American associations, waved Chinese and American flags and called out pro-China slogans, welcoming Xi to the U.S. capital.
The more animated protesters were made up of a variety of anti-Beijing organizations, including ethnic Uyghurs from northwestern China's Xinjiang Uyghur Autonomous Region, Tibetans and Chinese democracy campaigners.
One group of activists called China Rights Now carried a banner that said in large letters: "Xi Jinping Let Freedom Ring" with smaller letters underneath which read: "for Chinese, Tibetans, Uyghurs and Mongols."
Oppressive policies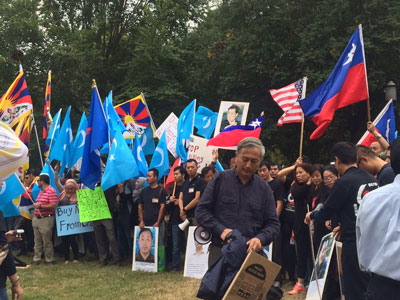 Anti-China protesters carry banners and flags outside the White House in Washington, Sept. 25, 2015. Credit: RFA
A group of Uyghurs shouted slogans calling for freedom and human rights and greater autonomy in the Xinjiang region, where members of their minority complain of pervasive ethnic discrimination, religious repression, and cultural suppression by China's communist government.
Rebiya Kadeer, president of the Munich-based World Uyghur Congress, questioned why Xi was being invited to the White House when he is responsible for the "jailing of thousands and the killing of many others."
"The Chinese government arrested thousands of people during the 2009 protests in [the Xinjiang capital] Urumqi and sentenced [outspoken Uyghur academic] Ilham Tohiti to life in prison," she said.
"China has been carrying out its oppressive policies over the past 60 years, but when Xi rose to power, the number of forced disappearances and sentences without due process intensified. Today we call on China to release all political prisoners, including Uyghur, Tibetan and Chinese alike."
T. Kumar, international advocacy director at London-based rights group Amnesty International, called on Obama to "give equal weight to human rights, along with business and tech issues" during his meeting with Xi, saying to steer clear of the issue would be "an extreme failure" for the U.S.
"We're concerned about thousands of political prisoners in Xinjiang," he said, as well as discrimination against Uyghurs in the region.
China has vowed to crack down on the "three evils" of terrorism, separatism, and religious extremism in Xinjiang, but experts outside China say Beijing has exaggerated the threat from Uyghur "separatists" and that domestic policies are responsible for an upsurge in violence that has left hundreds dead since 2012.
For detail please visit here