By DIDI KIRSTEN TATLOW August 27, 2015
In the children's play "Five Fools," Circus Master, right, learns a lesson about the power of kindness as she pressures Little Flower, left, to talk.
Wang Zhaohui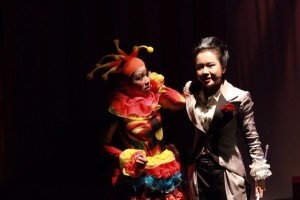 At the Drum Tower West Theater in Beijing last week, Circus Master was torturing Little Flower because she would not speak and was ruining the show.
She ordered Clown and Strong Man — other members of her troupe in a play titled ''Five Fools'' (the fifth was Musician) — to tie Little Flower to a giant wheel and shoot fake chickens at her from a cannon.
The plastic chickens flew, but Little Flower remained silent. So, urged on by her troupe, Circus Master tried something different — kindness. She said, ''Please!'' And Little Flower talked, as scores of children whooped, clapped and laughed with joy.
The message of the play, as the young audience instinctively understood, was that kindness may work where force does not.
Ultimately, it was a lesson in the power of civility.
Periodically, China goes through episodes of soul-searching: Are we kind? Are we civil?
Images go viral: A child is run over by a van and ignored by bystanders. An elderly man falls, and no one helps. A woman is drowning, and only a foreigner tries to save her.
''Who are we?'' The agonized conversation builds around dinner tables and on social media.
In recent years, a ritual of kindness has developed around major disasters. After the 2008 earthquake in Sichuan, volunteers offered blankets and counseling. In June, after a cruise ship capsized in the Yangtze, taxi drivers gave free rides to relatives of the dead. This month people donated water and food after the chemical explosions in Tianjin.
Yet outside such high-profile events, the cost of helping a stranger can be high. Good Samaritans are often presented with a hospital bill, or may be accused by the victim of causing the accident in the hope of extorting money.
In 2013, the southern city of Shenzhen passed China's first ''Good Person Law,'' to protect the rights of those who help others. This month, the city of Zibo in Shandong Province said ambulance costs would be covered by health insurance to prevent good Samaritans from having to foot the bill.
Chinese people do not lack kindness, researchers say. But a powerful mix of hierarchy and authoritarianism is stopping them from expressing it much of the time, especially toward strangers.
He Huaihong, a philosophy professor at Peking University, does not believe that morality has collapsed. But he says that it is suppressed by constraints in the system.
''A normal and healthy society has all kinds of ways to help people express their good intentions,'' he wrote in an essay published last year on ifeng.com.
Mr. He differentiates between traditional, pre-Communist morality — where the educated elite were expected to exhibit better morals than ordinary people — and post-1949 morality, where all were expected to be equal.