Michael D. Goldhaber, The Litigation Daily
October 31, 2014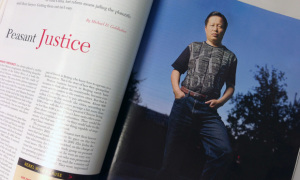 Gao Zhisheng in The American Lawyer, November 2005.
In November 2005, The American Lawyer ran a full-page photo of the larger-than-life Beijing human rights lawyer Gao Zhisheng, posing defiantly with his hands tucked into his jeans, exuding more dignity in his knock-off Tshirt than a thick magazine full of attorneys in business suits. Before the issue could even hit your mailbox, Gao's 20-lawyer law firm had lost its license, thanks to Gao's full-throated defense of the Falun Gong. Gao was soon arrested.
The caption for the accompanying story, "Peasant Justice"—about Gao's brave defense of another rights advocate—noted that tort reform in China means jailing the lawyers. The punchline: "Getting them out isn't easy." We didn't know the half of it.
In honor of this month's Chinese Communist Party plenum on "socialist rule of law with Chinese characteristics," let's review Gao's lived experience of the rule of law as currently expressed in China. This account draws on reports by Freedom Now and other nonprofits. The Global Lawyer invites the American bar to join its voice to President Obama's in urging Xi Jinping to let Gao leave the country before the U.S.-China presidential summit on Nov. 12.
Gao was already under pressure when I met him at a Beijing bookstore in August 2005. He had obstinately insisted on defending China's most despised: the Falun Gong (banned by the state as a "cult"), a Bible-pushing Christian pastor, impoverished urbanites evicted for the Olympics, and powerless peasants pillaged by local officials. Weeks before we met, a client had been stung by secret police posing as journalists, so he was wary. After changing our meeting place twice, Gao tapped me on the shoulder as I browsed.
Gao spoke with disdain of China's controlled judiciary. He called on both local and Western law firms to rally around persecuted lawyers. When I asked where he found his courage, Gao spoke of his mother, a Buddhist so devout that she'd gather the bones scattered by grave robbers to give them a proper burial. As an adult, Gao was inspired by a Falun Gong client to find his own faith in Christianity. He understood the danger of his game, yet he saw no choice. "Our giving up of our effort in human rights protection," he wrote in a stiffly translated essay, "will be our encouragement of illegal behavior and the giving up of our conscience."