August 14, 2013
Government intervention, evolving technology, and the quest to end terrorism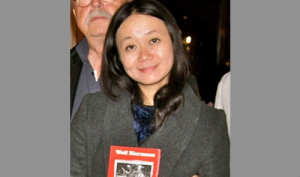 Wu Hongfei
Chinese singer and writer Wu Hongfei. Photo courtesy of Tienchi Martin-Liao.
This summer, a wheelchair-bound paraplegic man named Ji Zhongxing tried to detonate a homemade bomb at the Beijing Airport to draw government attention to his claims of police brutality. But before he was ready, the bomb exploded, severely injuring his hand.
It is possible that this story is what inspired Wu Hongfei, a writer and rock band singer, to post some explosive statements on her Weibo page. On July 21, just one day after Ji's explosion, Wu Hongfei wrote, "I want to bomb ("zha") The Neighborhood Committee of Beijing's Talent Exchange Centre. I want to bomb the damn Construction Committee too. I don't know what the CC is or what it does, but I am sure there are only idiots there. All friends of the CC are black sheep to me."
The Chinese verb "zha" means both "to bomb" and "to fry." Just hours later, Wu deleted her comments and posted, "I want to fry ("zha") the chicken wings, french fries, and steamed bread at McDonald's, which is next door to the Neighborhood Committee of Beijing's Talent Exchange Centre."
However it was too late: this adolescent-like grumbling touched a nerve in the authorities. Five days later, Wu was arrested and spent eight days in a detention center. Many, including Wu, believe that she may be sentenced to years in prison. The police action has alarmed the public, causing some of people to ask: Isn't this a typical intervention of freedom of speech?
The incident triggered a hot discussion online In China, a fear-monger can be sentenced to up to five years in prison. Fortunately, Wu Hongfei was released on August 2, and the original accusation leveled against her, "fabricating terrorist information" was adjusted to a "crime of affray." Wu showed regret during her time in the detention center and promised that, in the future, she would concentrate her energy solely on music.
It might seem that the authorities showed leniency in dealing with Wu's case, but their strategy has an intended message. Taking Wu's case as an example, all insubordinate citizens should learn: Don't be cheeky, even verbally.
http://www.sampsoniaway.org/fearless-ink/2013/08/14/internet-surveillance-a-visible-and-invisible-hand-tienchimartinliao/