September 3, 2013
An award-winning Chinese writer provokes and exposes the CCP, despite official bans and censorship.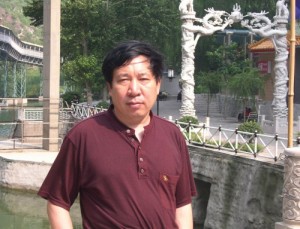 Yan Lianke
Chinese author Yan Lianke. Photo: friends.sfpl via Flickr.
This year the Chinese writer Yan Lianke has been longlisted for the Man Booker International Prize. Even if we don't know whether Yan will be on the shortlist, or become the winner, it doesn't affect the fact that he's a great writer who deserves acknowledgment and respect.
Yan was born in Song county, a rather poor and remote region in Henan province. Although he spent most of his life in big cities, his writing is deeply associated with this peasant origin. Many of his protagonists are peasants or people come from the countryside and the detailed and vivid description of village life plays a central role in his writing.
Like Mo Yan, last year's Nobel Literature Prize laureate, the 56 year-old Yan Lianke has also served in the army. Later, he studied at Henan University with a second degree in Chinese literature, and graduated from the Chinese Liberation Army's art Academy. Like Mo Yan, he is also a member of the official Chinese Writers Association, and belongs to the group of so-called "professional writers" (zhuanye zuojia) who receive their salary from the government. Although a good friend of Mo Yan, he still criticized him recently for "not taking responsibility as an intellectual and not daring to speak the truth on some important issues."
Unlike Mo Yan, Yan Lianke has probably received more accolades than most contemporary Chinese writers—more then 20 domestic and international awards—but at the same time, he has had almost all of his books banned by the government. To this effect, Yan won China's prestigious literary award, the Lu Xun Literary Prize twice, once for his novella Golden Cave (1995), and a second time for Year, Month, Day (1997). He is also a recipient of the Lao She Literary Prize for his novel Enjoyment, plus a repeat winner of the Hundred Flowers Award. All these are official honors, yet they did not keep Yan away from the shadow of censorship, which has been on his heels for two decades. His anti-war novel Sunset in Summer (1994) especially annoyed the authority. Being a writer who was also in the army, he was supposed to stimulate the soldiers to become fearless fighters, but instead he ruined the heroic image of the military because he wanted "the soldiers to be treated like human beings." Consequently he had to do self-criticism for half a year.
In 2000, Hard as Water, his novel on the Cultural Revolution, was denounced by the General Administration of Press and Publication (GAPP). In 2004 the novel Enjoyment or Lenin's Kisses (Shou hou) once again scratched the nerves of his employer, the People's Liberation Amy, which finally kicked him out after its publication. However, Yan showed his great talent for humor and cynicism in this sarcastic novel, which describes greedy, corrupted local government officers and their absurd idea to encourage stunted villagers to buy Lenin's corpse from Russia in the hope that showing the foreign leader's cadaver will skyrocket tourism and increase the village's income. All dream of imminent wealth. The impertinence of the novel exasperated the officials. The CCP's Propaganda Department was subsequently alarmed and ordered the media to boycott the book.