LAURA CHANG 12.23.14
As the editor of ChinaFile's Books section, I have the privilege of meeting and interviewing some amazing writers covering China today—academics, journalists, scholars, activists. Based on these conversations, we create short videos of the authors describing their inspiration, research, and hopes for their work. Since ChinaFile's launch in early 2013 we have amassed a library of roughly 150 of these author videos on the site. I invite you to peruse them.
In no particular order, the following five books represent what I loved most in reading about China this year.
China's Second Continent: How a Million Migrants Are Building a New Empire in Africa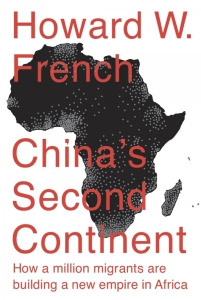 by Howard W. French
China's engagement with Africa remains dynamic, complicated, sometimes fraught, and Howard French investigates this relationship with the complexity and nuance the subject deserves. He is a terrific storyteller and weaves together fascinating portraits of the individuals on the ground remaking this relationship—both those who have set out from China in search of a better life and the Africans who are most directly affected.
Leftover Women: The Resurgence of Gender Inequality in China
by Leta Hong Fincher