2015-09-09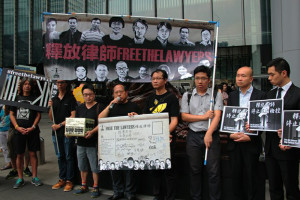 Activists in Hong Kong demonstrate for the release of rights lawyers detained on the Chinese mainland, Aug. 25, 2015.
RFA
Two months after Chinese police carried out a midnight raid on the home of prominent human rights lawyer Wang Yu and her husband, sparking a nationwide police operation targeting hundreds of attorneys, her lawyers marched to a police station near where she is believed to be held to demand a meeting with Wang.
Li Weida and Lu Zhoubin, who have been instructed to represent Wang by her relatives, visited the Hexi district police bureau in the northern city of Tianjin on Wednesday in a bid to find out more about her whereabouts, amid growing concerns for the welfare of all detained lawyers.
"This case has been going on for two months now, and yet we haven't been allowed a meeting with our client," Li told RFA from the Hexi police station.
"We know nothing about her situation, how she is, at the moment, nor do we know where she is being held," he said.
Li said Wang is being held under criminal detention on suspicion of "picking quarrels and stirring up trouble," and the more serious charge of "incitement to subvert state power."
"But we have very little understanding of what happens next," he added.
Since Wang's detention alongside her husband Bao Longjun and other colleagues from the Beijing-based Fengrui law firm on July 10, at least 284 lawyers, paralegals and assistants and other activists or family members had been detained, placed under house arrest or otherwise had their movements restricted in an ongoing crackdown, the Hong Kong-based China Human Rights Lawyers Concern Group (CHRLCG) said in a statement on its website.
Of those, 248 have since been released, but 12 lawyers and three non-lawyers are still being held in undisclosed locations, including Wang Yu, her husband Bao Longjun, and Fengrui colleagues Wang Quanzhang, Huang Liqun and Zhou Shifeng, it said.
China sees "troublemaking'
China's tightly controlled state media has accused the Fengrui lawyers of "troublemaking" and seeking to incite mass incidents by publicizing cases where they defend some of the most vulnerable groups in society.
Among those forbidden to leave China are Wang and Bao's 19-year-old son Bao Mengmeng, who had planned to attend college in the U.S., as well as top rights lawyers Zhang Qingfang and Liang Xiaojun, both of whom have tried to reach the U.S. with their families in recent weeks.
Those leaving have all been told that they were stopped for fear their departure would "harm state security," the CHRLCG said.
Li said police had demanded proof that lawyers previously helping the family had had their instructions terminated, as well as further signed proof of his and Lu's instruction.
Li said lawyers for Li Heping and Bao Longjun also planned to re-apply for a meeting with their clients this week.
"Altogether, there are seven or eight lawyers [who will make this application] because the clients are all basically being held here," he said.
The moves follow repeated freedom of information requests lodged with the authorities for information regarding the whereabouts and status of detainees in the crackdown on China's embattled legal profession.
"The first thing they should do when they detain someone is to inform their relatives, but they haven't even done that," lawyer Wen Donghai, who has previously tried to find Wang, told RFA.
"They should also inform the detainee of their rights with regard to hiring a lawyer."
For detail please visit here