3:40 pm HKT Oct 27, 2014
Peop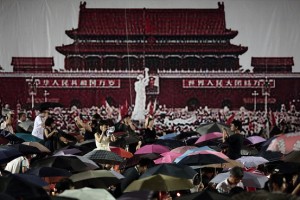 le take photos during a vigil held to mark the 24th anniversary of the 1989 crackdown at Tiananmen Square, in front of a backdrop of Beijing's Tiananmen Square and the Forbidden City (back), in Hong Kong, on June 4, 2013 Agence France-Presse/Getty Images
Hundreds gathered under polluted skies and the watchful gaze of police in a Beijing suburb this weekend, braving a sustained crackdown on dissent to bid farewell to one of the "black hands" behind the 1989 Tiananmen Square protest.
Police prevented China Real Time from attending the funeral of Chen Ziming, 62 years old, who died of pancreatic cancer last week. At least one other would-be attendee, a democracy activist, reported being stopped by authorities on his way to the funeral, which was held in Beijing's northern Changping district on Saturday morning.
But many others, including some who had never met him, packed the Changping funeral home to bid goodbye to a man who was little-known in the West but remembered by the country's fractured pro-democracy activists as a unifying figure. Photos of the event seen by China Real Time showed mourners squeezed shoulder-to-shoulder inside the reception hall surrounded by wreaths.
Wang Ying, a well-known entrepreneur who was among the mourners, put the crowd at between 500 and 600 people.
The eulogy was delivered by retired Peking University sociologist Zheng Yefu, who described Mr. Chen as one of modern China's leading figures in the fight against authoritarianism. In an essay written just after Mr. Chen's death – large parts of which he repeated during his eulogy, according to those in attendance – Mr. Zheng listed the various pro-democracy movements leading up to 1989. "What's especially astounding is that, at every step in China's fight for freedom and rights, he played a central important role."

Wu Yongfen (R) and Chen Erzang (L) held a protest after police refused their application for a demonstration march to demand the release of their jailed dissident son Chen Ziming on medical parole, at a park in Beijing on October 22, 1995. Reuters
"We were good friends," Mr. Zheng said later by phone, noting that he had known Mr. Chen since 1987. He declined to discuss the specifics of his eulogy.