05.22.14
By Gary Shteyngart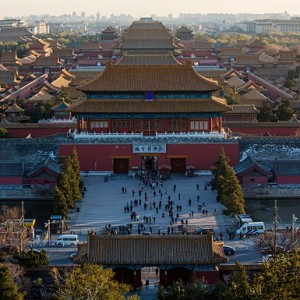 The headlong rush of Beijing's booming scene, as seen by T+L—old-school restaurants, futuristic architecture, Internet entrepreneurs, and over-the-top nightclubs.
In Beijing, the past trembles before the future. Nowhere on earth is the fast-forward button pressed with such might and frequency. Nowhere else do the centuries disappear into the night, handed over to starchitect Zaha Hadid's Galaxy Soho, a building that looks like four UFO's have landed around a traditional Chinese courtyard, or to shopping malls called the Place or the Village, or to ring roads that encircle the Forbidden City carrying millions of cars, each barely inching forward through the haze of pollution that the government euphemistically likes to call "bad weather." And yet even as you slide past the ghost buildings that line the impossibly wide boulevards, broken up only by flashing billboards of Western beauties hawking Dior, you start to think: This is where it's at. Beijing, China's political capital, is where the future will be partly decided and packaged and presented to large swaths of the globe. Even a few of the foreign denizens of the financial capital, Shanghai, tell me they'd rather move to Beijing, if only to better grease the palms of those who actually wield power, the functionaries of China's Communist Party. I've met many Europeans who proudly announce that they've never in their entire lives visited New York. To participate in the 21st century and not know Beijing will require similar pride. Or foolishness. In fact, the saddest flight in the world is from America's decrepit Newark Liberty International Airport, essentially a giant bathroom with airplanes, to the gleaming and sinuous Norman Foster–designed Beijing Capital International Airport.
I'd been preparing for Beijing's notorious pollution, stocking up on every asthma inhaler known to man, but on my visit I get lucky. Most of it coincides with the Two Sessions of the National People's Congress and Chinese People's Political Consultative Conference. In preparation for these grand fêtes, the pollution around the capital magically dissipates, and the air, while not British-Columbia-fresh, smells merely like an older dog after exertion. The Two Sessions brings Communist partyers from all over the land to Beijing, but if you were picturing dour Maoists in polyester suits, you don't know the New China! The locals call this "Beijing Fashion Week," and China's Netizens have a ball checking out the latest in Communist apparel, noting attendees clad in the latest Hermès leather belt (20,000 yuan, or about $3,000), or toting the finest Hermès Birkin bag (about $16,000). But let's not forget the standard Chanel necklaces and the all-important Bottega Veneta leather briefcase. No wonder a ramble through the still-shockingly-stunning Forbidden City ends in a man-made jumble of rock called the Hill of Accumulated Elegance. If only I had paid more attention during my Introduction to Marxist Thought seminars at Oberlin College, I too could have been zipping around town in one of the long black Audi A8's to which the ruling elites are quite partial ("Audi, the official car of official corruption," a local tells me), instead of huffing along in one of the ubiquitous Volkswagen Santana cabs. But this is true of Beijing: everything here is political, down to which karaoke bar you frequent and which ethnic noodles you slurp down. You stand there in the middle of Tiananmen Square, watching Jumbotrons play patriotic music as images of Tibet, Macao, and Taiwan (who knew the island nation had already rejoined the mainland?) flash by, watching the lampposts with their dozens of loudspeakers and hundreds of CCTV cameras watching you. It's all out of scale, and out of sync, and then suddenly you see a two-year-old boy barely tottering on his feet, but already coming up to everyone he meets with a smile and a handshake. "Future party leader," says my friend Lilly Kam.
Lilly, Chinese American, Chicago-born, MIT-educated, works at the locus of technology and education (she has since returned to the States) and has been an excellent tour guide through the world of Beijing now. Even as the Two Sessions of the party have been meeting—and stripping the powerful and extra-super-corrupt party boss Bo Xilai of all his influence, a move that will shake the party to its core—she has been introducing me to a kind of alternate politburo, the young men and women of Chinese descent who have gathered from all over the world to help make their country great again. Lilly takes me to a Pi Day party (it's held on March 14, or 3.14 in nerd code) for young fellow Stanford and MIT alums, where I am introduced to the acronyms. There are the ABC's (American-Born Chinese), the CBA's (Chinese-Born Americans), the MIT's (Made in Taiwan), the BBC's (British-Born Chinese), and, of course, the HG's, the Hai Gui or Sea Turtles, who have gone out to the top Western universities as adults only to swim back to share their expertise. At an Irish bar in the still-fashionable Sanlitun district, I am introduced to dozens of people who seem to have hundreds of Internet start-up ideas between them, many for Chinese versions of Groupon and Kickstarter. The Sea Turtles, I am told, are especially powerful, because they know how things work. But they are often wonderfully earnest and gregarious. I am delighted to meet a young Turtle who asks me what I do for a living—always the first question in China, followed by "and how much do you make?"—and when I tell her I'm a writer she shouts out, "Congratulations!" as if I have just won some bittersweet prize.
I am staying in Sanlitun's Opposite House hotel, famous for its wooden soaking tubs, its fine art, and the fact that it's wedded to the Taikoo Li Sanlitun mall, where Balenciaga competes with the homegrown Brand New China collection. The Sanlitun area, formerly a seedy nightlife district, makes sprawling Beijing manageable. For pockets of authenticity, a visit to one of the remaining non-gentrified hutong alleys is a must (try Gongjian Hutong near the Bell Tower), if only to marvel at the elderly men playing checkers within the ancient stone mazes. Sanlitun is also where the young Beijingers, local and foreign, drink and dine and mate.
The capital is friendly to all three pursuits. When it comes to dining, it ties in all of China's cuisines, of which Sichuan is the most consistently yummy. Sanlitun's Haidilao Hot Pot is part of a growing chain, a chain doing so well its Sichuan owner reportedly lives in a replica of the White House. The queues are long in this massive complex of spice and steam, but where else will people feed you fruit and do your nails while you wait? Haidilao may well have the best service in the country. Mix in sesame oil and cilantro and whatever else your heart desires to create your own versions of Heaven and Hell—mild and spicy broths—then dip in the porous foods: the frozen tofu (oddly enough better than the unfrozen kind for these purposes), the slices of tenderized beef, the chocolate-like cakes of chicken and duck blood. "It's like climbing Everest," a sweating Ukrainian author tells me as he dips his tofu into Hell.
A nice way to end a Haidilao evening, and cool down a flaring Sichuan stomach, is a trip over to Sanlitun's Apothecary bar. It may look like your standard global wood-and-steel joint with tropicalia on the stereo, but the conversation in Beijing is anything but standard. This time Lilly and her friends are talking about the best VPN's, or Virtual Private Networks, which savvy Netizens use to get around the heavily censored Chinese Internet (I, too, will discover what life is like without Twitter and Facebook). She introduces me to Kaiser Kuo, easily one of the world's most fascinating human beings. An ABC (American-born Chinese), Kaiser was formerly a member of Tang Dynasty, China's first heavy-metal band, not to mention the author of the hilarious essay collection Ich Bin Ein Beijinger. Currently, he is the communications czar over at Baidu, the controversial yet wildly successful Chinese search engine. "It's like Jon Bon Jovi went to Google," one of his friends tells me, although I'm not sure Google would appreciate the comparison. The Apothecary is known for its house-made bitters, and over some potent Sazeracs, Kaiser, who is in his forties, but whose scalp still supports long heavy-metal hair, explains how he found himself in China: "It was like a low-gravity planet over here. I couldn't just be in the top band in the U.S." When I later ask him how China's most famous rock band broke up, he tells me, "We had what we call in the business a Yoko Ono problem."
Beijing is huge but it is, in its way, small and incestuous. Everyone seems to end up in the same place sooner or later. On one night, that place proves to be Chocolate. Chocolate is a nightclub near the Russian section of town, in the appropriately named Alien Street Market, and at least two women tell me the club makes them "ashamed to be Russian." That, to me, a Russian émigré, sounds like a rousing recommendation.
Many readers will have been to glitzy, over-the-top Russian nightclubs in the Brighton Beach section of Brooklyn, New York, or, indeed, in Russia itself. Chocolate is far, far worse. In fact, it could only exist off something called Alien Street Market in a city called Beijing. The doorman is a Mongolian dwarf in a white suit, and he represents the tasteful part of the evening. You ride down an escalator, Moscow Metro–style, into a gaudy wonderland of epileptic strobes and gilded murals of Nubian princesses and black leopards. "We've got a praying mantis type of situation here," Gady Epstein, a reporter for the Economist, tells me, as we watch Russian women in six-inch heels tower over their male Chinese prey. "These women will kill you." The evening's floor show features a klezmer-jazz saxophonist "straight from Israel!"; an instructional bondage-ballet performed by a Russian dance troupe to the sound of German industrial-metal band Rammstein's "Mein Herz Brennt"; and the pièce de résistance, a 300-pound Russian woman dressed like Marilyn Monroe in The Seven Year Itch, smothering a blindfolded Chinese man with her massive attributes. Whatever feelings this may evoke in the particular viewer, one can't deny that this is one part of China the censors have not been able to control. The fact that it takes a Russian nightclub in China to make one feel free speaks for itself.
Still reeling from that Chocolate buzz the next morning, Lilly and I decide to take in Racist Park. China's adventures with English translation have been well documented, and it's hard to beat a restaurant famously calling itself "Translate Server Error." Before the English cleanup campaign leading up to the 2008 Beijing Olympics, the Chinese Ethnic Culture Park, devoted to showcasing China's 56 minorities, was indeed called "Racist Park." Within sight of the gorgeous Herzog & de Meuron "Bird's Nest" National Stadium, built for the Olympics but lately used for Jackie Chan concerts and the like, the Entity Formerly Known as Racist Park is China's attempt to present its diversity to the world, by means of what is essentially a friendly human zoo. The country is more than 90 percent Han Chinese, but within the replicas of Buddhist temples and stupas and wooden houses here, every ethnic group gets a chance to shine. We come early, when most of the minorities are still asleep. The Koreans have stirred, and are drowsily showing off their hanbok dresses and kimchi in earthenware jars. At this hour, the Russians are nowhere to be seen. The restive Muslim Uighurs have seceded for the season. We wake a Miao in his yellow ethnic garb. He had been peaceably sleeping with his red cell phone over his eyes, but now gets up to do a little song and dance. The Tibetans sit around glumly as if waiting for the Han Chinese to leave, which I guess is what Tibetans do.
All the ethnic cutlery and embroidery makes us hungry. The result is probably the best meal I've had in Beijing. Far off in the western Xicheng district, behind the Xinjiang Consular Office, which represents the secessionist Uighurs in Beijing, lies the lamb-scented treasure that is Xinjiang Islam Restaurant. Within the giant dining room the Uighur waiters proudly wear their excellent national hats beneath wall-length scenes of mosques and mountain lakes and a sign that says BEAUTIFUL XINJIANG WELCOMES YOU. Here, for the equivalent of a few dollars, are cold noodles that are the platonic, Tony Soprano ideal of al dente, with a nice burst of spice at the end. Could these be the best cold noodles in the world? Then there are the cumin-and-chili-spiced mutton kebabs. These kinds of kebabs haunt Central Asia, but traveling to the eastern end of the continent has done them good: they are spicier and juicer, more tender and fatty than any I have ever tasted. And, finally, sautéed lily buds with gingko, a dish that defies explanation: an explosion of gingko crispiness and earthy, lily-bud flavor.
For those looking for more upscale digs, the Temple Restaurant Beijing, in the central Dongcheng district, is sited in a 600-year-old temple compound. This is Beijing at its coolest and most clever, down to the bowler hat worn by the helpful concierge, Mr. Peng. I ask the dashing chef, Ignace Lecleir, formerly of Maison Boulud à Pekin, if he's French, to which he answers: "I'm Belgian. It's frankly much better." The restored temple compound also includes a hotel inside a former printing plant for Buddhist sutras. The restaurant space once belonged to a factory that made Beijing's first black-and-white television sets, and now the redesigned room is as free and bright as Eero Saarinen's TWA terminal (granted, much smaller) and nicely matched by the Gershwin on the stereo. Someday Woody Allen's Beijing movie will be shot entirely within this compound. Lecleir has a way with lobster. The pea soup with lobster tastes as green as it sounds, and when a terrine of foie gras meets a poached crustacean, the stakes are raised for both. The loveliest part of Temple is the sense of calm that is so rare in Beijing. It's a pleasure to see couples dining quietly, knowing that tonight no one's going to sell a hanger factory in Shenzhen to a rapacious Taiwanese financier.
Another mind-blowing recent venture is Susu, a Vietnamese restaurant inside a thoughtfully repurposed old hutong courtyard just northeast of the Forbidden City. The owners are a charming couple, Amy Li and her husband, the New York Times journalist Jonathan Ansfield. The energy of China is such that every expat I meet also happens to have more jobs than an entire graduating class at Bard College. Speaking of his wife, Jonathan says, "She's from the adjacent Hebei province, I'm from Wisconsin. Both are prairie and dairy states. The similarities stop there." The couple used to run a bar and café called the Stone Boat, which was, literally, inside a stone boat on a nearby lake, until their partner, a local municipal official, decided to throw them overboard. A flyer handed to a neighboring journalist led the couple to this location, and now it's hard to imagine Beijing without Susu. Slurping up a bold gin Saigon Fizz full of ginger, lime, and bitters, I plow into amazing fried-tofu vermicelli salad, banana-prawn rolls, perfectly seared shaking beef tenderloin flash-fried with fish sauce, and silky snakehead fish sizzling with fennel leaves, turmeric, and scallion. Susu is unobtrusively sleek, a clean, well-lit place that still pays homage to its origins, a quiet corner of the capital Zaha Hadid has not yet reformed. The walk here "takes you past massage parlors, barbershops, noodle huts, a vinyl-record shop, and a public toilet," Jonathan says. "You can't plan that. Likewise we could never have planned to create Susu."
Back in Sanlitun, on the highest floor of the sleazy Eastern Inn, the famous Q-bar twinkles amid the dreary architecture. This red-clad joint is as sweet and cozy as my local watering hole. I'm kicking back with an Earl Grey vodka martini and some Christian investment bankers who made a killing in China's lingerie business. Elsewhere in the bar, a young Sea Turtle is launching into Kaiser Kuo, castigating him for leaving his rock-and-roll life behind to toil for Baidu, the search engine many love to hate. "You were so free—you epitomized freedom for me," she says. "Now you work for the man." Kaiser defends himself: "You have to work within the system." (Someone who's on Kaiser's side of the argument quietly sums up the crux of the dilemma for me: "He has kids.") In a week, I will go to Shanghai, where the conversation, much as it is in New York or London or Hong Kong, will be about money. In Beijing it is about money too, but here in the country's cultural heart, the calculations are tinged with regret. "It'll be nice when China finally figures itself out," Lilly tells me.
The next day I am standing at the Great Wall at Mutianyu, northeast of the city, amid Ming-era guard towers and hawkers of so many red-and-gold souvenirs and Obama-as-Mao T-shirts. Many deride this section of the wall as touristy, but to me it feels as accurately relentless as the rest of the country. Where else would an enterprising company build an actual toboggan ride stapled to the wall with a large red sign instructing the potential user of the fact that TOBOGGAN IS A DANGEROUS SPORT…. OUR COMPANY IS NOT RESPONSIBLE. Zooming off the Great Wall and down the craggy hills that frame it is great childish fun. Down at the lower level, I walk past the wall's bustling Subway franchise and into a public restroom. Above the urinal a bilingual sign urges me not to miss my mark. CLOSE TO THE DISTANCE, NEAR CIVILIZATION, it says in English. And sometimes, in difficult circumstances, that's the best anyone can hope for.
From http://www.travelandleisure.com/travel-blog/carry-on/2014/5/22/beijing-fast-forwards-to-the-future