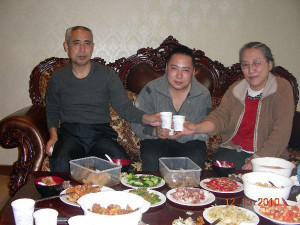 2015-04-30
Hada (L) shares a meal with son Uiles (C) and wife Xinna (R) in a file photo.
AFP
Chinese authorities in Inner Mongolia have refused an application by ethnic Mongolian dissident Hada and his son for a passport, to travel overseas to seek medical attention, he told RFA on Thursday.
Veteran rights activist Hada, 60, was released from extrajudicial detention in December, four years after his 15-year jail term for "separatism" and "espionage" ended, with numerous health conditions
developed during his sentence.
Hada, who suffers from systemic atherosclerosis and liver disease and other conditions he says are a result of years of corporal punishment and abuse in prison, was informed by officials in his home city of Hohhot that they had declined his application for a passport, he said on Thursday.
"I am seriously ill, and I want to go overseas to seek medical treatment, but the colonial authorities won't issue me with a passport," Hada told RFA. "This is against domestic laws and international law."
"I call on the United Nations to urgently help me to resolve the problem of my passport so I can leave the country to get treatment," he said.
Hada was released by Chinese authorities to a police-owned apartment last November, after spending four years in extrajudicial detention at the Jinye Ecological Park in the regional capital Hohhot, after
serving a 15-year jail term for "separatism" and "espionage."
But police told him they would only take care of his income and accommodation if he stopped speaking to foreign journalists and promised not to sue the authorities over his treatment, which he has
refused to do.
Son urges pressure campaign
His son Uiles called on the international community to put pressure on the Chinese government to issue his father with a passport for humanitarian reasons.
"The passport was declined on the basis of clause 13, section 7 of the Passport Law of the People's Republic of China," Uiles said.
The clause states that a passport may be refused in cases where "the competent department of the State Council is of the opinion that the exit will cause harm to national security or significant damage to the national interest."
For detail please visit here