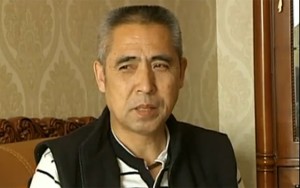 2015-10-23
Hada in an undated photo.
(Photo courtesy of SMHRIC.)
The wife of ethnic Mongolian dissident Hada hit out at the Chinese authorities for continuing to treat her husband as a prisoner in spite of his release after 19 years of jail time.
Photos posted online by the Southern Mongolian Human Rights Information Center (SMHRIC) showed Chinese state security police guarding Hada closely, from temporary camps with folding beds in the stairwell of his apartment building in the regional capital Hohhot.
"State security agents squeeze themselves in this small space, Continue reading →