2015-09-23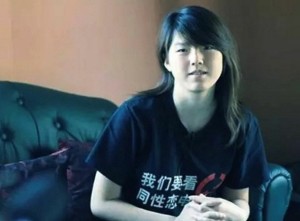 An undated photo of Chinese feminist activist Li Tingting, one of five women's rights activists released in April after a month in detention.
AFP
One of the five Chinese feminists detained for planning an anti-sexual harassment campaign and since released on "bail" said on Tuesday that the authorities in Beijing are trying to make her homeless, as the government continues its months-long crackdown on nongovernment groups.
As Chinese President Xi Jinping began a state visit to the United States amid a volley of calls for the release of jailed critics of the ruling Chinese Communist Party, Li Tingting issued her own statement calling on the authorities to leave her alone.
"My landlord told me recently that they received a phone call from the residential committee and a police officer surnamed Guo telling them to evict me from the apartment I am living in," Li wrote.
"They said my case involved matters of state security."
Li, Wu Rongrong, Wei Tingting, Wang Man, and Zheng Churan were released "on bail" in April after being detained on suspicion of "picking quarrels and stirring up trouble" on March 6, two days ahead of International Women's Day.
The five women, whose detention prompted an international outcry, are still officially regarded as criminal suspects, and have written to the United Nations protesting police restrictions on their movements and calling for the charges against them to be dropped.
"I don't know why the police are still concerning themselves with me even now. Allll I do is campaign for gender equality and the rights of women, and sometimes work for the interests of minority groups," Li wrote.
"What does [this] work have to do with state security?" she added. "Are they trying to make sure I have nowhere to live?"
'Taking action'
Li told RFA in a later interview she believes the police have to be seen to be "taking action" against dissidents during Xi's trip to the U.S.
"The state security police are usually pretty civilized, and they don't usually use threats or things like that," Li said. "It's a matter of eating a meal with them, or drinking tea."
"But I think they have got a bit worried with Xi Jinping's trip to the U.S., and they are maybe worried that I'll try to organize some kind of action," she said.
"They have made an appointment to eat dinner with me on Sept. 25," she added. "I think it's a question of orders coming down from on high."
Fellow activist Wu Rongrong said the move shows how nervous the police are at this time.
"I think that this shows just how terrified they are," Wu said. "At least [Li's] landlord has behaved very well, and won't refuse to rent the apartment to her as a result of this."
For detail please visit here