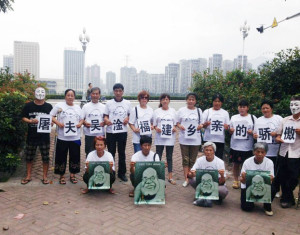 2015-06-29
Human rights activists show their support for free speech activist Wu Gan, known online by his nickname "The Butcher," who is being detained by police in southeastern China's Fujian province, June 23, 2015.
(Photo courtesy of activists)
The detention of at least four contributors to a rights website based in the southwestern Chinese province of Sichuan in recent weeks is indicative of an ever-widening crackdown on freedom of expression and nongovernmental groups in the country, activists said on Monday.
Last week, authorities in the eastern province of Zhejiang detained Yang Dongying, a citizen journalist for the Sichuan-based Tianwang rights website.
Yang was detained on June 24 on suspicion of "picking quarrels and stirring up trouble," after she publicly denounced local police officers over their interrogation of her 13-year-old son, who has since been hospitalized.
Tianwang, which was founded by prominent rights activist Huang Qi and began as a resource for relatives of those killed or injured in the military crackdown on the 1989 pro-democracy movement, gives detailed, online coverage of ordinary Chinese who seek to defend their rights in the face of official abuses of power.
Such stories rarely find expression in China's tightly controlled, state-run media, and are deleted from social media sites soon after they appear.
Earlier this month, state security police had interrogated Yang about her links with other Tianwang journalists including Wang Jing and Zhang Jixin, who are currently also detained, the Paris-based press freedom group Reporters Without Borders (RSF) said in a statement on its website.
Wang Jing, who was also detained in April 2014 after reporting on a self-immolation incident on Tiananmen Square, has been in police detention in the northeastern province of Jilin since January, also on public order charges.
Wang's defense lawyer Li Weida said his client has been repeatedly tortured while in detention, causing her existing medical problems to worsen sharply.
"She has described being beaten by the chief inmate in her cell, and … also being made to wear manacles and leg irons for eight days straight," Li told RFA on Monday.
"This was because she wrote something about the rights of detainees and stuck it to the wall. She was demanding these rights be respected," Li said.
Li said his client hasn't committed any crime. "She is innocent, and she doesn't plead guilty herself, either," he said.
On her charge sheet, Wang is accused of "attacking" actions at the Jilin provincial People's Congress.
But Li said she had only ever peacefully assisted other petitioners with their complaints against the ruling Chinese Communist Party.
Tried behind closed doors
Another Tianwang contributor, Wu Youming, was tried behind closed doors at a court in the central province of Hubei on June 4. Wu pleaded not guilty to "extortion and blackmail," and no verdict has yet been handed down.
And a fourth Tianwang volunteer journalist, Lian Huanli, was sentenced to a year's imprisonment after his arrest last March for allegedly using the services of a prostitute, RSF said.
"Ever since the 2013 earthquake in Sichuan province, he had distinguished himself by his defense of the rights of earthquake victims in Lushan district," the group said in a statement.
For detail please visit here