2015-07-17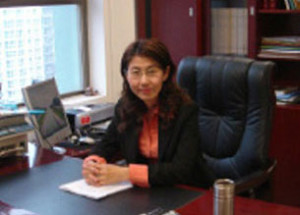 Beijing-based lawyer Wang Yu in an undated photo.
Photo courtesy of Wang Yu's microblog
Police in the northern Chinese city of Tianjin have taken the 16-year-old son of detained rights attorney Wang Yu from his home amid an ongoing crackdown on the country's embattled legal profession, lawyers told RFA on Friday.
Wang's detention on July 9 came amid a raid on her law firm, Fengrui, and kicked off a nationwide police operation that has targeted more than 200 public interest and human rights attorneys.
At least 222 lawyers, law firm employees and rights activists had been detained, summoned for questioning, or were incommunicado or held under house arrest by Friday, the Hong Kong-based China Human Rights Lawyers Concern Group (CHRLCG) said in a statement on its website.
Wang's son Bao Mengmeng was taken away by police shortly after apparently texting lawyers who were en route to offer him legal assistance that they shouldn't come, Beijing lawyer Chen Jianggang told RFA.
"They took Bao Mengmeng away as soon as they knew the lawyers were on their way," Chen said, adding that he had received a text message from the teenager's phone.
"We received a text message of just a few words saying thank you, but please don't come here," he said. "I think the phone was shut down as soon as he sent it."
Chen said it was unclear whether Bao himself had sent the message.
"We have no way of knowing whether the phone was even in his hands," he said.
Chen said he too is expecting a visiting from China's state security police "at any time."
"I'm not sure I will be able to remain in contact, even if I wanted to," he said. "I don't know when I'll be detained too."
Lawyer Feng Yanqiang, who had been on his way to assist Bao, said the authorities have refused to answer any questions regarding the whereabouts of Wang and the others.
"What is going on with Wang Yu, and which department has detained her, and on suspicion of which crimes," Feng said.
"We don't even know where she is being held, and there's no way for us to find out right now," he said.
"We went to the Tianjin police department and district detention centers, to district police stations and to the courts, to inquire, but we haven't heard any news," Feng added.
'Grim' outlook for rule of law
Feng said he has been asked to resign from his own law firm because he is trying to help Wang, who has been accused by state media of taking part in a "criminal operation" spearheaded by Fengrui and allegedly aimed at
undermining social stability.