2015-07-17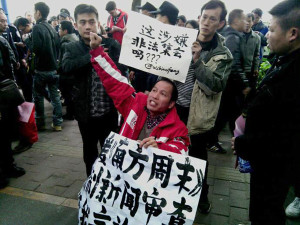 Demonstrators call for press freedom in support of journalists from Southern Weekend newspaper in Guangzhou, south China's Guangdong province, Jan. 8, 2013.
AFP
The ruling Chinese Communist Party has promoted a propaganda official whose reported rewriting of a New Year front page editorial in the cutting-edge magazine Southern Weekend prompted a strike and days of protests in early 2013.
Tuo Zhen, 59, who is believed to have rewritten the magazine's New Year editorial calling for constitutional government and political reform during his tenure as Guangdong provincial propaganda chief, was confirmed by official media on Friday as having been promoted to deputy propaganda minister, his first Beijing post.
"Guangdong provincial party committee member and propaganda department head Tuo Zhen recently took up his post as vice minister for propaganda in Beijing," Hong Kong's communist-backed Wen Wei Po newspaper reported on Friday.
The rewrite prompted a strike by journalists at the paper and sparked days of protests at the gates of the Southern media group's headquarters in the southern city of Guangzhou, as well as widespread calls for Tuo's resignation.
Guangzhou-based independent writer Ye Du said Tuo was once a respected journalist, but had since taken to supporting an ongoing nationwide clampdown on freedom of expression under the administration of President Xi Jinping.
"His entire ideology seems to have changed," Ye said. "You could say that the Southern Weekend incident was the starting point of this change."
"During the past two years, any kind of liberalization of the Guangdong media has disappeared, and it has been reduced to a lame duck as a result of oppressive policies," Ye said.
"Journalists have basically been dealt with … and now basically won't speak out," he said. "[Guangdong] media, which used to be at the cutting edge, have now fallen behind media in Beijing and Shanghai."
According to veteran Hebei-based reporter Zhu Xinxin, Tuo's new job will send a clear message to China's already tightly controlled media that the government will continue to keep up the pressure on the industry.
"The space for expression just got smaller, because if somebody like Tuo Zhen has been appointed to such an important post … then there is less and less hope for this country," Zhu said.
"If he had been appointed to a less important position, then this would have contributed to a revival at the Southern media group and a relaxation of the media environment in Guangdong," he said.
Highest echelons of power
Tuo's promotion to the highest echelons of power comes after Yang Jisheng, former editor of cutting-edge political magazine Yanhuang Chunqiu, said that propaganda officials had rejected the vast majority of proposed storylines during his tenure there.
"Out of all the copy we submitted for approval, 62 percent was rejected or ignored in 2010, 67 percent in 2011, 80 percent in 2012, 86 percent in 2013 and 90 percent in 2014," Yang said in a recently released letter to China's leadership regarding his resignation.
He told RFA in a brief phone conversation this week: "I'll say two things. The first is that they won't allow me to talk to overseas media."
He added: "I wrote that letter, but I didn't publish it. That's all for now."