From Wang Shiwei to Liu Xiaobo: Prisoners of Literary Inquisition under Communist Rule in China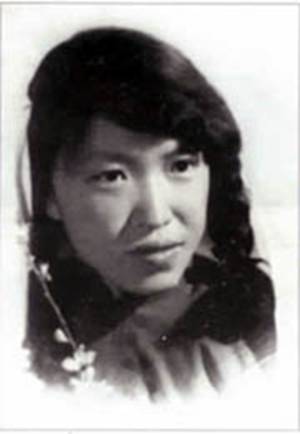 Lin Zhao (born Peng Lingzhao, December 16, 1931 – April 29, 1968), a university student, editor and writer, was sent to labor reform as a "student Rightist"and then arrested in 1960 as an "active counterrevolutionary" on the basis of poems she published in an underground magazine. After eight years of torture in prison, she was executed.
Cutting family ties for the "Cradle of Revolution"
Lin Zhao was born in Suzhou, Jiangsu Province. Her parents, Peng Guoyan and Xu Xianmin, were both prominent KMT officials in Suzhou. Lin Zhao began studying in middle school in 1946 and by the age of 16 was publishing articles under the pen names Lin Zhao and Ouyang Ying in a youth literary monthly, Newborn (Chusheng). After transferring to a church-run girls' middle school in 1947, she joined the Suzhou Literary Society and continued to publish articles in the literary supplement to Dah Jiang Nan Pao (Dajiangnan Bao).
Lin Zhao graduated from middle school just as the CPC took power in 1949. Ignoring her parents' advice to take the university entrance exams, she left home for the CPC's "cradle of revolution", Sunan College of Journalism, shortly thereafter joining what came to be known as the Communist Youth League. After graduation the following May, she volunteered to take part in rural land reform. In 1952, she was appointed editor of the supplement to the private newspaper Changzhou Min Bao, where she spent the next two years writing dozens of reports, poems and comic dialogues. During that time, her parents divorced, and her mother moved with Lin's siblings to Shanghai.
After Changzhou Min Bao was forced to close at the beginning of 1954, Lin Zhao was transferred to the Changzhou Municipal Federation of Literature and Art Circles. Later that year, she was admitted to Peking University as a "cadre student" studying Chinese literature with a monthly stipend of 25 yuan. She soon became editor of the school journal and poetry magazine and joined the university's poetry society. In May 1955, CPC launched its nationwide campaign to criticize and investigate the "Hu Feng Counterrevolutionary Clique" along with its campaign to eliminate counterrevolutionaries. In a letter to her mother, Lin Zhao wrote, "Whether they want me to die in a well or a river, they are forcing me to write things I know nothing about, and I have no choice but to satisfy them… I did not intentionally frame you… From now on I would rather die in a river or a well than write against my convictions!"
In autumn 1956, the CPC Committee at Peking University decided to close down the university's poetry magazine and change it into a general student literary magazine called Red Chamber (Hong Lou). Lin Zhao became the magazine's editor along with her classmate Zhang Yuanxun. She continued publishing poems in Guangming Daily and China Youth Daily.
"My young heart is full of wounds"
Soon after the CPC Central Committee announced its "rectification campaign" in People's Daily on May 1, 1957, Peking University students responded with a "May 19th Movement" using slogans such as "free airing of views" and "help the Party's rectification". History student Xu Nanting put up a big-character poster in the university canteen: "Tsinghua University has a representative to the Third National Congress of the Communist Youth League. Does Peking University have one? If so, who is it, and who elected him? Can he represent our views?" Other students such as Long Yinghua and Chen Fengxiao followed up with posters demanding a democracy wall, the abolition of the CPC Committee system and required political courses, and creation of a democratic forum where students could put forward suggestions for rectifying the Party. Among the most influential postings were an epic poem by Shen Zeyi and Zhang Yuanxun, "The Time Has Come", and poems and speeches by Tan Tianrong. Lin Zhao showed her support for Zhang and the others with her long poem "What Is This Song?" and in a May 22 debate objected to accusations that "Right-deviating speech is counterrevolutionary incitement". Chen Fengxiao, Tan Tianrong and others established the "One Hundred Flowers Society" at the end of May, along with the magazine Square (Guangchang), edited by Zhang Yuanxun. In a poem entitled "Party, I Appeal to You", published in Square under the pen name Ren Feng, Lin Zhao wrote, "Strange denunciations hack like a saber; my young heart is full of wounds." At that time, she was an intern at China Youth Daily, and Zhang Yuanxun and the others kept in regular contact with her while publishing Square.
When the "Rectification Campaign" turned into an "Anti-Rightist Struggle" in June, millions of intellectuals, students, cadres and members of democratic parties became the new targets of dictatorship. Out of 8,000-plus students and teachers at Peking University, 716 were labeled Rightists, including Chen Fengxiao, Tan Tianrong, Zhang Yuanxun and Lin Zhao. The university journal Hong Lou published several articles accusing Lin Zhao of helping Zhang Yuanxun undermine the Party's influence in campus publications and of questioning the sincerity of the Party's rectification efforts.
Lin Zhao was expelled from the Youth League, but was allowed to retain her student status and remained on campus for "labor under supervision". She attempted suicide by swallowing two boxes of match heads, declaring, "I will never bow my head and admit guilt!" The school authorities punished her "antagonistic attitude" with an additional three years of Reeducation through Labor (RTL).[1] Ill health spared her from being sent to the northwest, and she was allowed to serve out her time in "reform under supervision" in the journalism reference library. Her mother, Xu Xianmin, also came under attack, with her pay reduced from 300 yuan to 120 yuan.
When the journalism schools of Peking University and Renmin University were merged in June 1958, Lin Zhao continued her "supervised labor" at Renmin University, where she fell in love with another student Rightist, Gan Cui. Gan Cui's application for permission for them to marry was rejected by the school authorities, who said their courtship was defiance of reform. In September 1959, Gan Cui was sent to Xinjiang for Reform through Labor. The emotional blow devastated Lin Zhao's health, and her mother was allowed to take her back to Shanghai to recuperate.
"I'd rather spend my life in prison"
By 1960, the failures of the Great Leap Forward had reduced much of China to famine and starvation. Zhang Chunyuan, a Rightist student from the History Department at Lanzhou University, along with other Rightist students and teachers undergoing Reform through Labor in Gansu, launched an effort to change the country's course. A Shanghai native among them contacted Lin Zhao, and got from her a copy of The Guiding Principles of the Yugoslavian Communist Party and her new long poem, "Song of the Seagull". After reading the book, Zhang wrote an essay entitled "The Current Situation and Our Mission", in which he proposed "bringing about a peaceful, democratic and free socialist society in China". He also mimeographed "Song of the Seagull" as publicity material, and subsequently published another long poem by Lin Zhao, "The Day Prometheus Died", in his mimeographed publication Shooting Star (Xinghuo). In July that year, Zhang Chunyuan was arrested, along with 39 other students and teachers serving Reform through Labor with him, as well as dozens of sympathetic local villagers and the former Party secretary of Wushan County, Du Yinghua. On October 24, Lin Zhao was arrested in Suzhou as an "active counterrevolutionary"for her poems and was sent to the Shanghai No. 1 Detention Center. A month later, her father, Peng Guoyan, killed himself by swallowing rat poison.
After being transferred to Shanghai's Jing'an Detention Center in 1961, Lin Zhao constantly asked her family to bring her bed sheets, on which she wrote with her own blood. After suffering a relapse of tuberculosis, Lin was released to her mother's care under medical parole in March 1962. In July, she sent "A Letter to Peking University President Lu Ping" appealing for Lu to come to the aid of persecuted students. In September she joined a Suzhou Rightist, Huang Zheng, in drafting the guiding principles, constitution and action plan for a Chinese Free Youth Militant League. She also contacted a foreign resident of Shanghai and asked him to have several of her essays published abroad.
This led to her being arrested again on November 8, 1962. She was sent to Shanghai's Tilanqiao Prison, and her family was not allowed to visit her. Soon after that, prison officials sent her for evaluation at the Shanghai Psychiatric Hospital, where she was declared insane. Protesting her abuse in prison, she repeatedly went on hunger strike and attempted suicide. On June 18, 1963, she wrote:
As long as I draw breath, I would rather spend the rest of my life in prison than go against my original wishes or intentions.
In August 1963, Lin Zhao was moved to Shanghai No. 1 Detention Center. She was tried in December 1964, and in May 1965 was sentenced to 20 years' imprisonment for "counterrevolutionary crimes". After she was transferred back to Tilanqiao Prison, she cut her finger and wrote in blood a "Post-Judgment Declaration":
This is a disgraceful judgment, but I hear it with pride!
Tilanqiao Prison's "New Crimes Committed by Lin Zhao While Undergoing Reform" recorded:
During her years of imprisonment, Prisoner Lin has consistently refused to receive education and has written many reactionary letters in blood totaling hundreds of thousands of words… In spite of undergoing various forms of education by prison staff, and being disciplined through such measures as solitary confinement, individual correction, family admonishment, etc., prisoner Lin remains thoroughly unrepentant and has openly declared that she will never abandon her aims or change her standpoint.
Lin Zhao also wrote many diary entries and letters to her family. On May 6, 1966, Zhang Yuanxun, who had been released on completion of his sentence and was still under supervised labor, secretly made his way to Shanghai and accompanied Lin's mother to visit her in prison, describing himself as her "fiancé". Lin told Zhang:
I could be killed at any time. I believe that someday history will speak of today's miseries. I hope you'll tell the people of the future about today's suffering. I hope you'll compile my writings and letters into three volumes: a collection of poems entitled Ode to Freedom, an essay collection entitled Past Life and a collection of letters entitled A Bundle of Love Letters.
On April 29, 1968, an amended judgment from the PLA's Shanghai Municipal Public Security, Procuratorial and Judicial Military Control Commission condemned Lin Zhao to death. She wrote in blood:
History will declare me innocent!
That same afternoon, Lin Zhao was executed in secret at Shanghai's Longhua Airport. She was 36 years old.
Two days later, on May 1, public security officials charged Lin's mother five cents to cover the cost of the bullet that killed her. Xu Xianmin suffered a mental breakdown and killed herself on the Shanghai Bund in 1975.
In January 1979, the CPC Committee of Peking University issued a notification that Lin Zhao had been wrongly designated a Rightist. On August 22, 1980, the Shanghai Higher People's Court vacated Lin Zhao's earlier convictions for reason of her insanity. On January 25 the following year, the court re-vacated the previous verdict based on her insanity and reiterated her innocence. Lin Zhao's case file, including her writings in blood, was made public in the 1980s, but suppressed again soon afterwards.
In 2003, the independent film maker Hu Jie produced a documentary on Lin Zhao based on interviews with 80 people who had known her. The film, In Search of Lin Zhao's Soul, also included footage of her prison writings. On April 22, 2004, the some teachers and students from Sunan College of Journalism and Peking University raised funds for a monument and moved Lin Zhao's remains to Lingyanshan Cemetery in Suzhou's Mudu Township.
In 2005, the Independent Chinese PEN Center established a "Lin Zhao Memorial Prize" to honor writers under 35 years old who carry on Lin Zhao's struggle for freedom.
Bibliography
Chen Weisi, "The Death of Lin Zhao", 1981.
Liu Faqing, "An Unyielding Martyr's Spirit: Recollection of Lin Zhao", 1988.
Peng Lingfan, "My Elder Sister Lin Zhao", 1999.
Xu Juemin (ed.), Lin Zhao, No Longer Forgotten, 2000.
Zhang Yuanxun, "Past Events at Peking University and Lin Zhao's Death", 2000.
Cui Weiping, "Using Documentaries to Transmit the Stories of Heroes: On In Search of Lin Zhao's Soul", 2004.
Jiang Fei, "In Search of Lin Zhao", 2004.
Mo Luo, "The Resurrection of Saint Lin Zhao", 2005.
Chen Ziming, "Three Categories of 'Active Rightists' in 1957", 2007.
Zhao Rui, Saint on the Sacrificial Altar: The Story of Lin Zhao, 2009.
Fang Wenzhai, "The Photo I Took of Lin Zhao", 2009.
Wu Yong, "Recollection of the Reprinting of Forum at Peking University in 1957", 2010.
[1]Reeducation through Labor (Laodong Jiaoyang, or Lao Jiao), literally as Labor, Education and Training, is an administrative penalty that the PRC borrowed and adapted from the Soviet Union. According to the "State Council Resolution on the Issue of Reeducation Through Labor" and other related administrative laws and regulations, public security organs are unilaterally authorized to rule, without recourse to the legal processes of the procuratorates or courts, that an individual is to be forcibly restricted to a specified Reeducation through Labor venue, where he is deprived of freedom of speech and movement and is forced to undergo manual labor and ideological education for a period not exceeding four years.
Translated by Stacy Mosher