From Wang Shiwei to Liu Xiaobo: Prisoners of Literary Inquisition under Communist Rule in China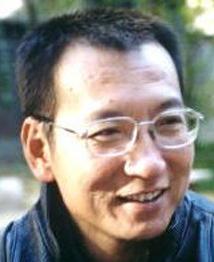 Liu Xiaobo (28 December 1955- ), a renowned Chinese literary critic, dissident writer and human rights activist, was sentenced to 11 years' imprisonment for "inciting subversion of state power" based on his writings criticizing the Chinese authorities and his participation in drafting and launching Charter 08. He was awarded the Nobel Peace Prize in 2010.

A member of the "Innocent Hearts" poetry group
Liu Xiaobo was born in Changchun City, in China's northeastern Jilin Province, the third of five brothers. His father, Liu Ling, was a teacher at Northeast Normal University and then a guest lecturer at Choibalsan University in Ulan Bator, the capital of the Mongolian People's Republic. The family lived in Mongolia for three years before returning to China in 1959.
In 1969, while Liu was still in middle school, China's universities closed down for the Cultural Revolution, and Liu's family moved to the Dashizhai People's Commune in the Horqin Right Front Banner of the Inner Mongolia Autonomous Region. Four years later, in 1973, Liu's family returned to Changchun as some universities resumed classes, and Liu continued his studies at the Attached MiddleSchool of Northeast Normal University. After graduating in July 1974, he went to the countryside as an"educated youth" to be reeducated at Shan'gang People's Commune in Nong'an County, Jilin Province. In November 1976, two months after Mao's death and one month after the arrest of Jiang Qing and her Gang of Four brought an end to the Cultural Revolution, Liu was assigned to do plastering for the Changchun City Construction Company.
Liu Xiaobo was admitted as a student of Chinese Literature at Jilin University in 1977, and two years later joined the Innocent Hearts (Chi Zi Xin), a poetry group created by six schoolmates. After graduating with a BA in literature in 1982, he began graduate studies in Chinese Literature at Beijing Normal University. He married his university classmate, Tao Li, who was teaching at the Beijing Language Institute, and their son Liu Tao was born the following year.
A literary dark horse
In April 1984, Liu published his debut article, "On Artistic Intuition", in The Journal of the University of International Relations, followed by an essay on the ancient philosopher Zhuangzi (Chuang-tzu) in the bimonthly Social Science Front. That same year, he received his MA in literature and became a teacher of Chinese literature at Beijing Normal University. He continued publishing articles and reviews in various academic journals, expressing the rebellious spirit of "New Literature" against mainstream literature and its tolerance of humiliation. This "Liu Xiaobo Phenomenon" sent shockwaves through mainland China's literary circles.
In September 1986, the Institute of Literature at the Chinese Academy of Social Sciences held a symposium in which Liu Xiaobo gave an impromptu speech entitled "The Crisis Facing New Era Literature". Liu referred to China's mainstream May Fourth Literature and Western Modernist Literature in terms considered shocking at the time, which he applied to Chinese cultural and intellectual circles generally:
The national inertia of Chinese intellectuals is even more deeply entrenched than that of the general public! … Chinese writers still lack a sense of individuality. At a deeper level, this lack of individuality is a withering of vitality, or a rationalization and dogmatism of vitality. The development of Chinese culture has always restricted sensibility with rationality, and has framed the free development of individual consciousness within moral standards. …Until we break through tradition, thoroughly negate traditional, classical culture as duringthe May Fourth era, and cast off the fetters of rationality and dogmatism, we will not be able to shake off this crisis.
Liu's speech was published by Shenzhen Youth Daily in early October and quickly reproduced by many domestic and overseas presses, earning him the title of "literary dark horse". That same month, he published another article, "Dialogue with Li Zehou: The Sensate, the Individual, My Choice", showing his development from literary reviews to ideological and cultural criticism. Liu continued research for his PhD in literary theory while publishing literary, aesthetic and ideological critiques in various publications.
Liu's first book, The Critique of Choice: Dialogue with Li Zehou, was published in 1987 and soon became a bestseller for Liu's comprehensively criticism of Chinese tradition and his blunt challenge to Professor Li Zehou, a rising star exerting major ideological influence on China's young intellectuals.
In 1988, The Hundred (Bai Jia), a new literary bimonthly, launched a special column, "One Hundred and One", which published Liu's article "On Loneliness" and essays by other young scholars discussing the Liu Xiaobo Phenomenon. In June, Liu published his doctoral thesis as his second book, Aesthetics and Human Freedom, defending it before a spontaneous audience of hundreds of college students and obtaining the unanimous approval of a panel of nine prominent literary critics and aestheticians to receive his PhD in literature. He then became a lecturer in the same department.
In August 1988, Liu was invited to serve as a visiting scholar at the University of Oslo, the University of Hawaii and Columbia University in New York City. At the same time, he began publishing groundbreaking political essays with titles such as "The Demon King of Chaos, Mao Zedong" in Hong Kong publications, in particular Emancipation Monthly (since renamed Open Magazine). In an interview entitled "Literary 'Dark Horse' Liu Xiaobo", he was quoted as saying:
Marxism-Leninism in China is not so much a faith as a component of autocracy. Marxism-Leninism is not a faith but rather a tool for rulers to carry out ideological dictatorship.
China's cultural legacy has been to oppose only foolish monarchs and corrupt officials rather than the autocratic and imperial powers…. In terms of China's reality, all of these can be attributed to the inability to find a force for negating autocracy from within autocracy itself. Specifically, in politics, the inability to find any force within one-party dictatorship to oppose one-party dictatorship; in economics, the inability to find power from within public ownership and planned economy to reform the economy; in ideology, the inability to find new ideas within dogmatic Marxism; in culture, generally, the inability to find the so-called essence within the traditional Chinese culture. It is only possible to replace one-party dictatorship with the democracy that coexists with multiple parties; to replace public ownership and planned economy with private ownership and market economy; to replace unified ideology with diverse discussion and free thought; and to replace traditional Chinese culture with the modern culture of the world (the West).
It took a century of colonialism to make Hong Kong what it is today. Given China's size, it would need three centuries of colonialism to become what Hong Kong is today. I even wonder if three centuries would be enough.
Such statements were documented by the Chinese authorities and later used in their media criticism campaigns and eventually to convict Liu in court.
The Four Gentlemen of Tiananmen Square
When public morning for the death of ousted CPC General Secretary Hu Yaobang developed into the 1989 Democracy Movement, Liu Xiaobo, then a visiting scholar at Columbia University, took part in solidarity activities by overseas Chinese students and scholars.
On 20 April, Hong Kong's Ming Pao reported, "Hu Ping, Liu Xiaobo, Chen Jun and seven others have jointly published 'Reform Suggestions' urging the CPC to reflect on and correct its errors… expressing concern about the current student movement in mainland China", demanding that the Chinese authorities "reexamine… the 1983 Anti-Spiritual Pollution Campaign and the 1987 Anti-Bourgeois Liberalization Campaign and related issues", and also to amend the constitution by abolishing the "Four Cardinal Principles" and inserting language safeguarding human rights, allowing private publications, ending the conviction of people based on their words, and implementing genuine freedom of speech and of the press.
On 22 April, Liu published his article "Reflections on the Phenomenon of Hu Yaobang's Death" in the US-based World Journal (Shijie Ribao) in which he suggested:
Abandon the reform model of seeking an enlightened monarch, and try the path of transforming China institutionally… If college students and intellectuals pursuing democracy in mainland China can openly support the liberal faction within the CPC while also openly helping Wei Jingsheng, Beijing Spring and others overseas, this will certainly speed up the democratization process.
On the same day, Liu drafted "An Open Letter to College Students in China" with seven suggestions on how to carry out the student movement, which he distributed in China with the help of other overseas Chinese students and scholars, including Hu Ping, chairman of the overseas Chinese Alliance for Democracy (CAD).
Liu then changed his original plan to return home in 1990, and instead left the United States on April 26, arriving in Beijing the following day. He immediately joined the student movement, passing along thousands of dollars donated by overseas students and scholars to the Student Union of Beijing Normal University.
On May 13, hundreds of Beijing college students began a sit-in and hunger strike at Tiananmen Square, and Liu began helping them with publicity, writing, lectures and fundraising. On 2 June, Liu Xiaobo, Zhou Duo, Gao Xin and Taiwanese singer Hou Derchien declared a hunger strike, through which they earned the trust of the protesting students and came to be known as the Four Gentlemen of Tiananmen Square. Liu called on both the government and the students to abandon the ideology of class struggle and to adopt a new political culture of dialogue and compromise. Although unable to prevent the massacre that began outside the square on the night of June3, Liu and his colleagues successfully negotiated with the commanders of the martial law troops to allow the peaceful withdrawal of thousands of students from the square.
Liu was arrested on June 6 and accused in official media of being a "black hand" manipulating the student movement to overthrow the government and socialist system. In late June, the government published a critical anthology, Liu Xiaobo, the Man and His Deeds, and Liu was expelled from his university in September. His third book, The Fog of Metaphysics, a comprehensive review on Western philosophies, came out that year, but was immediately banned with his other published works and a fourth book in press, Going Naked Toward God, but many of his works were republished in Taiwan.
Liu and Tao Li divorced in August 1990, and Tao eventually immigrated with their son to the United States.
Endless struggle of a "doomsday survivor"
In January 1991, the Beijing Intermediate People's Court found Liu guilty of "counter-revolutionary propaganda and incitement", but he was exempted from further punishment due to his "major meritorious act"of persuading the students to leave the Tiananmen Square. After his release, he resumed writing as a freelancer in Beijing, and continued his involvement in human rights activities.
In January 1993, Liu Xiaobo was invited to Australia and the US for showings of a documentary film, The Gate of Heavenly Peace. Although many friends advised him to seek political asylum abroad, he returned to China in May. On June 5, he published an essay entitled "We Were Knocked Out by Our 'Justice'" in Taiwan's United Daily News, and soon afterward published a confessional and critical memoir, The Monologues of A Doomsday's Survivor, which caused considerable controversy among dissidents at home and abroad with its comments on the 1989 Democracy Movement.
On February 20, 1995, Liu Xiaobo joined 11 other intellectuals in issuing an "Anti-corruption Proposal to the Third Plenary Session of the Eighth National People's Congress", suggesting five short-term and seven long-term goals for reform. This was followed by another joint statement in May, "Learn the Lessons of Blood and Promote the Process of Democracy and Rule of Law", but Liu was detained before its formal publication and held under residential surveillance for nine months.
Following his release in February 1996, Liu married Liu Xia.
Later in 1996, Liu Xiaobo and the well-known dissident Wang Xizhe made plans for a joint statement to the CPC and Taiwan's KMT on cross-strait relations and other cross-border issues as well as political reform. Two days before the declaration's planned release on October 10, Liu was detained and sentenced to three years of RTL for "disturbing social order". While at the Dalian RTL Center, Liu produced writings totaling hundreds of thousands of words.
Following his release in October 1999, Liu resumed his freelance writing, quickly publishing three volumes of political and cultural criticism and poetry in Taiwan, Hong Kong and mainland China. That same year, Liu helped found the Independent Chinese PEN Center (ICPC) and was elected its president in 2003 and 2005. In October 2006, he took over as chief editor of the US-based website Democratic China.
Harsh sentence for initiating Charter 08
In 2008, Liu Xiaobo took part in drafting and launching Charter 08, a manifesto on political reform in the style of Czechoslovakia's Charter 77, to be released on the 60th anniversary of the adoption of the Universal Declaration of Human Rights on December 10.
On December 8, two days before the launch, Liu was detained and held in an undisclosed location until formally arrested for inciting subversion of state power on June 23, 2009. Liu went on trial at the Beijing Municipal First Intermediate People's Court on December 23, drawing massive interest from overseas diplomats and journalists. He was allowed to speak for only 15 minutes in his own defense, and the judge interrupted him before he could finish reading out his two prepared statements, "My Self-defense" and "I Have No Enemies: My Final Statement". On December 25, the court delivered its verdict:
…during the period from October 2005 to August 2007, the defendant Liu Xiaobo, due to his dissatisfaction with state power and the socialist system of the people's democratic dictatorship of our country, repeatedly used his writings to incite others to subvert state power and the socialist system in our country… and publishing the articles on websites such as Observe China and BBC Chinese Language Net. In his published articles… Liu Xiaobo slanderously declared: "Since taking power, generations of CPC dictatorship have cared most about their own power and least about human lives"; "The official patriotism advocated by the CPC dictatorship fallaciously replaces the state with the CPC. The essence of this patriotism is to require people to love dictatorship, one-party rule and dictators, and to inflict disaster on the nation and its people in the name of patriotism"; "All of the CPC's methods are stop-gap measures to preserve the last powers of the dictators, and will not long prop up a dictatorial edifice that is already showing innumerable cracks". He also incited "regime change through social transformation"; "for the emergence of a free China, it is far better to place hopes in the continuous expansion of New Forces among the people than in the rulers' New Deal". During period from September to December 2008, the defendant Liu Xiaobo colluded with others to draft Charter 08, which put forward a number of subversive stands such as "abolish one-party monopolization of ruling privileges" and "establish a Chinese Federal Republic under a framework of democracy and constitutionalism". After collecting more than 300 signatures, Liu Xiaobo emailed Charter 08 to overseas websites such as Democratic China and The Independent Chinese PEN Center. The aforementioned articles published online by Liu Xiaobo were linked and reproduced on many other websites and viewed by many people…
…the defendant Liu Xiaobo, with a view to overthrowing state power and the socialist system of our people's democratic dictatorship, and using the Internet's rapid information transfer, widespread communication, massive social impact and high degree of public interest, used the writing and publishing of articles on the Internet to slander and incite the overthrow of state power and the socialist system of our country. His conduct constitutes the offence of inciting subversion of state power and has been carried out over an extended period with major subjective evil intent. The widespread linking, republication and browsing of his writings has had an adverse effect that qualifies him as a major offender, and he must be severely punished in accordance with law.
The court ruled: "The defendant Liu Xiaobo is guilty of the crime of inciting subvertsion of state power and sentenced to 11 years' imprisonment and two years' additional deprivation of political rights". Liu's appeal was dismissed by the Beijing Municipal High People's Court in February 2010, and in May 2010 Liu was transferred to Jinzhou Prison in Liaoning Province to serve his sentence.
Nobel Peace Prize winner: "I have no enemies"
Ever since 1989, human rights organizations worldwide had expressed concern and solidarity with Liu Xiaobo, and he had won many international awards. Starting in 2009, a number of groups and individuals, including Nobel laureates and national parliaments, joined in nominating Liu for the Nobel Peace Prize. OnOctober 8, 2010, the Chairman of the Norwegian Nobel Committee, Thorbjørn Jagland, announced that the Nobel Peace Prize was awarded to Liu Xiaobo "for his long and non-violent struggle for fundamental human rights in China".
Liu Xiaobo was unable to attend the Nobel Peace Prize Ceremony in Oslo on December 10, and the Chinese government also prevented his wife, Liu Xia, and others from leaving China to attend. On that day, Liu Xiaobo was represented by an empty chair on the podium while the Norwegian actress Liv Ullmann read out an English translation of his essay, "I Have No Enemies: My Final Statement":
I have no enemies and no hatred. None of the police who monitored, arrested, and interrogated me, none of the prosecutors who indicted me, and none of the judges who judged me are my enemies….
Hatred can rot away at a person's intelligence and conscience. Enemy mentality will poison the spirit of a nation, incite cruel mortal struggles, destroy a society's tolerance and humanity, and hinder a nation's progress toward freedom and democracy. That is why I hope to be able to transcend my personal experiences as I look upon our nation's development and social change, to counter the regime's hostility with utmost goodwill, and to dispel hatred with love.
…I look forward to the day when my country is a land with freedom of expression, where the speech of every citizen will be treated equally well; where different values, ideas, beliefs, and political views … can both compete with each other and peacefully coexist; where both majority and minority views will be equally guaranteed, and where the political views that differ from those currently in power, in particular, will be fully respected and protected; where all political views will spread out under the sun for people to choose from, where every citizen can state political views without fear, and where no one can under any circumstances suffer political persecution for voicing divergent political views. I hope that I will be the last victim of China's endless literary inquisitions and that from now on no one will be incriminated because of speech.
…
In order to exercise the right to freedom of speech conferred by the Constitution, one should fulfil the social responsibility of a Chinese citizen. There is nothing criminal in anything I have done. But if charges are brought against me because of this, I have no complaints.
Apart from publication in Hong Kong and Taiwan, Liu Xiaobo's works have been translated into English and other foreign languages for publication abroad.
Bibliography
Liu Xiaobo, "Dialogue with Li Zehou: The Sensate, the Individual, My Choice", 1986.
Liu Xiaobo, "Crisis! The Crisis Facing New Literature", 1986.
Jin Zhong, "Literary 'Dark Horse' Liu Xiaobo", 1988.
Wen Ping, "From Nationalistic Nihilism to Treason: A Critique of Liu Xiaobo's Bourgeois Liberalist Fallacies", 1989.
Zheng Wang, Ji Kuai, Liu Xiaobo, the Man and His Deeds, 1989.
State Education Commission Ideological and Political Work Office, Fifty-six Hair-raising Days: A Daily Record of the Events from April 15 to June 9, 1989, 1989.
Bao Zunxin et al., "Anti-corruption Proposal", 1995.
Fan Xing, "Cultural Whirlpoolat the End of the Century", 1996.
Liu Xiaobo, "The File of Liu Xiaobo", 2000.
Citizens' Group, "Charter 08", 2008.
Qian Wei, "Human Rights Organizations Put Liu Xiaobo Forward for the Nobel Peace Prize", 2009.
Beijing Municipal First Intermediate People's Court, "Verdict Against Liu Xiaobo", 2009.
Hu Ping, "My Association with Liu Xiaobo (Part 1)", 2010.
Liu Xiaobo, The Collected Works of Liu Xiaobo, 2010.
Wu Renhua, Chronicle of the 1989 Tiananmen Incident, 2011.
Yu Jie, I'm Innocence: The Story of Liu Xiaobo, 2012.
Translated by Stacy Mosher