From Wang Shiwei to Liu Xiaobo: Prisoners of Literary Inquisition under Communist Rule in China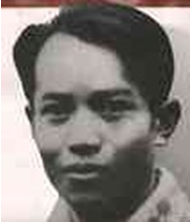 Wang Shiwei (Wang Shih-wei, born Wang Siwei, April 5, 1906 – July 1, 1947), a writer, translator and commentator, was executed in secret as a "counterrevolutionary Trotskyite spy"on the 26th anniversary of the founding of the Communist Party of China.
Early career: from fiction to translation
Wang Shiwei was born in Guangzhou (Huangchuan County), Henan Province. His father, a successful candidate in the provincial imperial examination, taught at a private school. Wang's mother died when he was four years old, and he was raised by his stepmother and elder sister.
After graduating from middle school in 1923, Wang was admitted to the Preparatory School for Further Study in Europe and America (now Henan University) in Kaifeng. Lack of funds obliged him to drop out the following year, and he became an assistant postal clerk in the Zhumadian Post Office.
In summer 1925, Wang was admitted to Peking University as a student of literature. There he became a classmate of Zhang Guangren (Hu Feng), who later shared his fate as victim of the literary inquisition. At the end of the year Wang published his first work, an epistolary novelette entitled Rest (Xiuxi). He continued publishing short stories and novelettes after joining CPC in January 1926.
Disappointed in his love for a fellow student and CPC member, and frustrated by financial hardship, Wang left Peking University and the CPC in summer 1927 and went south. He worked first as a clerk for the KMT Central Committee in Nanjing and then as a language teacher in a middle school in Shandong, while continuing to publish short stories.
While living in Shanghai in 1930, Wang married Liu Ying, a former classmate who had also been a member of the CPC branch at Peking University. He also renewed his acquaintance with another former classmate, Wang Fanxi (Wang Fan-hsi), who was joining CPC cofounder Chen Duxiu in organizing the CPC Left Opposition (Trotskyites).[1] Wang Shiwei helped Wang Fanxi translate "Lenin's Last Testament" and two chapters of The Autobiography of Leon Trotsky, and published his first work of translation, Gerhart Hauptmann's The Heretic of Soana. This launched his career as a translator, and while he and his wife continued teaching over the next six years, he translated classics of world literature by Daudet, Charles Kingsley, John Galsworthy, Eugene O'Neill and Thomas Hardy.
In summer 1936, Wang returned to his native Henan province to teach at the Provincial Girls' English Secondary Schoolin Kaifeng. He rejoined the CPC the following May.
In October 1937, Wang left his wife, son and daughter in Zhengzhou and went to the CPC base in Yan'an, where he became a translator at the Publication Bureau of CPC Central Committee, and then a research fellow at the Marx-Lenin Institute (later renamed as the Research Institute of the CPC Central Committee). There he spent the next four years translating works by Marx, Engels and Lenin.
"Taking command" in the Yan'an Rectification Movement
In May 1941, Mao Zedong, then the Chairman of CPC Central Military Commission, delivered a report entitled "Reform Our Study" at a conference of senior cadres in Yan'an. Mao's criticism of the pervasive mentality and work-style of the CPC was a prelude to what would become the Yan'an Rectification Movement. Around the same time, some writers and young intellectuals in Yan'an had likewise been criticizing the "dark side" of Yan'an in their writings, forming an "exposure faction" led by luminaries such as Ding Ling, Xiao Jun and Ai Qing.
In February 1942, Mao Zedong delivered two more reports, formally launching the Rectification Movement with calls to "rectify study style by opposing subjectivism, rectify Party work-style by opposing sectarianism, and rectify writing style by opposing Party stereotypes". This was accompanied by an upsurge in works by the writers, especially the "exposure faction". In March, Wang Shiwei responded by publishing essays such as "Wild Lilies" (Ye Baihehua) in the literary column of the Party newspaper Liberation Daily (Jiefang Ribao)and the magazine Grain Rain (Guyu) edited by Ding Ling, Xiao Jun and Ai Qing. He also created a wall poster Arrow and Target (Shi Yu Di), where his commentaries became so influential that Mao made a special visit to the Research Institute to read the wall poster one night.
In these essays, Wang fondly recalled Li Fen, the CPC member at Peking University who had been his first love, executed by the KMT 14 years earlier:
Singing and dancing is all very well… But in the present reality – please close your eyes and think: every minute sees a beloved comrade fall in a pool of blood – it seems incongruous with this atmosphere.
He passed along the reproaches of some young people towards their superiors and even some "great personages":
There are really too few of those senior officers, section heads and directors who genuinely care about and cherish cadres.
He added his own observations on the matter:
It is because they recognized "repulsiveness and indifference" that they came to Yan'an to pursue "beauty and warmth", only to see Yan'an's "repulsiveness and indifference". They "feel compelled" to draw attention to it, in hopes of reducing this "repulsiveness and indifference" to a minimum.
I am no egalitarian, but dividing clothing into three colors and food into five grades seems unnecessary and unreasonable. Especially in terms of clothing (I personally am in the so-called "cadre suit and small canteen" stratum, so this is not sour grapes), everything should be resolved according to the principle of what is reasonable and necessary.
The current revolutionary character that allies us with peasants and the urban petty bourgeoisie has introduced their retrograde class strata into the bargain, bringing even more compromise and contamination.
The spiritual reform work carried out by artists is thus even more important, arduous and urgent. Boldly but appropriately exposing and cleansing filth and darkness is just as important as extolling the brightness, if not more so.
Wang's opposition to privilege garnered enormous support, but many senior officers were less favorably impressed. Mao said, "This is Wang Shiwei taking command, not Marxism taking command".
At a Rectification Study Session of Senior Cadres in early April 1942, Mao summed up criticisms of Ding Ling and Wang Shiwei and concluded, "Ding Ling is a comrade, while Wang Shiwei is a Trotskyite". This formed the political basis for a rapid upsurge in criticism of Wang Shiwei.
In a talk at the Yan'an Forum on Literature and Art in May 1942, Mao explicitly negated the humanistic views of the "exposure faction" as a problem of class standpoint, turning the literary battle between the factions of "Darkness" and "Brightness" into a politicized conflict between the differing itineraries of "the enemy and us". During the Forum, Mao's secretary, Hu Qiaomu, twice sought out Wang Shiwei and wrote a letter pointing out that "the error of 'Wild Lilies' is first of all a problem with the standpoint of the criticism… Chairman Mao hopes that you will make amends, first of all on this erroneous standpoint".
Refusing to admit error, Wang was besieged with criticism from all sides and investigated for the "historical problem" of his past dealings with the Trotskyites among his Peking University friends. Li Weihan, Fan Wenlan and Zhou Yang, the CPC officials overseeing Yan'an's theoreticians and literati at that time, led a series of criticism and exposure meetings during which Ding Ling, Ai Qing and other leading figures of the "exposure faction" admitted their errors and turned against their erstwhile allies. Xiao Jun was one of the very few who bore up under severe censure to defend Wang Shiwei.
In late June 1942, Ding Ling, Zhou Yang and other leaders of the Yan'an branch of the All-China Anti-Japanese Association of Writers and Artists expelled Wang Shiwei, and in October CPC Central Committee expelled him from the Party as a "counterrevolutionary Trotskyite spy, undercover KMT scout, secret agent, and member of a five-member anti-Party clique". Wang was imprisoned by the end of that year and formally arrested in the following April. In a subsequent reference to the Yan'an Rectification Movement at the Seventh Congress of CPC in 1945, Mao said, "He was commander-in-chief, and we were defeated. We admitted defeat and so carried out rectification".
A reexamination of Wang Shiwei's case in 1946 concluded that he was guilty of being a "counterrevolutionary Trotskyite spy", while dismissing the other allegations.
First victim of CPC's literary inquisition
When the KMT army attacked Yan'an in March 1947, the CPC Central Committee's Social Department transferred Wang Shiwei to the detention center of the Jinsui Public Security Headquarters in Shanxi Province. The Social Department's leaders, Kang Sheng and Li Kenong, authorized Wang's covert execution while the neighborhood of the detention center was being bombed by the KMT air force in June. On July 1, 1947, the 26th anniversary of CPC's founding, Jinsui public security offers hacked Wang Shiwei to death and dumped his dismembered body into an abandoned well. At the age of 41, Wang became the first victim of CPC's literary inquisition.
The CPC leadership had qualms about killing people for their writings, and Mao Zedong angrily denied any responsibility for Wang's execution, which was not disclosed for a very long time. It was not until 1978 that Liu Ying, the wife Wang had left behind 41 years earlier, learned from a radio broadcast that her husband had been executed as a counterrevolutionary Trotskyite. Knowing Wang well enough to see that he had been framed, Liu Ying began appealing for a review of his case.
On February 7, 1991, the Public Security Ministry issued a correction of the verdict that Wang Shiwei was a "counterrevolutionary Trotskyite", declared his execution a wartime error and rehabilitated him. However, the CPC Central Committee did not rescind its decision of having expelled him from the Party.
A collection of Wang Shiwei's writings was published by CPC-affiliated Shanghai Joint Publishing in December 1998.
Bibliography:
Wang Shiwei, "Wild Lilies", 1942.
Wang Shiwei, "Politician, Artist", 1942.
Wang Fanxi, "On Wang Shiwei and the 'Wang Shiwei Problem", 1985.
Dai Qing, "Wang Shiwei and 'Wild Lilies,'" 1988.
Wen Chao, "Wang Shiwei Thoroughly Rehabilitated", 1992.
Gao Hua, How the Red Sun Rose: The Origin and Development of the Yan'an Rectification Movement, 2000.
Han Aiping, "Wang Shiwei: The Pure Heart of Henan University", 2003.
Nagahori Yuzo, "In Memory of Mr. Wang Fan-hsi", 2003.
Chen Yinan, "A Review of Wang Shiwei Case in the Yan'an Rectification Movement", 2003.
Huang Changyong, The Biography of Wang Shiwei, 2005.
Yang Fei, Hao Zhanhui, "Li Kenong and the 'Wang Shiwei case,'" 2007.
Chen Zhipeng, "Return Wang Shiwei to Me", 2008-2009.
Yu Jizeng, "The Fatal Consequences of 'Wild Lilies,'" 2009.
[1]One of the early leaders of the Communist Party of the Soviet Union, Leon Trotsky was expelled from the party in 1927 due to his opposition to Stalin. After being expelled from the Soviet Union in 1929, he organized the Fourth International in France in 1938 as a competitor to the Third International (The Communist International, abbreviated as Comintern). Trotsky was assassinated by Soviet agents in Mexico in 1940.
Translated by Stacy Mosher